The Exact Lip Products Margot Robbie Wore In The Barbie Movie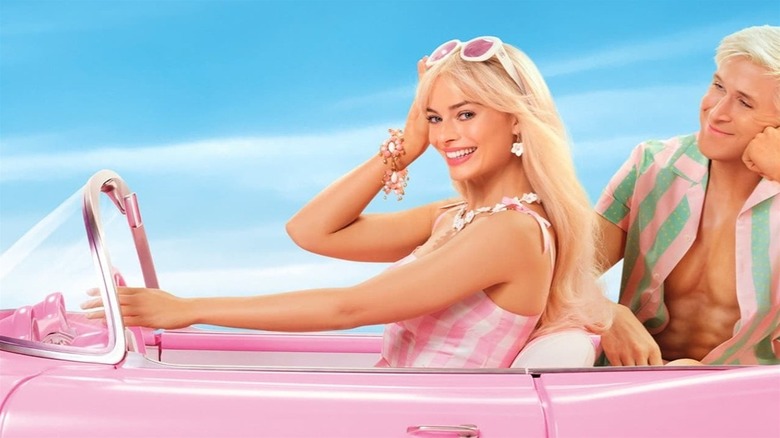 Warner Bros.
The "Barbie" movie starring Margot Robbie has continued to have a major impact on current fashion and beauty trends since its triumphant release on July 21, 2023. Fans have been left clamoring to recreate Barbie's most iconic looks, such as the original chevron swimsuit and the adorable pink gingham dress. Every aspect of Robbie's appearance as the iconic fashion doll has been dissected and mimicked, right down to her pink pedicure and her lipstick shades.
A video by Brittany Cale recently surfaced on TikTok, detailing the specific brands and shades of lip products used on Robbie in the "Barbie" movie. If you've been looking for a way to bring a subtle pop of Barbie to your look without going full-on dolls to the wall, a carefully selected lipstick is the perfect move. We've got the deets on the exact products used to achieve Barbie's lip looks and the dupes you can grab to achieve a similar look on the cheap.
Barbie lipstick shades
Robbie wears Lisa Eldridge brand lip color in every scene of the "Barbie" movie. The True Velvet Lip Color in Velvet Ribbon pays tribute to the original 1959 Barbie doll. Other shades pointed out as having been used in the film on the official Lisa Eldridge website include Velvet Petal, Velvet Decade, and Luxuriously Lucent Lip Colour in Kitten Mischief. If you're a stickler for authenticity and want to wear the exact same products as Barbie, you can snag each lipstick for $36. If you're more of a budget beauty babe, it's easy enough to get your hands on dupes for the lipstick shades featured in "Barbie."
The appearance of Velvet Ribbon, a blue-based classic red, can be duplicated by L'Oréal Paris Makeup Colour Riche Lipstick in the shade Ambitious Red for just $6.97. Velvet Decade is described as a "burnt chocolate" shade featuring blue-red undertones; you can achieve a similar vibe with wet n wild Perfect Pout Lipstick in the shade Fall Red Extra Cinnamon Please for $5.49. As for the pink nudes featured, Rimmel Lasting Finish Lip Color in Nude 41 could serve as a warm pink stand-in for Velvet Petal for $7.34 and CoverGirl Exhibitionist Lipstick Cream in Caramel Kiss hits all the same notes as caramelized pink Kitten Mischief for $6.29. 
Barbie lip gloss shades
The lip glosses worn by Robbie during her portrayal of Barbie are also exclusively from the Lisa Eldridge brand and retail for $26 each. The shades showcased in the movie include Carnival, a blue-based electric pink, Delilah, a "blue-violet pink," and Pompadour, a neutral pink. If you're not in a position to shell out nearly $30 on lip gloss but still want to give a nod to "Barbie," there are a ton of similar shades on the market.
Revlon Super Lustrous Lip Gloss in Pink Pop is a dead ringer for Carnival and the line also offers Sugar Violet, a shade comparable to Delilah, for under $10 each. The look of Pompadour — the most neutral pink gloss of the bunch — can be replicated with L'Oréal Paris Glow Paradise Hydrating Lip Balm-in-Gloss in the shade Blissful Blush for $7.99. Whether you choose to utilize dupes for high-end makeup products or go for the real products used on the "Barbie" movie set, don't forget to tie in a bit of your own personal style.