8 Styling Hacks That Upgrade Your Look On A Budget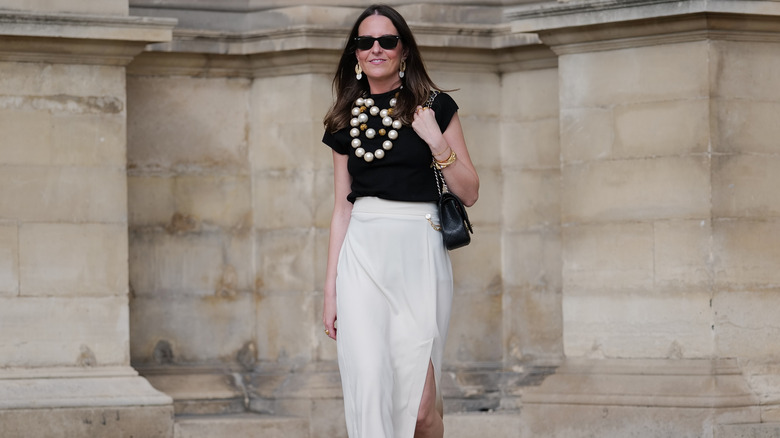 Edward Berthelot/Getty Images
Looking chic doesn't have to come at a cost. Regardless of your budget, sophistication is well within reach. With trends like quiet luxury and minimalism, many are learning that you don't need an extraordinary budget to dress like a trendsetter. With many looking to save money, it's no secret that scaling back on purchasing clothes and accessories is high on the list. Thankfully, there are many ways to look elevated, even without an unlimited budget.
If you want to upgrade your wardrobe, it's best to focus on styling rather than purchasing new items. With the help of clever styling, you can transform an everyday piece into a high-fashion outfit. Brands like Prada and Miu Miu have captured this idea and are working on elevating simple pieces like white tank tops instead of creating over-the-top looks. With many trendsetting brands, celebrities, and influencers opting for a scaled-back yet chic look, it's never been easier to look stylish on a budget.
Play with your clothes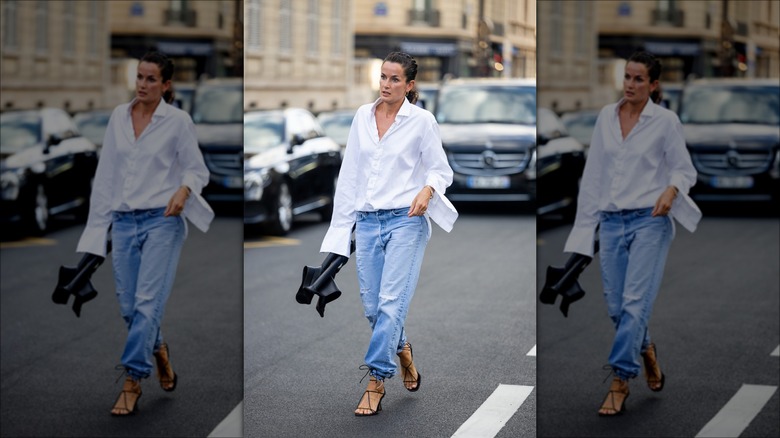 Christian Vierig/Getty Images
No need to head out for a new wardrobe because the solution to elevating your closet is all in your styling. In other words, tucking in your shirt or button-up is one styling trick that will help give your outfit a more sophisticated and professional vibe. However, tucking in your top isn't as simple as stuffing it into your bottoms. Various types of tucks can give you a different look. The French tuck, half tuck, or full tuck are some examples of styling that can give you a laidback, elevated outfit. Using one hand, tuck your shirt into your bottoms for an effortless look. Pull some of the fabric from the sides or middle so it floats over your waist. You can also do this all around or only in the front, leaving the back out.
Other styling tricks that elevate your look are small details, like rolling up your sleeves. Rolling up your sleeves gives it a preppy look and becomes the fix for any long sleeves with imperfections. For extra long sleeves, use hair or plastic ties to hold the gathered fabric in place, making them last all day.
Take care of your clothes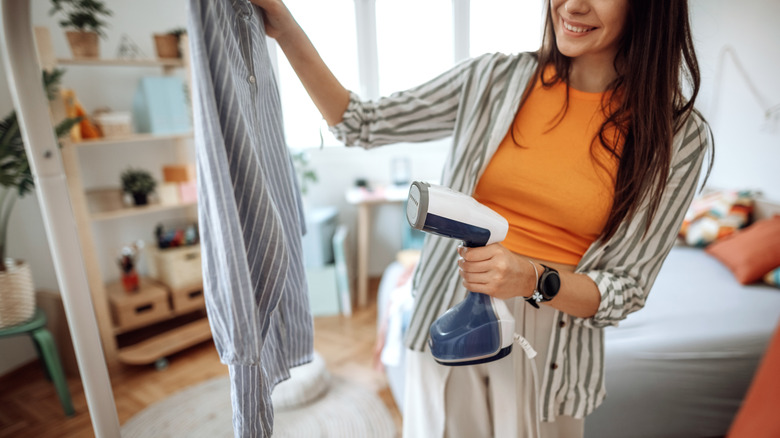 Mixetto/Getty Images
While it might seem like a no-brainer, there's no easier way to elevate your clothes than taking care of them properly. In other words, wearing items with stains, loose buttons, or creases can ruin your 'fit. Even the most polished items can appear lackluster with any of these factors. Wrinkled garments, for example, give a sloppy appearance, making it essential that you look polished at all times. Therefore, steaming or ironing your clothes can go a long way in up-leveling your closet, and only takes a few minutes for each piece. 
Taking care of your clothes also includes following the washing instructions to prevent your clothes from stretching out, shrinking, or falling victim to pilling. While buying new clothes is nice, taking care of your existing garments can help extend their lives and give you a few more wears out of them. In addition, getting your items tailored and hemmed to fit perfectly will also give your clothes the appearance of being made just for you. While it may cost a few more bucks, there's nothing quite elevated than items that fit perfectly.
Add jewelry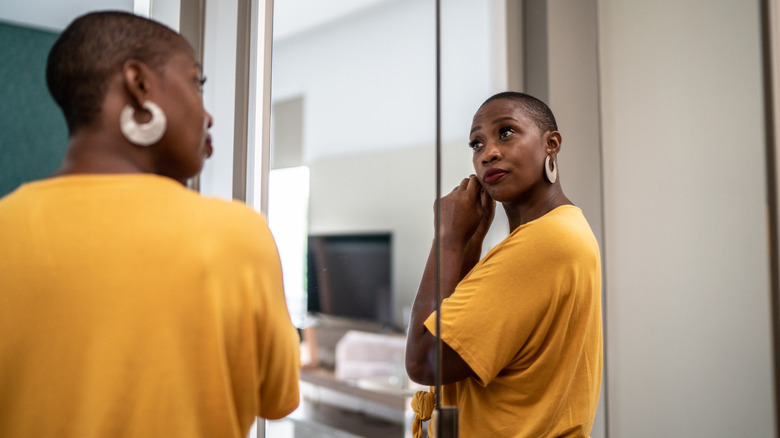 Fg Trade/Getty Images
Accessories can be the saving grace for any outfit, no matter the budget. Whether it's small dainty jewelry or over-the-top earrings, adding bling to your look will help elevate your appearance. Although minimal, accessories can level up your wardrobe without needing to be luxury or designer. Affordable jewelry, for example, is an accessible styling trick that won't break the bank and makes your outfit look elegant and chic. 
Necklaces, earrings, bracelets, and even watches are must-have pieces for adding flair to your outfit. However, you'll want to stick with gold jewelry pieces for a warmer look or go with silver metals for an edgier appearance. Depending on your style and preference, you can choose to wear all your jewelry at once or pick a few pieces out. Regardless of which gems you plan to wear or how you want to stack them, jewelry isn't a question when it comes to upgrading your look.
Stay monochrome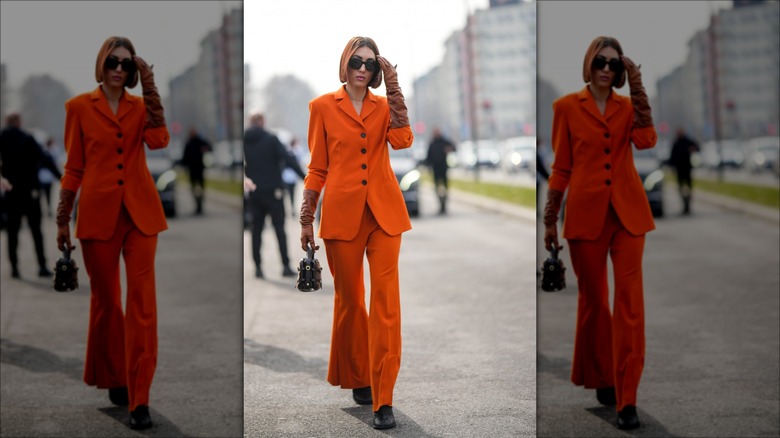 Edward Berthelot/Getty Images
Mixing and matching colors and prints is an easy way of ruining your look. However, staying with a monochrome outfit scheme helps avoid mismatching and ensures your outfit looks elevated and chic. It's no secret that many refer to all-black looks as some of the most luxurious looking. The reason is that a single-colored outfit exudes luxury in the same way as the quiet luxury trend. In other words, the more understated your 'fit is, the more elevated it looks. A monochrome outfit can come in any hue, from black to vibrant red. No matter the color of your ensemble, this styling will keep it sophisticated and modern.
The monochrome styling trick is also valid with prints. After all, with the wrong styling, patterns can do more harm to your ensemble. Luckily, this trick steers clear of that and allows you to pair items together easily. While monochrome looks might seem boring and plain, don't hesitate to spice them up with contrasting accessories or stacking on jewelry. Monochrome takes simplicity and makes it into a high-fashion statement. Not only will you look chic, but this trick saves you time to focus on other areas like hair and makeup.
Go for a structured statement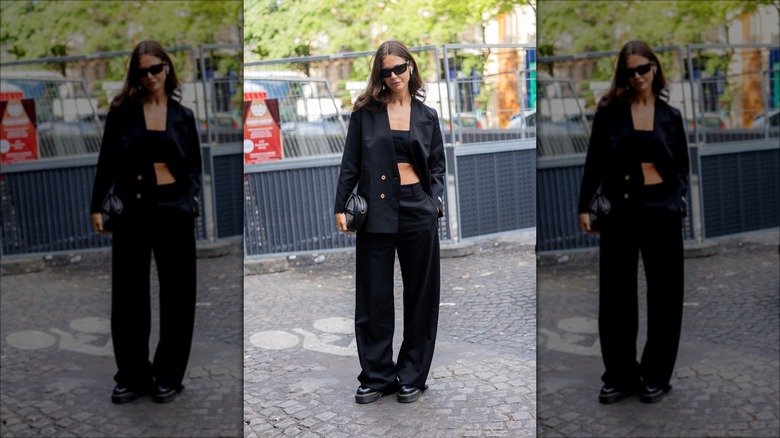 Christian Vierig/Getty Images
Blazers aren't just an ongoing trend but also an intelligent way of elevating your looks. Structured pieces like blazers and trousers elevate your 'fit without doing anything specific. Because they look structured and tailored on their own, these pieces give the illusion of luxury and elegance. Stick with neutral structured pieces for a wardrobe that'll always look chic and on-trend.
Although structured pieces are staples of officewear, they'll coordinate well with almost any other piece. Throwing on a blazer or waistcoat over casual tops and bottoms, for instance, will look stylish and high-end. The key to this styling trick is balancing everyday pieces with dressed-up options. This will give you a more cohesive and dynamic look that looks straight out of a runway. Knowing how to balance dressed-up and dressed-down pieces is an elevated trick that designers tend to follow. That said, don't be afraid to invest in structured bottoms and tops to have options you can mix and match without spending on various pieces.
Invest in the classics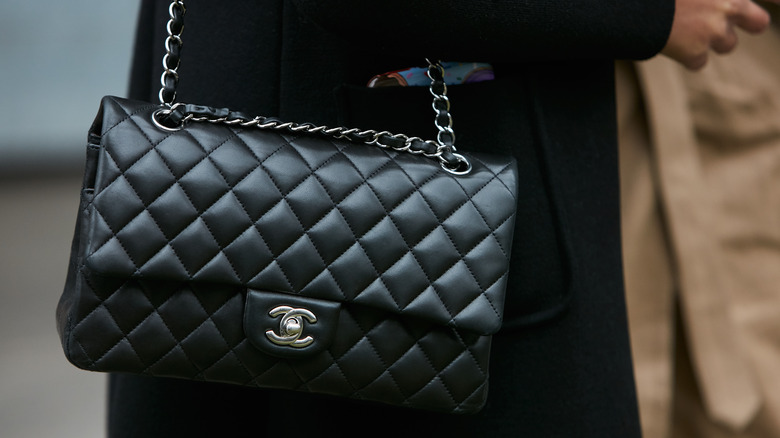 Andreaastes/Getty Images
Sticking to a budget doesn't mean you can't spend anything on your wardrobe. While you might have limited funds, it's a matter of spending it wisely. In other words, investing in quality and classic items will extend the lifetime of your wardrobe. A crucial component of investing with care is the idea of cost per wear. If you want to splurge on a pricey item, consider how many times you'll use the product. A trend-specific piece won't see as much wear as a classic item that can fit your wardrobe year-round. Even with a budget, you want to be wise with how you use it.
Items like denim, blazers, and handbags will most likely always be in style. Therefore, invest your budget into a pair of high-quality denim jeans that will last you several years more than a cheaper pair that immediately rips. The cost per wear for premium denim jeans makes financial sense and guarantees quality. You don't need to invest in your entire closet, but instead, focus on simple pieces you'll use multiple times. Whether it's plain tees that won't lose shape after a wash or a sleek handbag that never goes out of style, investing in quality over quantity elevates your wardrobe slowly.
Pair dressy tops with denim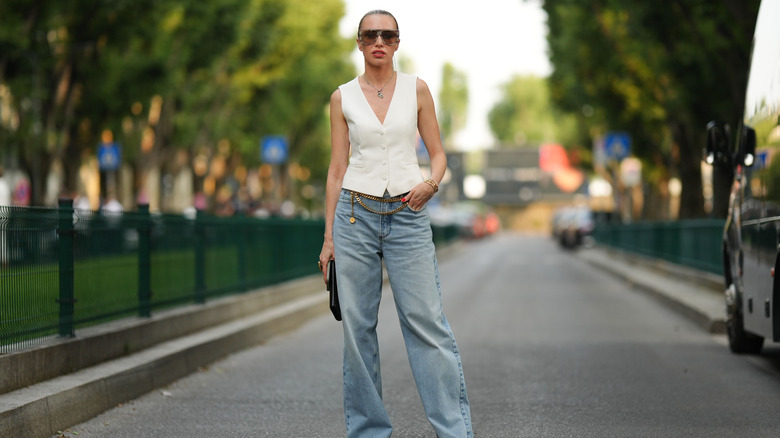 Edward Berthelot/Getty Images
We already know that denim is a common bottom for outfits. Whether dressy or not, denim can be the perfect item to build your wardrobe. To elevate your denim, you'll need to think outside the box. Denim is easy to pair with casual tees or tops, but only a dressy blouse will help elevate your denim. Instead of your everyday graphic tee, pair your casual jeans with a formal blouse. While it might not seem like a cohesive pair, the contrast will elevate your look.
You don't need to wear a formal look from head to toe to look sophisticated. Mixing and matching denim with dressy items will help bring it to the next level. This trick also applies to denim pieces like jackets or dresses. Pair these pieces with tailored bottoms or shoes for a more elegant presence. This styling trick has become the go-to for many wanting to use items they already have and creating a new set of outfit combinations.
Avoid logos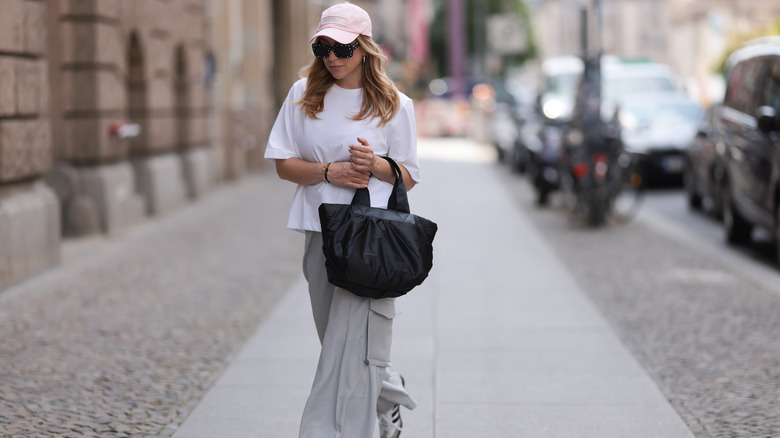 Jeremy Moeller/Getty Images
Not long ago, logomania was everywhere in our closets. Big and graphic logos were staples on our clothing, making them appear more apparent than before. Although logos could be a fun addition to your pieces, they aren't the best at elevating your closet. Large, evident logos can diminish your look and make it seem lower quality. If you want to upgrade your style, stay clear from distracting logos.
With sleeker and minimalist trends being more popular, it's easy to find simple designs. Regardless of the brand, going without logos will help showcase a much more luxurious and expensive look. If you must have a print, opt for hidden and small designs. Brands like Tommy Hilfiger are examples of logos that are often too small to see from afar or located on the sleeves. Avoid flashy logos that are trend-specific and have long passed their popularity. Simple and sleek is the solution for a timeless elevated wardrobe.