The Ultimate Guide To A Barbiecore Halloween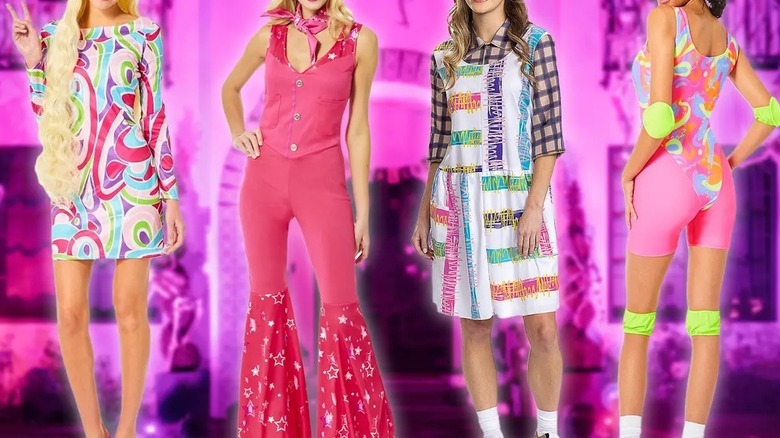 Static media / Shutterstock
We may receive a commission on purchases made from links.
As soon as the "Barbie" movie hit theaters, it became obvious that it would be incredibly influential all Halloween season long. After all, director Greta Gerwig knew what she was doing when she created an unforgettable film that would open up deep discussions about femininity, coming of age as a woman, and mustering self-confidence. Since this movie has been inspirational to so many people following its premiere, dressing up like Barbie for Halloween is about to be way more common than anyone might guess. 
Advertisement
Figuring out your Barbie costume is a great starting point, but enjoying a true Barbiecore Halloween celebration requires extra attention to detail in other areas as well. In addition to your costume, you also have to plan out party decor, music playlists, food and drinks, and games and activities. Everyone deserves to feel as beautiful as a Barbie doll every day of the year, and there's nothing wrong with starting on Halloween.
Barbie makeup is feminine and bold
Your makeup can make or break your entire Barbie-themed look. Barbie is known for rocking makeup that's both feminine and bold, though she always shows range. In her most glamorous moments, her makeup is a little more dramatic than in some of her more casual moments. The makeup style you go with will be based on the rest of your Barbiecore attire. Dressing up like Barbie who's about to go to a lavish event in a ball gown means your make-up is going to look a little different than if you're dressing up like Barbie who's about to play a round of tennis. 
Advertisement
Once you've decided on the type of doll you want to be, you'll know which Barbie-inspired makeover makes the most sense for you. Watching a few tutorials that break down exactly how you can achieve your chosen result is something you can do on TikTok or YouTube, and then simply grab a few key products that will help you achieve your desired look. NYX Professional Makeup even collaborated with Mattel on a limited-edition collection, which includes jumbo eye pencils, mini cheek palettes, lip glosses, sparkly eyeshadow, and more. Make it easy on yourself by purchasing NYX Cosmetics's Barbie collection, or shop for all the products you need one by one — whatever makes your day easier.
Barbie jewelry can be playful and sparkly
You can't skip out on jewelry while dressing up as a character as iconic as Barbie. In Greta Gerwig's movie, Margot Robbie wears an iconic Chanel '95 necklace made of large jewels in an assortment of colors. Although that exact necklace costs hundreds of thousands of dollars, there are knock-off versions you can certainly wear as part of your costume. In other scenes of the movie, Barbie wears pieces of jewelry that are a little more subtle, including her golden, heart-shaped necklace.
Advertisement
Jewelry is a great way to add some bling and sparkle to your Halloween costume. If you weren't totally blown away by any of the jewelry Robbie wore during the actual movie, take some inspiration from the jewelry she wore on red carpets while promoting the film. At the Los Angeles "Barbie" premiere, she wore a choker necklace covered in about 380 carats of glittering diamonds, though you don't have to splurge on a necklace covered in real diamonds when plenty of cubic zirconia options are available.
How to get a bouncy Barbie blowout
You deserve to have the prettiest, bounciest hair on Halloween if you're dressing up like Barbie. Fortunately, mastering the perfect blowout doesn't have to take forever. According to the beauty blog The Effortless Chic, the first step is to determine your hair type. If you've got fine hair, using products that add volume before you start blow-drying your hair is a must. If you've got curly hair, washing and conditioning your hair with hydrating options before you start blow-drying is key. 
Advertisement
While your hair is still wet after it's been freshly washed, apply detangler, brush your hair from the root to the tip, and "flip your head upside down" by bending over. Blow-dry your hair while it's upside down to add as much volume as possible. Save the strands of hair framing your face for last. When you get to them, make sure they are extra-fluffed for that Barbie-level bounciness.
How to pick out your Barbie-themed wig
Ditching the hair bleach and dye for a Barbie-themed wig is one way you can make sure your natural hair stays as healthy as possible, and your selection is pretty endless. Knowing the difference between synthetic and human hair wigs is a great place to start. Lola Silk explains that the quality of synthetic wigs has been rapidly improving for the better recently. 
Advertisement
Synthetic wigs definitely have a bad rap for getting knotted and matted up way too quickly. While that might have been true in the past, it's currently easier to trust that your synthetic wig will stay in good shape while you're dressed up like Barbie on Halloween night. You still have to make sure the place you're purchasing your synthetic wigs from is selling high-quality products, however, though this applies to any purchase.
Human hair wigs have a far better reputation for staying silky, smooth, and soft for a longer period of time. In some cases, these wigs can last for several years when they're properly taken care of. The price point separating synthetic from human hair is what may ultimately help you make your final decision, with synthetic wigs typically being a fraction of the cost of their human counterparts. For instance, one can find pretty, synthetic wigs on Amazon for less than $25 — hello, TuTive Blonde Wigs — while human hair wigs, like the BABOSHOW Blonde Wig, often cost $100 or more.
Advertisement
Ideas for Barbie-inspired nails
Rocking Barbiecore nails is a fun way to ensure that you're not missing any details when Barbiecore Halloween night rolls around. Your nails shouldn't be forgotten since they'll instantly add the right amount of glam-tastic flair to your overall look. Sparkly pink nails are a given, but you don't have to close yourself off to any other possibilities — your nails are where you can get creative. 
Advertisement
Before scheduling a salon appointment, screenshot several relevant examples of nail art to show your technician. The most enjoyable part about getting Barbie nails for Halloween is that this particular manicure will last for a couple of days or weeks beyond October. After all, typical black and orange Halloween nails become outdated once November rolls around, which is literally the day after the holiday.
Pink nails don't exactly have an expiration date, though. Keep your nails simple and uncomplicated with a basic shade of pink if that's what you like. French tips are usually white, but opting for that style with pink tips instead pays homage to Barbie in a classy way. Get a little more intricate with miniature Barbie logos or Barbie-font lettering if that's what you prefer. You can't go wrong with pink gemstones and glittery rhinestones!
Advertisement
Showcase a Western vibe in Barbie's cowgirl costume
Putting together Barbie's cowgirl costume for Halloween is one way to go. A pink vest, pink bell-bottom pants, and a white cowgirl hat are the basic necessities you'll need. This costume also requires a pink bandana to be tied around your neck or hair. Although Margot Robbie doesn't wear tons of jewelry with her cowgirl costume in the movie, finding additional pieces of jewelry for this particular costume is totally up to you. 
Advertisement
In honor of the Western theme, star-shaped jewelry makes the most sense. Rings with star pendants, necklaces and bracelets with stars looped together, and star-shaped earrings dangling above your shoulders would turn this costume into something way more blinged out than before. When shopping for this costume from sites like Amazon or Walmart, the white cowgirl hat is often left out. The cowgirl hat is the icing on top of the cake for this costume, though, so it's important to get your hands on one if it isn't already part of the costume bundle you buy.
Rewind back to the 80s in Barbie's rollerblading costume
Dressing up like rollerblading Barbie from the '80s is a fun way to stand out on Halloween. After all, the iconic rollerblading costume consists of bright and eccentric colors that make it incredibly hard to ignore. To recreate it, you'll need pink spandex shorts, neon knee pads, and a tie-dye bodysuit. Neon elbow pads, a tie-dye visor, and bright-colored rollerblades will complete the look. If you aren't excited by the prospect of rollerblading everywhere on Halloween night, you can always swap the wheels out for a simple pair of sneakers in an appropriate color. 
Advertisement
Naturally, Ken is seen rocking a similar 'fit when Barbie debuts her rollerblading look in the film. With that in mind, getting together with a significant other or friend to pull off this couple's costume as a team is a fabulous idea. Whoever you've got dressing up as Ken can't skip out on the neon-colored fanny pack strapped around their waist.
Channel your inner Mermaid Barbie like Dua Lipa
Singer Dua Lipa had the honor of playing Mermaid Barbie in Greta Gerwig's film. Lipa didn't just portray one mermaid with one singular color scheme, either. She showed up as multiple different mermaids with different hair colors, swimsuit tops, jewelry, and fishtails. In one scene, Lipa plays a pink mermaid with a pink wig as she talks to Barbie from the ocean. In another scene, there are three Mermaid Barbies lined up in the water, with the other two rocking blue and purple. 
Advertisement
Since Lipa's mermaid persona took on so many varying color schemes during the movie, you're free to dress up in whatever color mermaid you love the most. If you're planning to walk around on foot, your fishtail should be a scale-covered body con skirt instead of something that actually constricts your feet. If all you want to do is pose for stunning pictures while looking like Mermaid Barbie, slipping your legs into an actual fishtail costume bottom will create a believable illusion. Don't forget your bright-colored wig, swimsuit top, seashell jewelry, and ocean-inspired makeup.
Get your groove on like Disco Barbie
Are you ready to dance the night away as Barbie on Halloween? If so, dressing up like Disco Barbie should be the first thing on your docket. During one of the opening scenes of the "Barbie" movie, Margot Robbie is seen dancing with her friends wearing a sparkling silver pantsuit. The top of the suit is completely strapless, revealing her upper chest, shoulders, and arms. The suit itself is form-fitting to show off her curves, hips, and legs. 
Advertisement
The bell bottom openings around her ankles give her enough freedom to comfortably move around without feeling restricted. Robbie's version of Disco Barbie also wore silver bracelets around both wrists with her hair curled, crimped, and fluffed. Keeping up with the Disco Barbie vibe doesn't mean you have to wear a pantsuit, but it definitely means you should be decked out in sparkles. Crimped hair, sparkly mini dresses, and stunning pieces of jewelry that make you dazzle are ideal for any Disco Barbie costume.
Skip the pink by dressing up like the Original Barbie
For Barbie lovers who don't love the color pink, dressing up like Original Barbie from 1959 is the best possible option. Original Barbie wears a black-and-white-striped swimsuit with simple black heels and a high ponytail. You don't have to stress yourself out about finding an outfit or dress in a shade of pink that appeals to you when you can rock a classy black and white swimsuit instead. 
Advertisement
Think about the opening scene of the "Barbie" movie when a giant version of Margot Robbie steps into the desert wearing that classic 1959 swimsuit with a pair of high heels. Even though there isn't a stitch of pink thread in sight with this particular costume, it will still be glaringly obvious that you're dressing up as none other than the OG Barbie doll in all of its iconic glory. Complete the look with a pair of white, vintage sunglasses and a high ponytail.
How to create your own giant plastic Barbie box
Your very own giant plastic Barbie box should be a staple on Halloween in honor of your theme. Fortunately, there are ways you can easily build this box for all the gorgeous pictures you plan on taking using items from none other than Dollar Tree. According to a DIY video from YouTuber Tayra Perez, you'll need foam boards made of sturdy material to create the actual structure. Then, cover the foam board with pink wrapping paper (you know the kind — the roll you stash away and only grab once a year to wrap Christmas gifts). 
Advertisement
After that, paste onto the box the Barbie lettering near the bottom with white construction paper that's been properly sized and cut. Last but not least, attach all sides of the Barbie box together with clear packing tape for Halloween night photo opps. Folks who don't have time to build their own plastic Barbie boxes can always order one of these from a craft store or third-party seller that sells them with minimal construction time/steps. (Hello, Etsy!)
Barbiecore Halloween party decor
Party favors and decorations for the most enjoyable Barbiecore Halloween party will truly make a difference when your guests arrive. Your cups, plates, and silverware should all be on brand. Balloons, tablecloths, and banners should fit the theme, too. Decor with the Barbie logo printed everywhere can be found at places like Party City and Amazon. If you're home isn't reminding everyone of their childhood toy boxes full of Barbie accessories, clothes, and gear, then you're doing it wrong! Everyone should feel like they're hanging out in a realistic embodiment of Barbie's dollhouse while enjoying a Barbiecore Halloween celebration. 
Advertisement
There are several Barbie printables you'll be able to find online such as invitation cards, thank-you notes, and decals to be hung on your front door. These printables are downloadable from plenty of different websites, including Etsy. You can keep your color scheme light and feminine with shades of pink and white, but you can also add black and silver decor for more visual variety and class.
Barbiecore Halloween party music playlist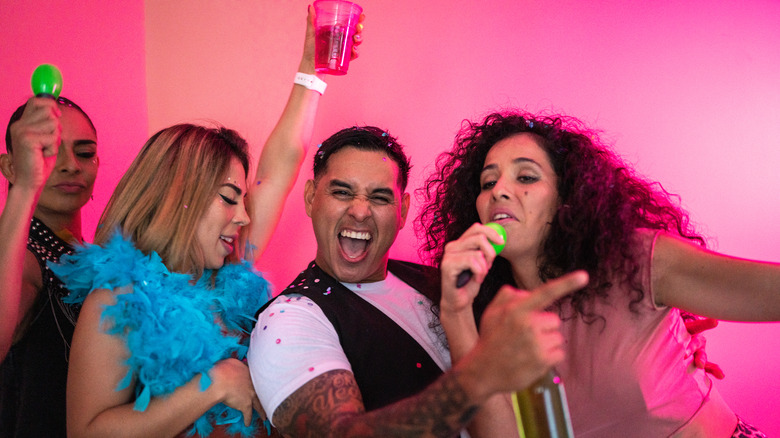 Fg Trade Latin/Getty Images
Your Barbiecore Halloween party needs an awesome playlist to create the right ambiance. You might want to scatter "Barbie Girl" by Aqua multiple times throughout your playlist so it comes up more than once during the night. "Barbie World" by Nicki Minaj and Ice Spice also deserves a spot on the playlist since it's become such a hit across social media. Other catchy dance songs to add include "Watati" by Karol G and Aldo Ranks, "Journey to the Real World" by Tame Impala, and "Pink" by Lizzo, all of which hail from the "Barbie" movie's official soundtrack.
Advertisement
When you and your party guests are ready to slow the vibe down a bit, turning on "What Was I Made For?" by Billie Eilish is the best move. Although Eilish's song isn't meant for dancing on tabletops, it's still incredibly beautiful to listen to. Plenty of other songs that weren't included on the "Barbie" soundtrack would make sense on your playlist, too, including "Backwoods Barbie" by Dolly Parton, "Not Your Barbie Girl" by Ava Max, and "Malibu" by Miley Cyrus. Don't forget about "Girls Just Want to Have Fun" by Cyndi Lauper, either!
Barbiecore Halloween party food and drinks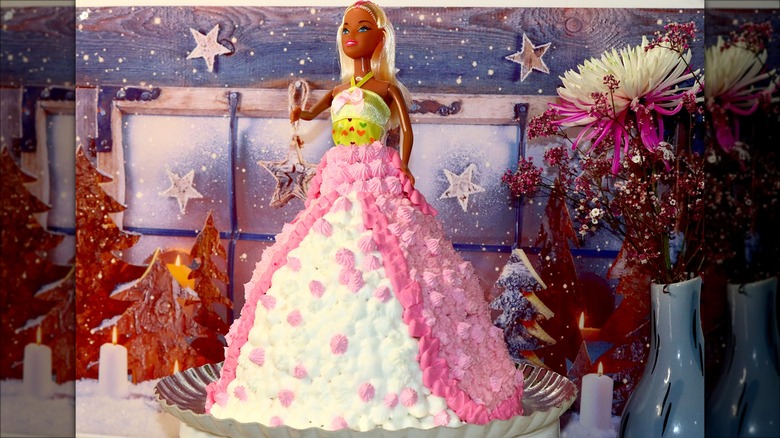 Anna Zubar/Shutterstock
TikTok and YouTube are two of the best places to find Barbie-inspired food and drink recipes. Whether you're trying to build up a healthy menu or you love a serving sweet treat, there are countless options you can create. Cocktails (and mocktails) that remind everyone of Barbie are just as crucial. Enter Tasting Table's Malibu Barbie Cocktail, which features refreshingly delicious notes of hibiscus. You can't go wrong with Mashed's Barbie-inspired milkshakes, either. By now, you've probably seen all the Barbie-themed cakes that can be baked for your event. There are sheet cakes with an actual Barbie doll laid out on top as if she's tanning on the beach. 
Advertisement
There are also cakes including a real Barbie standing up tall with the ball gown of her skirt designed to be the edible portion covered in frilly frosting. Cupcakes, blondies, and cake pops in different shades of pink will have your dessert table looking absolutely fabulous. When it comes to savory food items, serving pink-colored pasta and pink-colored popcorn are a few ideas. Some naturally pink foods to serve your guests include fresh-cut strawberries, dragonfruit bits, and raspberries.
Static Media owns and operates Glam, Tasting Table, and Mashed.
Barbiecore Halloween party decor games and activities
Barbiecore Halloween games and activities will turn your party into an unforgettable event. Makeup application contests, "who wore the best costume" voting polls, and Barbie board games are some options to consider. Since it's Halloween, seeing who can carve the best Barbie logo out of a pumpkin could also be super fun. What's a Barbiecore Halloween without the right lineup of games and activities to play with all of your besties? Barbie-themed bingo is another enjoyable idea that simply requires the right printouts before your guests arrive. 
Advertisement
Barbie puzzles and memory-matching games can potentially be just as fun. It's possible to turn almost any drinking game into something Barbie-related as well. Instead of a normal round of "never have I ever" where you put down your fingers one by one, everyone can throw back shots of Pink Whitney Lemonade Vodka or Cherry Blossom Gin by Akori. Finally, everyone could watch the "Barbie" movie and count how many times Barbie's name comes out of Ken's mouth, though maybe don't turn this one into a drinking game because he says her name quite a few times. The sheer number of times will be enough to make everyone cackle.