The 10 Best Stylish Sneakers For Your Next Casual 'Fit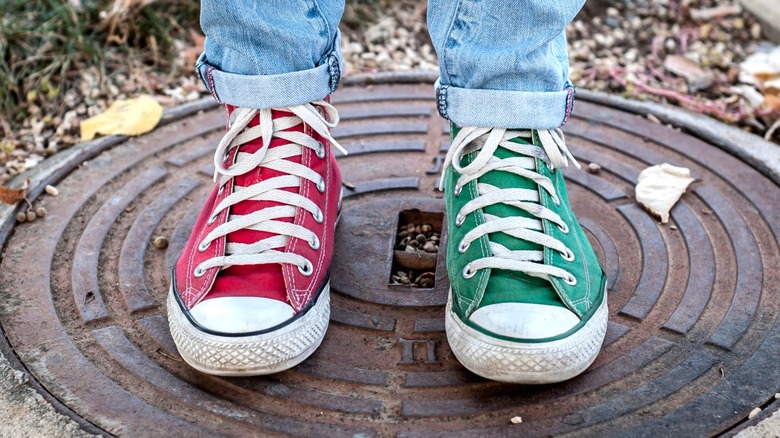 Zoran Milutinovich/Shutterstock
We may receive a commission on purchases made from links.
Once upon a time, sneakers were only the domain of athletes. But it wasn't long before the sheer comfort and variety of sneakers had taken over fashion, from street-inspired looks to haute couture. Now, sneakers are the very definition of a wardrobe staple. In the right circumstances, you can even get away with wearing a sharp pair of sneakers to work.
Needless to say, the sneaker trend isn't going anywhere. And whether you're obsessed with bold and colorful sneakers or prefer something a little more understated, nowhere do sneakers shine more than as the finishing touch on a cool and casual outfit. But when it comes to finding that perfect, holy grail shoe, today's sprawling sneaker selection can quickly become overwhelming. That's why we've gone ahead and done the hard work of trend-spotting and market research.
If you're looking for the right pair of kicks to set off your favorite everyday looks, consider this your guide to the refresh you need. From high-tops to slip-ons, we've identified the best and most stylish sneakers to complete any casual 'fit.
How we selected products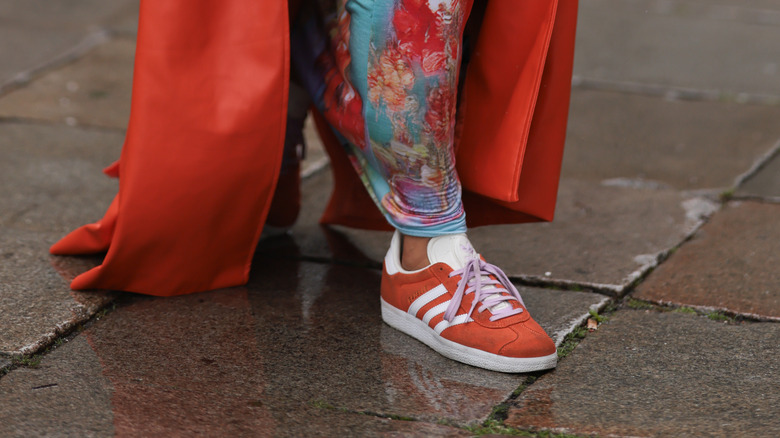 Jeremy Moeller/Getty Images
When it comes to choosing accessories, shoes are a unique case. They not only need to look good and suit your personal style, but they need to fit well, provide comfortable support, and be able to withstand significant wear and tear. So when it came time to find the best sneakers on the market, we knew we needed to balance fashion with practicality.
We started with the look. After all, we're on the hunt for stylish sneakers. So the candidates were evaluated on their colors and silhouettes, with an eye for timeless versatility or statement-making style. Then we dived deep into the construction and wearability. Each pair of shoes was analyzed based on its materials, longevity, fit, comfort, and value for money. For evidence, we pored through product pages, ratings, customer reviews, and recommendations from other recognized experts in the industry.
In the end, we were left with a shortlist of stylish sneakers worth their weight in gold. Whether you're seeking new everyday shoes for running errands or some fashionable sneakers to wear on casual outings, these foolproof styles provide the perfect place to start your hunt.
Best overall: Cariuma Vegan OCA Lows
For our best overall pick, we were looking for chameleon-like sneakers that could be worn with any aesthetic or ensemble — a true everyman of the sneaker arena. Ultimately, we were won over by Cariuma's unique yet wearable designs and the overwhelmingly positive feedback to these eco-conscious sneakers. The OCA Lows are effortlessly cool and come in a mind-boggling array of colors and patterns, including prints influenced by famous art pieces and colorful collabs with Pantone. For a tidy, minimalist vibe, check out the OCA Lows in refined earth tones like Cacao Nibs Canvas. Or express your individuality with creative options like the Japanese-inspired Hokusai Wave Off Kanagawa Canvas print. Whatever your preference, nearly 12,000 customers agree that these comfy and sustainable sneakers are the real deal, earning them an enviable rating of 4.76 stars.
Purchase the Cariuma Vegan OCA Lows at Cariuma for $89.
Best high-top sneakers: Converse Chuck Taylor All Stars
Some shoe styles truly stand the test of time — and the Chuck Taylor high-tops from Converse are iconic for a reason. Casual, versatile, and available in endless colors and patterns, Chuck Taylors have become cult favorites. It's no wonder, then, that Chucks boast a 4.8-star rating from nearly 6,000 reviews. Pair them with anything from athleisure to tailored suits for a young, playful vibe. The only caveat is that while these flat-soled sneakers have undergone redesigns for added comfort, they may not have enough arch support for all foot shapes. So consider sizing up and adding an insole if your tootsies need extra love.
Purchase the Converse Chuck Taylor All Stars at Converse for $65.
Best low-top sneakers: Adidas Samba Classics
In another example of enduring style, Adidas Sambas continue to dominate as consistently trend-setting low-top sneakers. With their recognizable design and sleek profile, these low-tops can be styled to fit a number of casual occasions. Plus, reviewers on Zappos give them high marks for comfort and fit. As happy customer Michael H writes, "The most durable and versatile shoe I've ever owned. Easy to dress up or down, it's a great shoe for work and play. ... Highly recommended." A note about sizing: Sambas are considered to be unisex sneakers, and are sold in men's sizes. So be sure to double-check that you're getting the right size for your particular feet.
Purchase the Adidas Samba Classics at Zappos for $89.95.
Best white sneakers: Reebok Women's Classic Leather Sneakers
A classic white sneaker will never go out of style. And with a 4.4-star rating from more than 3,500 customers on Amazon, these quintessential shoes from Reebok have firmly secured their place among celebrated footwear icons. Form-fitting but not thin, padded but not chunky, Reebok's Leather Sneakers represent an archetypal sneaker design. Pair them with anything from jeans and a T-shirt to a fun and flirty minidress. You can't go wrong. For those seeking variety, these shoes are actually available in other styles, as well — but for diverse styling, you just can't beat the look of a pristine white pair.
Purchase the Reebok Women's Classic Leather Sneakers at Amazon for $59.95.
Best black sneakers: New Balance Women's 608 V5 Cross Trainers
White sneakers may rule the roost when it comes to versatility, but we'd argue that striking black sneakers are next in line for the throne. In fact, black sneakers are an incredibly chic and wearable shoe trend. Enter this time-honored style from New Balance. White New Balances are of course iconic, but we're equally enamored with this all-black variation, with its subtle detailing and impactful silhouette. Made with 100% leather and notoriously comfortable, New Balance Cross Trainers have earned their place as must-haves time and time again. But don't take our word for it — these shoes are overflowing with social proof. A stunning 31,000 Amazon reviews have given these New Balance Cross Trainers a 4.5-star rating, cementing their reputation as dependable go-to sneakers.
Purchase the New Balance Women's 608 V5 Cross Trainers at Amazon for $46.95.
Best colorful sneakers: Onitsuka Tiger EDR 78s
Looking for some sneakers with character? We love the contrasting colorways of these running shoes from Onitsuka Tiger. Add flair to your ensembles with combos like mustard and dried berry, grey floss and tiger yellow, or piquant orange and dusty turquoise. The range of hues and vaguely vintage vibes of the EDR 78s create instant interest, jazzing up casual or understated ensembles. Some Amazon reviewers do point out, though, that these shoes are more for style than substance — in other words, they're better suited to walking than extreme sports.
Purchase the Onitsuka Tiger EDR 78s at Onitsuka Tiger for $100.
Best sustainable sneakers: Allbirds Wool Runners
The market for sustainable shoes is growing, so there were several strong contenders for this category — including our overall favorites from Cariuma. But we were very taken by the neat, streamlined style and clear ethos exhibited by Allbirds' Wool Runners. The classy uppers, made from Merino wool, are crafted with an eye toward animal welfare. The soles and insoles use green materials derived from sources like sugar cane and castor beans. Even the shoelaces are made from recycled plastic bottles. And Allbirds takes pains to calculate and share the carbon footprint incurred by each pair, so you know exactly what your ecological impact is. Moreover, the shoes look incredibly sharp, and are available in a number of elegant colors, making these sustainable sneakers a win-win in our book.
Purchase the Allbirds Wool Runners at Allbirds for $110.
Best platform sneakers: Adidas Nizza Platform Shoes
Love the sporty vibe of Adidas sneakers, but want to put a more fashion-centric spin on it? These platforms are an absolutely adorable way to add an extra hint of whimsy to your look. Perhaps more importantly, they beat out many other platform styles on one of the pillars of high-quality footwear: comfort. Over 3,800 reviews have landed the Nizza platform sneakers with a rating of 4.7 stars, praising not only their cuteness and true-to-size fit, but their easy wearability — even among customers with wider feet. Try them out in classic black or white, or grab these reliable platforms in one of several colorful patterns.
Purchase the Adidas Nizza Platform Shoes at Adidas for $32, now on sale from a regular listing price of $80.
Best slip-on sneakers: Vans Classic Slip-On™ Core Classics
With a low profile and the laidback sensibility of an old school skate shoe, Vans slip-on sneakers are a no-brainer. The canvas uppers are slim but durable, and extra padding in the footbed and around the ankle ensures a comfortable fit. Moreover, they strike the perfect balance between style and convenience. As reviewer Desiree writes, "These are the shoes I have been searching for my entire life. Little did I know they were right under my nose. .... The older I get, the lazier I get. No laces?! Sign me up! These are comfy. I have slightly wide feet and these really fit the bill. ... They are cute, go with everything, and are great everyday shoes." These slip-ons are even available in various colors, like chic black, serene navy, or funky checked patterns. But for easy style and versatility, we especially love the clean look of fresh white Vans.
Purchase the Vans Classic Slip-On™ Core Classics at Zappos for $54.95.
Best sporty sneakers: Nike Dunk High-Tops
This category was among the most hotly contested, but, in the end, we couldn't help but bow to Nike as the reigning champion of sporty kicks. And while their signature Air Force 1s are always a solid choice for streetwear, calling out this style felt a little safe and expected. Instead, our current pick for statement-making sneakers goes to the more eye-catching Nike Dunk High-Tops. With satisfying bulk and a design that marries the retro with the modern, Dunks are undeniably cool. Plus, their clean white uppers come offset by contrast trim in your selection of black, burgundy, or beige, letting you choose your own sneaker adventure.
Purchase the Nike Dunk High-Tops at Nike for $125.