The Right Shoes To Pair With All Of Your Midi Skirt Outfits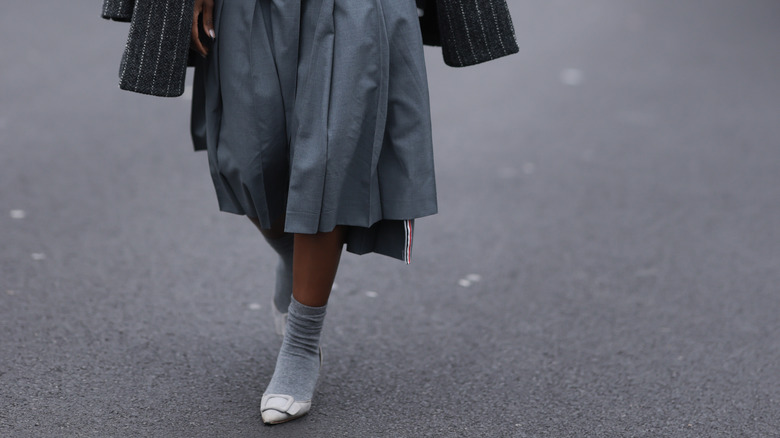 Jeremy Moeller/Getty Images
Living in the shadows of the spicy and sassy mini skirts and the dramatic, sweeping lengths of maxi skirts are midis. The Goldilocks of the skirt world has patiently waited for their time in the spotlight, and the fashion powers that be have finally deemed the time to be right. Flocking the streets and Fashion Weeks in multiple cities, it's clear there is much you can do with this type of skirt. 
While the classic silk and satin options have been heavily embraced, the midi skirt has already received an edgy update this year through the likes of leather, denim, and eye-catching details. If you now have a few midis neatly stored in your closet, you've likely been devising plans for how to wear each one throughout the year (and beyond). Picking out tops? A piece of cake. But what about footwear? Not as intuitive. If you're after a quick styling 101, you've come to the right place. Here's your guide to finding the right shoes to pair with all of your midi skirt outfits.
Calf boots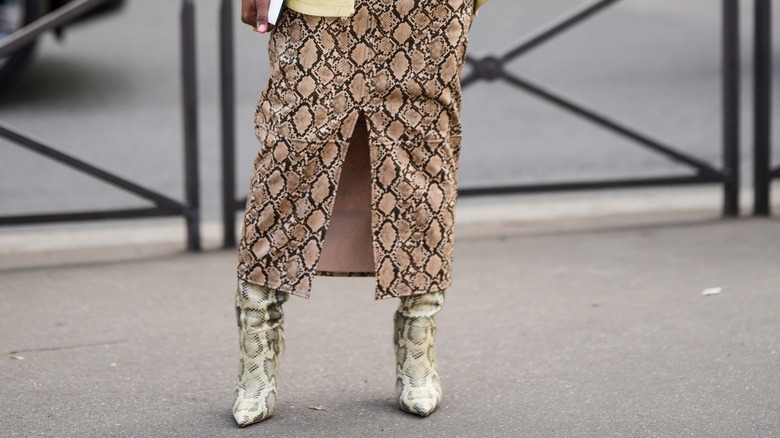 Edward Berthelot/Getty Images
Midi skirts are slightly shorter than maxi skirts, which means there's plenty of room for showing off a chic pair of shoes. Calf boots are one such option that makes for a dramatic look when paired with a longer skirt. Although you might initially not think to mix long boots with a longer skirt, it's a great ensemble. Try choosing materials in similar prints or opt for a different color of skirt or boots for some statement color blocking. For slouchier boots, a structured midi skirt is best (think leather or denim), but for rigid pairs, flowy skirts in satin or a ruched fabric work fab. 
Strappy sandals
Midi skirts in powerful patterns or colors deserve the attention they command. If you don't want your outfit to feel too flashy, aim for a subtle pair of shoes that won't take away from the rest. The perfect choice? Strappy sandals, particularly in a neutral color or one that matches your skin tone. Opting for this kind of footwear elongates your legs, which is even more helpful if you're not a fan of the skirt's proportions, including where it cuts off on your leg. Skirts at this length are also lovely candidates for strappy sandals that wrap up the calf.
Tall boots
Like calf boots, knee-high and thigh-high boots are fashionable choices for plenty of outfits, but you might be tired of the same old. The dated knee-high boots and shorts look has had its run, and if you need a 'fit that's a sophisticated step up, pull a midi skirt off the hanger instead. Choose shoes and a skirt in the same color for a clean, consistent line of color that feels uniform and put-together. This specific combo is also a smart way to keep these skirts in your closet long after the summer sun has gone away since it covers everything and doesn't require tights.
Slides
Midi skirts are a warm-weather staple (and the perfect vacation must-have). That's why it's ideal that slides work so wonderfully with a midi skirt, since they, too, are likely on your packing list. To style a pair of slides with a midi, you can take it a few different ways. If you're toying with the idea of something laid-back and low-key, grab a crop top or tank body suit to keep it casual. Aiming for a polished result? Chuck a blazer on top — you can never go wrong with that. 
Loafers
Like any good wardrobe staple, midi skirts can chameleon their way into a plethora of outfits. To step up your style game and make a midi skirt fit for work or a lunch date, try wearing it with a pair of loafers. It's a look that our fashion friends across the pond would completely approve of, whether you decide to rock a blazer, leather jacket, or padded-shoulder blouse on top. Add a pair of socks and you'll be rocking one of the chicest summer shoe trends.
Flats
Balletcore and ballet flats are some of the best shoe trends of the year to pop up so far. While they were far more popular in the early 2010s, these flat-soled shoes have seen a revival and look fabulous when paired with a midi skirt. While any silhouette will do, these shoes work especially well with A-line skirts. With straight cuts, flats might feel a tad too casual, and pairing a triangular-shape skirt with heels might lean slightly retro ('50s-inspired skirts, anyone?). You see what we mean.
Pointed-toe heels
The opposite of flats are high-heeled stilettos, but they're just as good an option when it comes to footwear that's impeccably made for a midi skirt outfit. The right midi skirt is just as upscale as your favorite dress, and to keep this aesthetic going, tall heels are a reliable choice. Keep to the same color family, and you'll have the perfect luxe ensemble that feels more manageable than a gown or slip. Looking to tone it down? Throw on an edgy jacket for street-style appeal, whether a bomber, shacket, or leather jacket.
Clog slip-ons
Clogs are the quirky shoe trend you probably weren't expecting in 2023. While all variations of this shoe are being spotted on influencers, it's really the slip-on model that's taken over (sorry to all the wooden clogs out there). Pairing them with denim and cargo trousers has been majorly popular, but don't forget how good they look when worn with your favorite midi skirt, too. Don't let your staple black or denim midi skirt do all the talking, either. Clogs and a statement midi are a match made in heaven.
Chunky ankle boots
We all know opposites attract, right? The same can be said for the fashion world, as proven by this mix. Clunky boots provide the opposite energy of a loose and flowy midi skirt, which makes them work so well together. The slightly punk aesthetic of a heavy, lug-sole boot might feel OTT when paired with skinny jeans and a bomber jacket, and a sleek, undulating skirt might feel a touch too girly for some fashion lovers. For the perfect balance, introduce your silkiest skirt to your chunkiest pair of boots. It's basically science. 
Western boots
If you're on the hunt for tips to rock a trendy denim midi skirt, look no further. A little Western flair can instantly take a blue jean skirt up a notch. At first, blush, denim, and white feel like classic basics, but it's all in the cut and pairing. Choose a midi skirt that's distinguishable from the standard A-line or straight silhouette (maybe a slit is your vibe, or possibly buttons or a tie?). Then work in a pair of cowgirl-approved boots to make the most of this outfit. 
White boots
With so many ways to style white boots, a midi skirt shouldn't be forgotten. Fashion minimalists will find that white boots and a midi skirt and top in slightly different variations scratches the itch for a small splash of color. Although it slightly depends on the shade of your skirt, you'll be hard-pressed to find a tone that won't work with a pair of white boots. Pastels, taupes, and lighter tones are fantastic for spring and summer, whereas dark brown and black leather midi skirts are gorgeous for cooler seasons — your white shoes will look great with either.