Fall & Winter Will Be Here Before You Know It, And So Will The Reign Of These Hot Bag Trends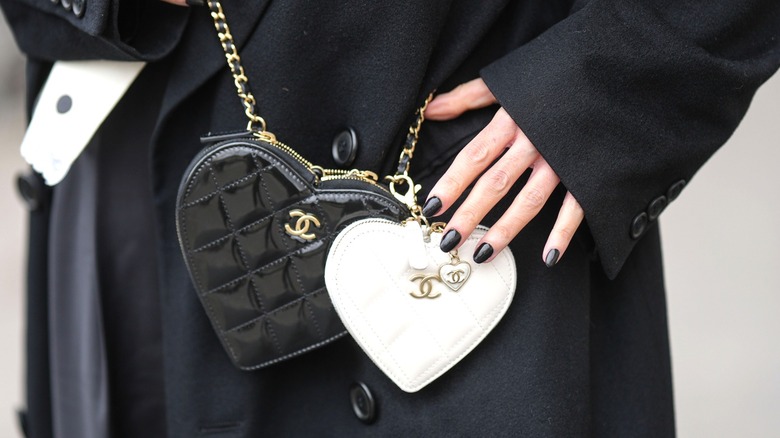 Edward Berthelot/Getty Images
These days, you have many options for carrying things around, but if you have a sizable number of essentials, forcing them all into a fanny pack isn't ideal. We don't recommend stuffing all your gear into the pockets of your cargo pants, either. Tote bags and purses are still the best options we're aware of for keeping all your necessities together, organized, and easily transportable. 
If you're planning to shop for a new bag to take on the go with you this fall and winter, you'll find options for carrying as much or as little as you need. The tiny handbag trend of past years has mostly run its course, but there are still some compact options around. If you have a lot to carry with you, rejoice, because some of the most popular bags right now are sized for carrying your laptop, tablet, or other large devices in addition to things like water bottles, keys, compacts, snacks, and bottles of hand sanitizer. 
If you're bringing a bunch of stuff with you, you're likely to also appreciate how many fashion influencers are carrying more than one bag with them. It's currently fashionable to carry two bags or to carry a handbag while also wearing a belt bag. Let's take a look at the other noteworthy bag trends for fall and winter 2023. 
Roomy, oversized handbags and totes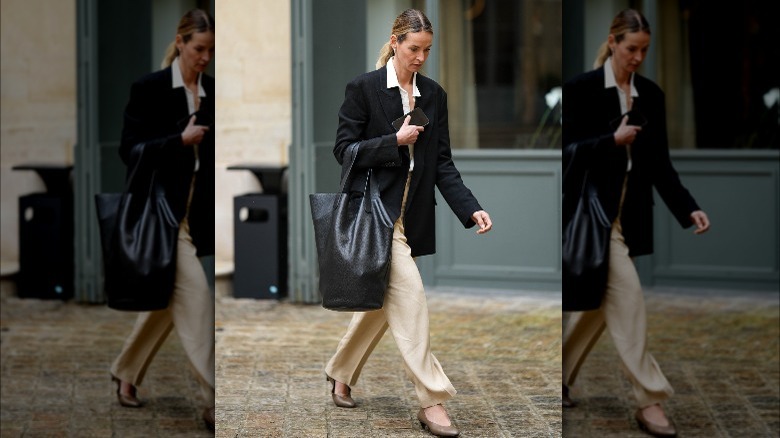 Edward Berthelot/Getty Images
If there's one must-have accessory this fall and winter, it's a gigantic tote bag in a classic, go-anywhere shape. Los Angeles-based fashion stylist Djuna Bel tells Forbes that the ideal tote bag "should be secretly utilitarian with a clean, timeless silhouette and design." Bel prefers a tote that's substantial enough to use as a carry-on bag for flights yet chic enough to carry with you when you dine out or spend your evening socializing. To create a sophisticated ensemble, choose a bag color that matches your favorite blazer, and pair these pieces with neutral-colored pants and a white dress shirt.
Ball-shaped handbags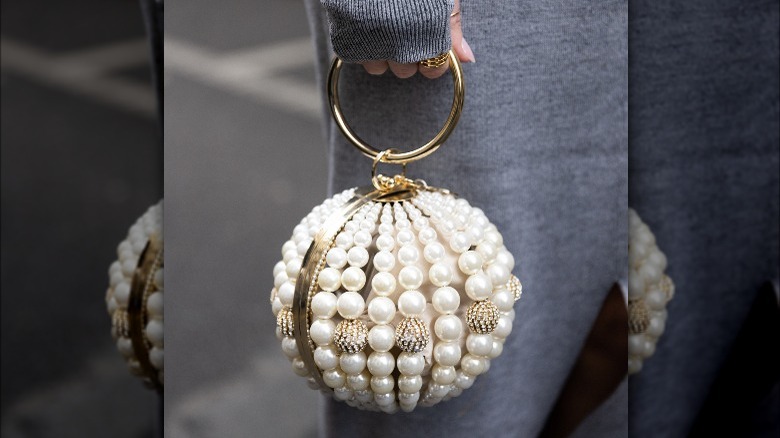 Valentina Frugiuele/Getty Images
If you don't need to carry a massive tote bag's worth of essentials with you, a spherical handbag gives you a stylish option for transporting a few small things like lip gloss, a credit card, or a money clip. If you're headed out for a dressy occasion, you could choose a pearl-encrusted orb: This design is fancy enough to carry to weddings, parties, and other events. There are less formal versions available, too. Some of the latest ball-shaped bags are transparent or made of textured leather. There are even spherical purses made to resemble basketballs.
Textured Fabrications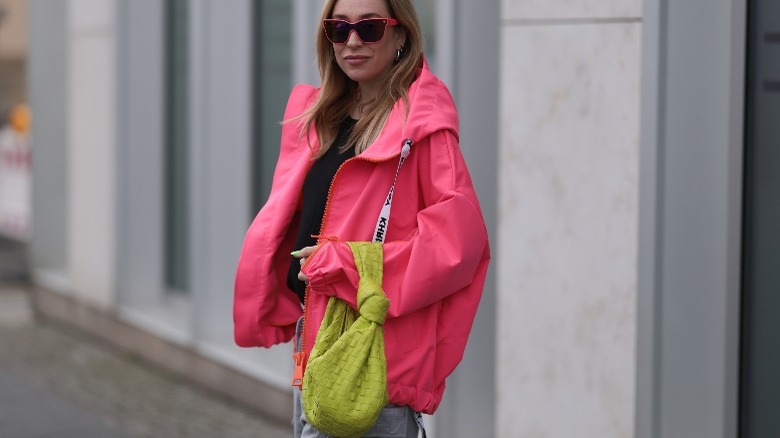 Jeremy Moeller/Getty Images
Tactile, touchable textured handbags are some of the hottest fashion accessories for fall/winter 2023. Virtually any textured fabrication works: It can be woven, braided, knotted, pebbled, studded, embossed, or even furry. If you want an intricate, upscale bag, look for a style that's made from woven strips of lambskin leather that were interlaced using the intrecciato technique. You can pair the bag with a bold, contrasting jacket, comfortable cargo pants, and shades that match your jacket to arrive at a stylish ensemble that's suitable for everyday wear in fall's cooler weather.
Quilted Bags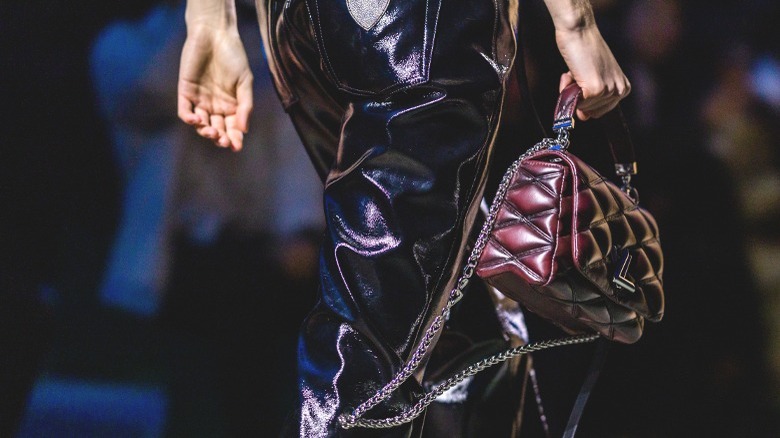 Justin Shin/Getty Images
Quilted bags give you another option for incorporating rich, luxurious texture into your ensemble. If you've scored one of the latest trendy pairs of real leather or faux leather pants, this is exactly the type of handbag you'd want to carry when you wear them out and about. However, quilted bags are versatile enough to carry with you to work and just about anywhere else you might need to go.
Athleisure style hobo bags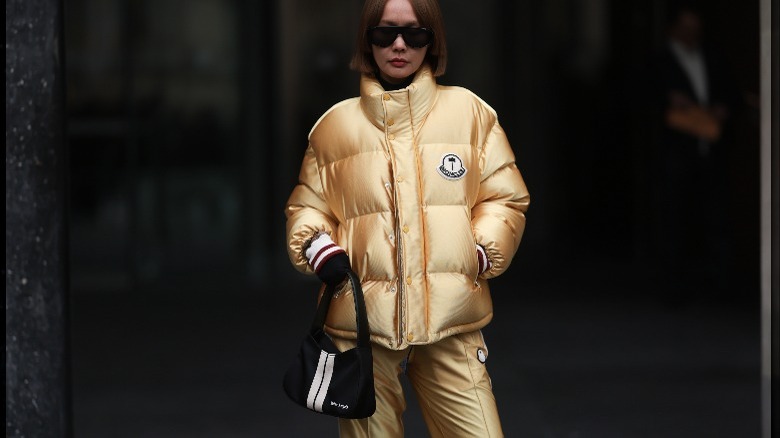 Jeremy Moeller/Getty Images
Hobo bags are back in style, and we're seeing a variety of sizes and fabrications in this silhouette. You can choose from small, compact hobo bags on up to huge, roomy hobo tote bags. If your everyday look includes relaxed athleisure clothing, a sporty, black and white nylon hobo bag will integrate flawlessly into your wardrobe. Style your hobo with chunky shades, a shimmery gold puffer jacket, and matching gold pants. You can also pair it with any black or white separates you already own.
Intriguing curved bags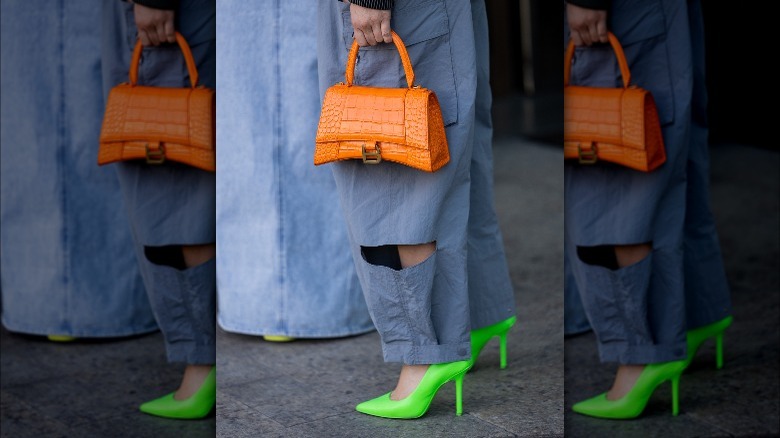 Christian Vierig/Getty Images
We'll collectively be clinging to summery colors like orange sherbet and lime green as we head into fall and winter. If you want to carry a handbag that epitomizes the season's most prominent bag trends, grab a crocodile textured handbag with a top handle, a unique curved shape, and a vibrant neon color. This glowing orange example is just begging to be worn with high-heeled, lime green pumps: These bright colors bring a pair of the latest drab, wide-legged cargo pants to life. You could also style these accessories with flared jeans for another on-trend fall/winter look.
Heart-shaped purses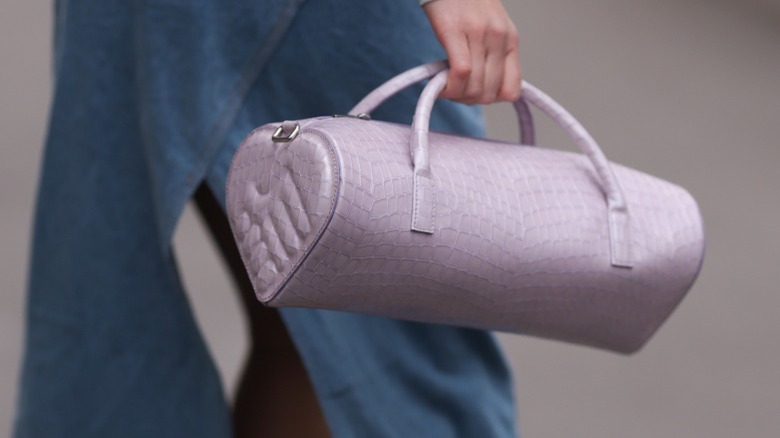 Jeremy Moeller/Getty Images
Interesting and unusual handbag shapes are highly coveted by trendsetters right now. In particular, they're carrying heart-shaped bags in diverse colors and styles. Some of the latest heart-shaped bags are dressy enough to carry with eveningwear, and others are viable for everyday carry. Some are slim and compact, while others are more like tubes with hearts at either end. A textured version in a color like lavender is the perfect choice if you're looking for an everyday bag you can wear with jeans, denim skirts, cargo pants, and other casual clothing.
Embossed crocodile leather handbags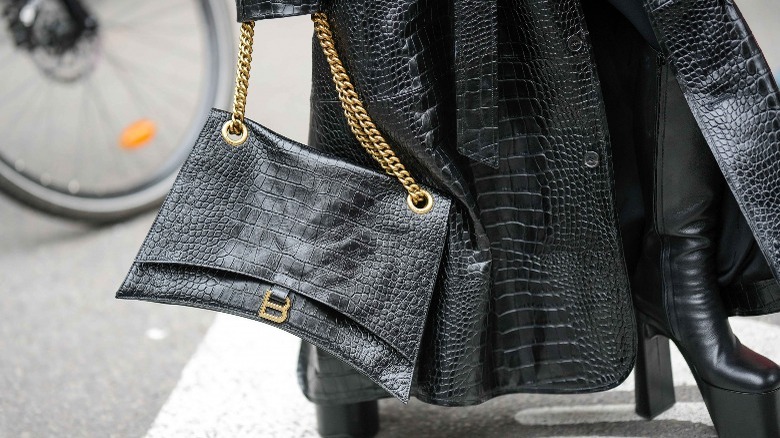 Edward Berthelot/Getty Images
Crocodile embossing is showing up on just about every handbag silhouette you could imagine. Faux crocodile bucket bags, tote bags, crossbody bags, and clutches have all been making appearances in Instagram feeds, on fashion runways, and in high-end department stores across the globe. These bags are available in every color of the rainbow, but black is a current top favorite. 
For a sleek look, carry an hourglass-shaped crocodile embossed shoulder bag with gold accents and a gold chain handle. Pair it with a complementary leather or faux leather embossed crocodile long coat and accessorize with chunky high-heeled platform boots.
Crescent-shaped bags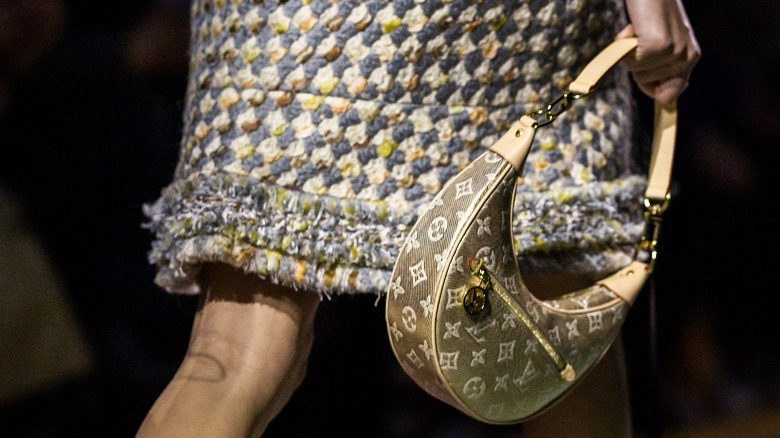 Justin Shin/Getty Images
Add crescent shapes and moon shapes to the list of au courant handbag shapes for fall/winter 2023. Although many of today's current handbag styles are logo-free and understated, there's still plenty of interest in bags with conspicuous logos, too. If you want to carry a bag with a prominent logo, a crescent-shaped bag is an ideal canvas for logo pattern designs. Pair this style of bag with a textured, patterned skirt that hits just above the knees for an elegant, wearable everyday ensemble. 
Denim-friendly blue leather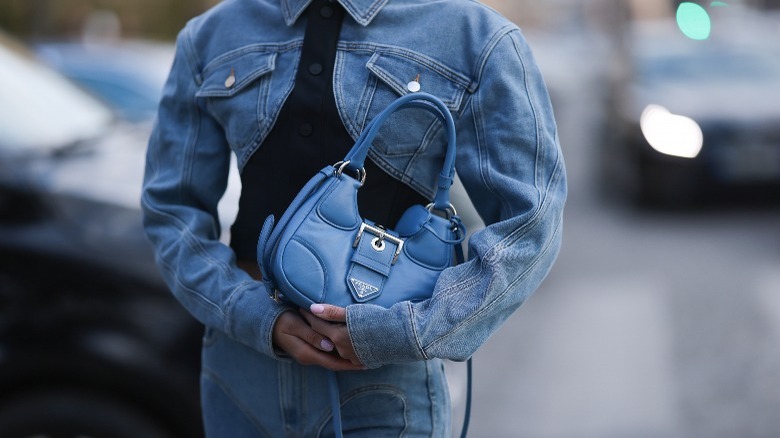 Jeremy Moeller/Getty Images
We're seeing a lot of denim around lately, and we predict that denim-on-denim will be one of the trends you'll want to rock in fall/winter of 2023. Therefore, a denim blue-colored bag is a fantastic accessory to include in your fall/winter wardrobe. To maximize this trend, team up your favorite pair of jeans with a matching denim jacket or shirt. If you're looking for a fresh new twist on the jean jacket, try a cropped silhouette with curved lines. Bonus points if you opt for a denim blue-colored manicure, too.
Top handles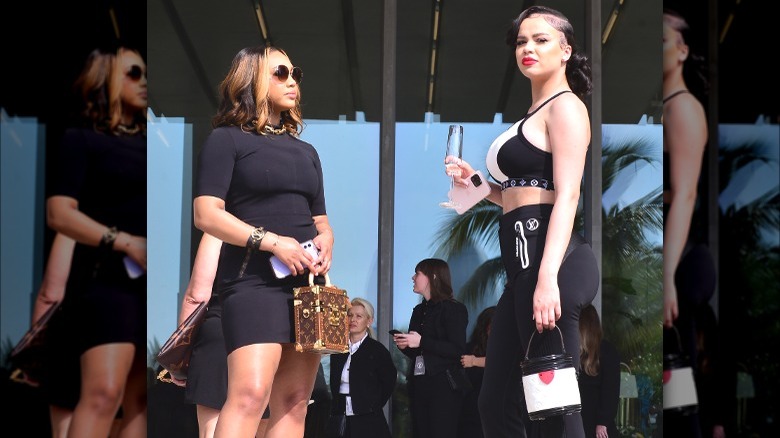 Vallery Jean/Getty Images
Top handles give you an easy means of carrying your handbag. Some current bag styles have top handles in addition to other options like chain straps. Others just have the top handle: If that's the style you opt for, be prepared to carry your bag in one hand, because there's no shoulder strap to rely on. 
Top handle bags are versatile and can be styled with a variety of looks. Pair a dressy top-handle bag with your favorite cocktail dress for going out. An understated black and white top handle bag looks stunning with athleisure separates including leggings and a sports bra-style top.
Faux fur bags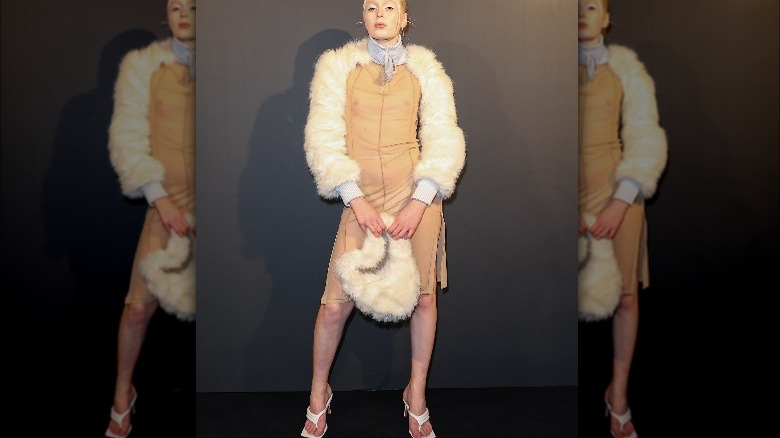 Pietro S. D/Getty Images
Faux fur and shearling will both be trendy this fall and winter. Look for these fabrications in coats, jackets, footwear, hats, tote bags, handbags, and other accessories. When the weather turns chilly, bundle up with a pair of cozy faux fur arm warmers, and carry a matching bag with you. You can style these items with a chic beige dress or with jeans for a change of pace. For footwear, try high-heeled sandals if you rock these items in late summer heading into fall. When the weather turns truly frigid, ditch the sandals and substitute ankle boots instead.
Chain straps or handles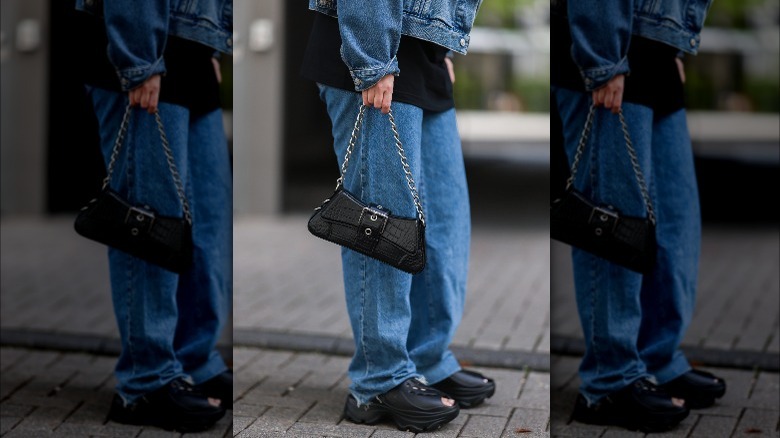 Jeremy Moeller/Getty Images
Many of fall/winter 2023's most popular bags feature chain handles, chain hardware, or other chain embellishments. This is part of a broader chain trend that also includes chain necklaces, body chains, and chain belts. This trend doesn't require you to wear more than one prominent chain at a time, although you can if you want to. 
When you want to keep it simple, style your chain-handled purse with wide-legged jeans, a denim jacket, a casual long shirt, and a pair of chunky shoes. The same bag can do triple duty in your wardrobe: It also pairs well with career clothing and after-five attire.
Sustainable, vegan-friendly cork handbags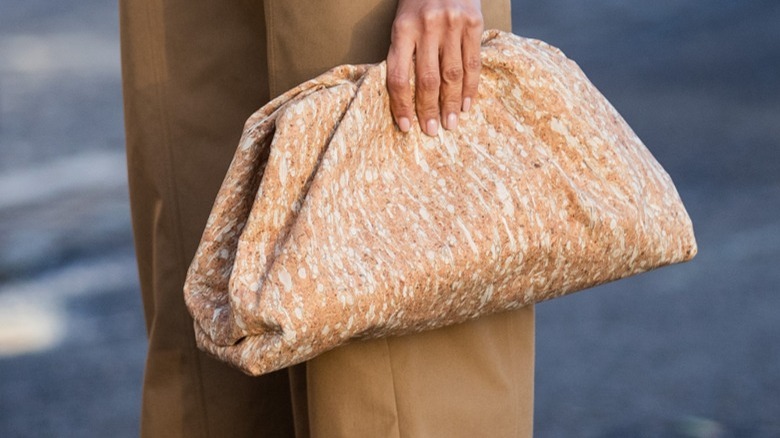 Christian Vierig/Getty Images
Celebrity fashion stylist Rebekah Roy is enthusiastic about vegan cork handbags for featuring in fashion shows and celebrity photo shoots. Roy tells readers on her website, "We are starting to see the popularity of cork handbags in the fashion world. More and more I'm asked to include cork items in my editorials and fashion shows!" 
The clutch silhouette is one of fall 2023's top handbag shapes. To get this look, grab an oversized cork clutch bag, and style it with a luxurious camel-colored dress. Add chunky shades, gold jewelry, and chic boots to complete the look.