The Summer Fashion Trend Perfect For You Based On Your Zodiac Sign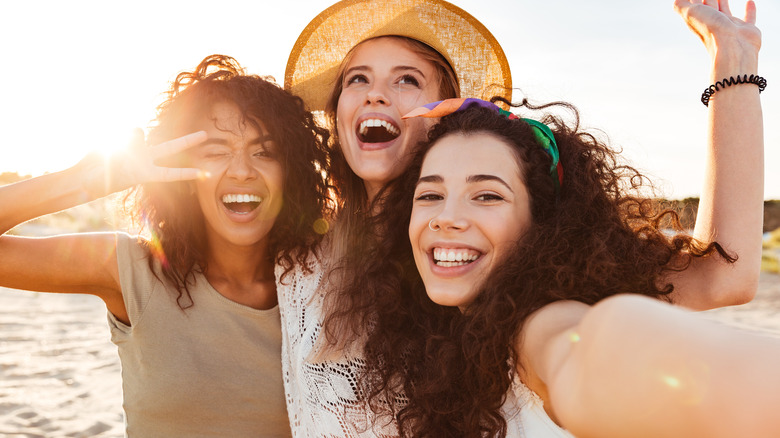 Shift Drive/Shutterstock
Summer is here, which means it's time to take risks and make changes. It's the perfect time to curate your very own personal style that matches your aesthetic and showcases your personality. After all, what's better than warm weather and the perfect summer glow-up? We have so many trends to choose from for summer 2023, ranging from pearls and sheer tops to flowy maxis and florals. So, if you're feeling stumped about where to start, then look no further than your zodiac sign to guide you toward the right fashion trends to indulge in.
Just like how your sign influences your personality, it can also dictate your personal aesthetic and help you curate the perfect wardrobe staples. For instance, bold signs like Scorpios need an equally fiery accessory to make a statement, while a homebody Cancer needs something that encapsulates their sweet and nurturing disposition. Let's help you choose the right warm-weather uniform to wear, whether you're lounging out by the pool, rocking out at a concert, or spending time with family and friends. Your perfect accessory awaits.  
Aries: claw clips
With the summer heat beating down on all of us, it's nearly impossible not to break into a sweat. For an Aries that's always on the go, pulling your hair out of your face is essential. Yet, tight ponytail holders and scrunchies just won't cut it for this summer. Introducing claw clips, the perfect fashion accessory for this busy fire sign to sport in summer 2023.
There's a reason that claw clips have a chokehold on all of us. They allow you to put your hair up in seconds while looking like you actually tried with your hair. Plus, the different claw clip colors and patterns make mixing and matching with different outfits really easy. A big, bold claw clip that holds the hair in a twisted ponytail with spiky edges is the perfect updo that an Aries can rock any day while on the move.
Even if you have shorter hair, the claw clip look is still possible to achieve. "Short hair looks super cute half-up with smaller clips like the small jaw clips or butterfly clips," says hairstylist MJ Snyder in an interview with Ipsy. Plus, since competitive Aries are always looking to get involved in different sports, claw clips will become their best friend this summer so that they can have their hair out their way and keep their eyes on the prize.
Taurus: wide-leg pants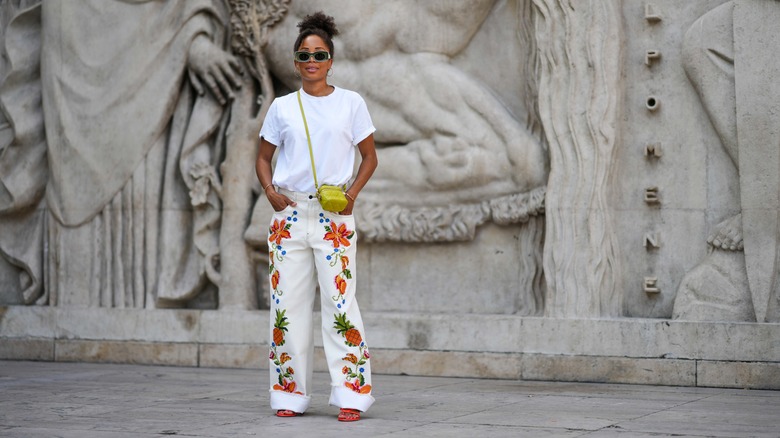 Edward Berthelot/Getty Images
Comfort is on the mind 24/7 for Taureans, which is exactly why wide-leg pants are a match made in heaven for this sign. This earth sign, ruled by Venus, wants to look and feel cute this summer while staying well within its comfort zone. This is where wide-leg pants come into play. With a wide variety of patterns to choose from, Taureans will enjoy the luxury of wide-leg pants that flow romantically in the wind but also will not restrict them while moving around.
Plus, these pants allow them to look as if they put effort into their outfit, which will allow the rather reserved sign to hold their head up high and feel confident. Because Taurus loves the feel of something rather fancy and luxurious, wide-leg silk pants may be the perfect summer piece. They can even opt for a silk set for an ultra-chic look. Ultimately, this will provide the perfect balance of comfort and luxury that this air sign craves.
The well-grounded sign also requires a practical fashion piece like flowy pants that will allow them to navigate through different situations, like going from catching a flight to a lunch date, without ever looking shabby. If Taureans want to feel extra confident, they should choose wide-leg pants in an earthy green color, as that is their power color.
Gemini: neon
It wouldn't be summer without some bright and fun colors. That's right: Summer 2023 is all about neoncore, and this bold trend requires an equally bold zodiac sign to pull it off. Loud, funky, and vibrant, neon as a whole involves attention-seeking colors, and they're a perfect match for Geminis, who are known to be the life of the party. This outgoing sign has a fashion sense that will always turn heads and announce its presence.
This is why the neon trend, known for highlighter colors like bright yellow, hot pink, and all the lively colors in the color wheel, will light up and energize Geminis. And just because neon is in fashion doesn't mean that Geminis have to center their whole outfit around it. It can often be hard for the twin sign to be decisive as they are very restless and have trouble making decisions.
So, rather than committing to the neon look as a whole, they should aim to feature their boldness through statement pieces like neon orange earrings and a matching clutch or a structured neon skirt with a neutral top. The key to making neoncore fit a Gemini's closet is reaching for bold patterns, asymmetrical tops, and anything differing from the ordinary, as this sign is anything but boring. 
Cancer: whimsical maxis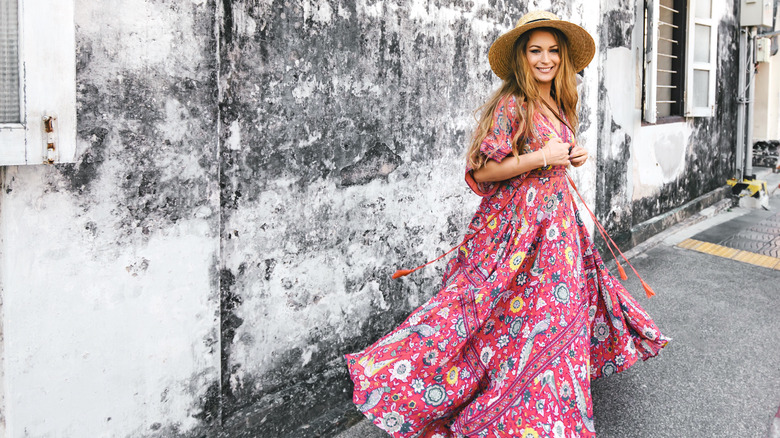 Alena Ozerova/Shutterstock
Romantic Cancers were made for whimsical maxis that sway perfectly in the wind and can provide drama all day long. Cancer is the ultra-sensitive zodiac sign that requires an outfit that encapsulates its sweet and soft demeanor. Floral a-line maxis, flutter sleeves, and bright colors are right up their alley, as they are able to dress them up for a sweet summertime romance that this sign's big heart longs for.
This water sign is also in love with all things traditional and conservative, which means they tend to gravitate toward modest hemlines and silhouettes that are not too bold or striking. An outfit that showcases just how in tune this emotional crab is with their feminine side is of the utmost importance. This means that materials like silk, lace, and frills all have the green light.
Light, summery colors or pastels like lavender, light blue, and various pink shades can also display their softness. However, there is yet another layer of Cancerians that need to be represented. These crabs often like to retreat within their shell for comfort. This can be portrayed even in their outfits by adding layers like a cardigan or sweater over their flowy maxi skirts and dresses. This will allow the water sign to feel cozy and feminine all at once.
Leos: Barbiecore-inspired outfits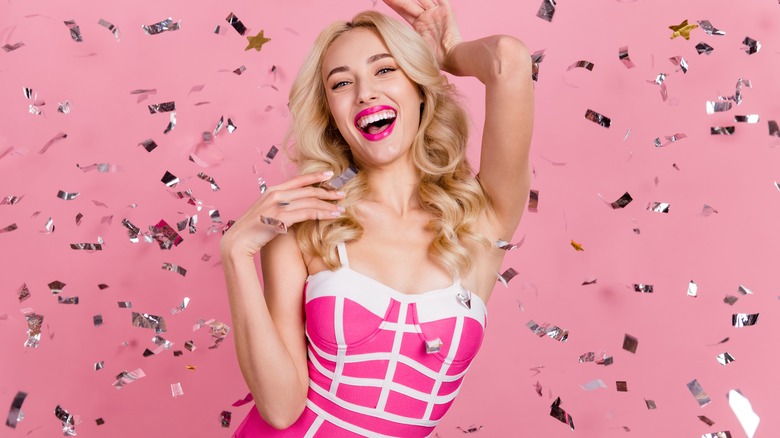 Roman Samborskyi/Shutterstock
The Barbiecore fashion trend is the hottest trend of the summer, and there's no one better to sport the it-girl trend of 2023 than the icons of fashion: Leos. "Barbiecore fashion is anything that references the fabulous world of Barbie," personal and celebrity stylist Samantha Brown tells CNN. "Particularly in hot pink and bubblegum."
Of course, the Barbiecore trend gets inspiration from Barbie, in true fashion to its name. This means lots of pink accessories, heels, sunnies, and sparkles that will help put Leos center stage and shine bright in the spotlight. There's also a nod to '80s fashion with this aesthetic that Leos can replicate this summer with the help of miniskirts and colorful hair clips.
However, this aesthetic is about more than just embracing pink, as it also comes with wearing your bold looks with an air of unapologetic confidence. This comes naturally for this fire sign who thrive as leaders of their pack. Their charming personality can win just about anyone over, and it deserves to be showcased by an equally dazzling outfit.
Virgo: slip dresses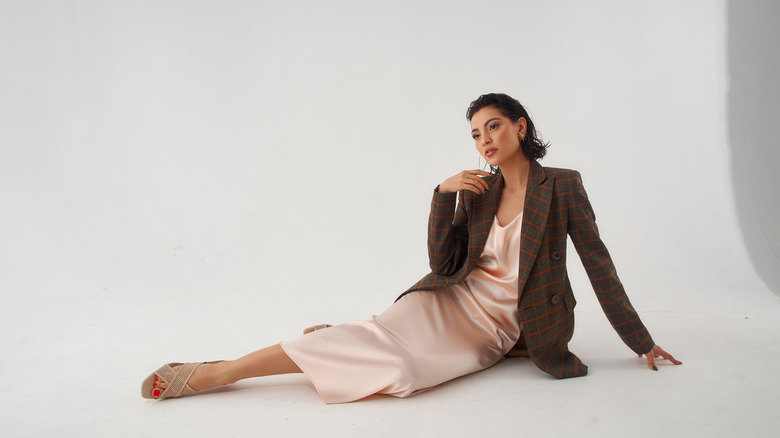 Dmitry_Tsvetkov/Shutterstock
Nothing says pristine like a neat slip dress on a Virgo. This sign's love for minimalism and classic fashion looks is why this trend is a comfortable summer staple for Virgos. The nice thing about slip dresses is that there is little fuss involved, which allows you to move around freely and run multiple errands while being both functional and feminine.
There's also an air of sensuality involved with slip dresses which often have silk or satin fabrics that embody the grace and classiness of this earth sign. Slip dresses are the perfect versatile summer staple because they can be worn on multiple occasions for a sophisticated look. You can slip into a pastel slip or floral slip dress and pair it with sneakers and a denim jacket for a lunch date.
In contrast, a satin black slip dress with a statement blazer and some high heels make the perfect outfit for a night out. Virgos can appear to be perfectionists, constantly mulling over every detail, but they also have a rather soft and tender heart. This is why a classic silk slip dress can help bring out Virgo's gentle mother-earth persona and help the sign present an effortlessly elegant front. 
Libras: denim on denim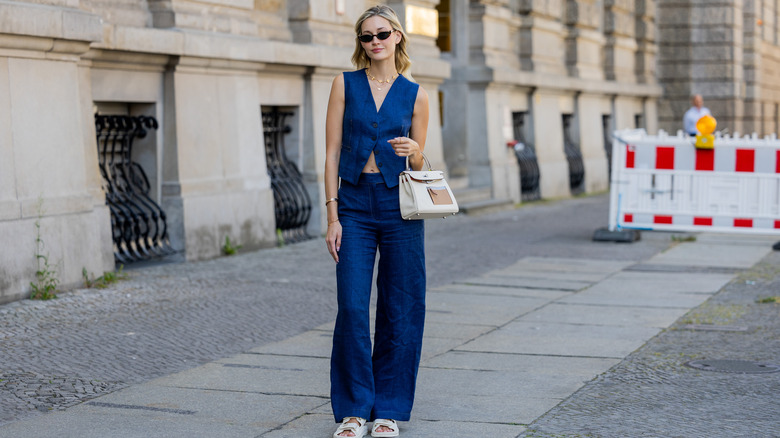 Christian Vierig/Getty Images
Leave it to the trendsetting Libras to make a statement this summer. This air sign loves a good mix between statement pieces and everyday basics. "They blend in or stand out to the degree necessary to bring balance to a situation," says astrologer Amy Zerner (via Glamour). Rocking the denim trend for summer 2023 can help Libras achieve a casual vibe while also straying from a basic look.
They can depict their well-balanced personality through their outfit by choosing similar shades of denim for their top and bottom pieces. For instance, a light blue denim skirt or shorts should be paired with a matching light blue button-up or jacket to maintain a cohesive look and caters to Libra's need for symmetry and balance.  Alternatively, complimentary denim colors, like a black denim vest paired with dark blue denim jeans, can also make a good outfit.
If they're not feeling as brave to rock the denim two-piece just yet, then denim overalls with a T-shirt layered underneath may also be a good place to start. Denim is always a classic for the summer, and you can trust Libra to not only do this trend justice but also take it to the next level, where everyone is dying to recreate their creative vision.
Scorpio: lace-up strappy heels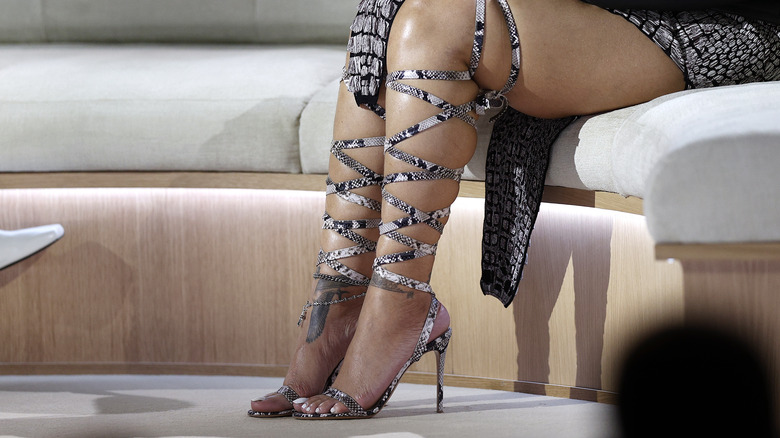 Mike Lawrie/Getty Images
It's only fair that one of the hottest shoes of the summer is worn by Scorpios, as they are the masters of the seductive style. "These lace-up, strappy sandals add a fun element of style and draw the eye upwards," says personal stylist Rachel Varney in an interview with Insider.
This bold shoe is perfectly paired with bodycon printed dresses or even denim cutoffs for a more casual look. Plus, they add an air of mystery to your ensemble, which is right up Scorpio's alley. After all, nothing says heartbreaker like a bold pair of lace-up strappy stilettos. If there's one thing that Scorpios never are, it's boring.
Typically, enigma, passion, and intensity are part of Scorpio's charm, and this translates into their risky closet, which is bound to have some daring statement pieces. So, strappy lace-up heels will fit right into their bold wardrobe for the summer. Plus, Scorpio's tendency to wear all black will add an extra edge that will pair well with their new statement shoes. Even better if their shoes have a bold pattern like a snake or cheetah print.
Sagittarius: florals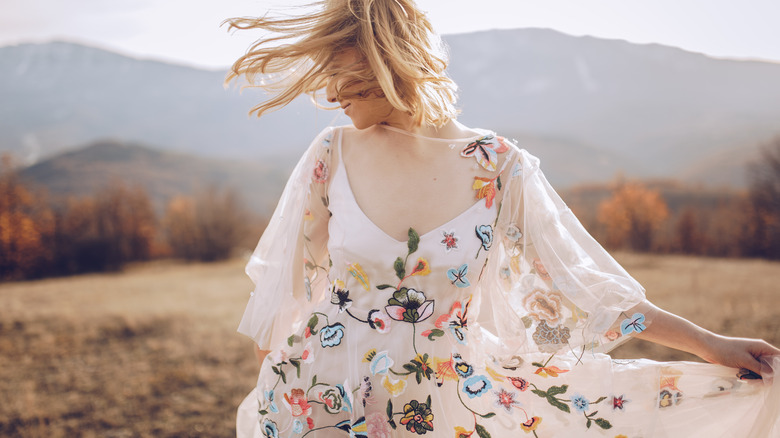 South_agency/Getty Images
You can catch the carefree flower child of the zodiac signs decking out in florals this summer. The optimistic fire sign should embrace floral shirts and dresses that create a fresh and vibrant look. As you learn more about Sagittarius, you get a peak into their lively spirit that shows you just how bright and inviting they truly are.
This infectious personality can be represented through blossoming flowers and bright florals this summer, which are just as warm as a Sagittarius. Spontaneity is key to a good outfit for this carefree fire sign, so there should be little coordination of outfits in advance. This is why classics like a floral cardigan or a floral skirt can be great to throw on for this sign.
This zodiac sign hates to feel restricted and often desires to wear liberating outfits that are larger than life itself. Thus, the floral designs on their clothes should also be bold and large rather than subtle. Bright and warm colors like yellow also complement their warm demeanor really well. Since Sagitarians have a wanderlust energy, a good summer floral outfit will be relatively easy to travel in without needing too much ironing or fussing over.
Capricorn: white linen pants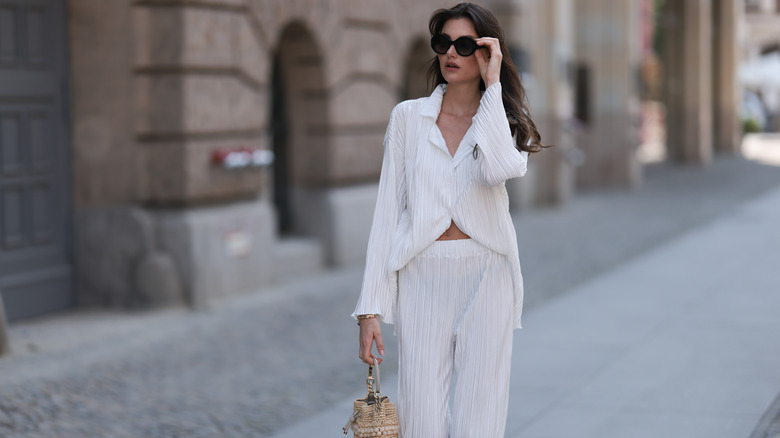 Jeremy Moeller/Getty Images
If there is a zodiac sign that desires school uniforms, it would be Capricorns. This hard-working earth sign is known for being thrifty and could typically care less about fashion trends. Enter white linen pants, the ultimate reusable wardrobe staple that the sensible Capricorns will wear on repeat this summer. This effortless summer fashion trend looks crisp and clean and is the ultimate elevated basic staple that fellow Capricorns can add to their closet.
However, it may be a good idea to check out your local thrift store for some budget-friendly options, as the last thing this sign wants is to spend too much money on just one wardrobe item. Plus, Caps will be happy to know that styling white linen pants can actually be rather easy. All you need are some neutral crop tops for a casual look or linen button-ups for an elevated chic aesthetic.
This same blueprint for outfits can be used for anything ranging from a lunch date to a beach day 'fit, making it incredibly effortless for our busy Capricorns to follow. Plus, it gives a neat and cool effect that fully encapsulates how tidy Capricorns always seem to have it together. For a vintage touch that this air sign desires, add some large sunglasses or a big sun hat, and you're good to go.
Aquarius: sheer tops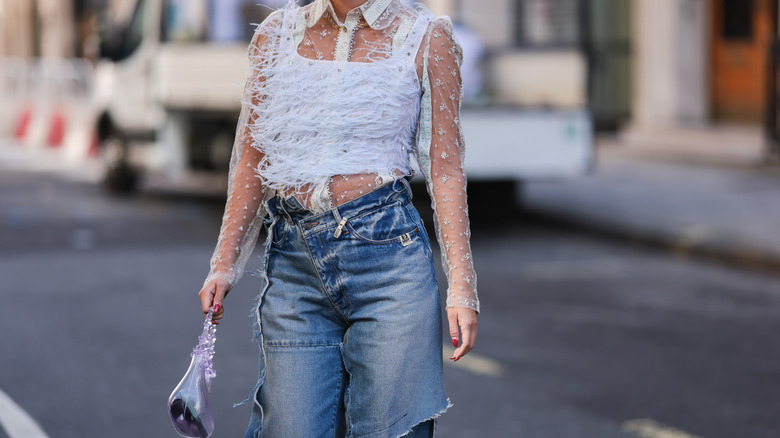 Jeremy Moeller/Getty Images
Nobody does rebellious better than an Aquarius. They're constantly pushing the envelope with their radical ideas and ground-breaking outfits, and this summer should be no different for them. Sheer tops are the flashy fabric of this year, and they can amp up just about any outfit.
With this fabric being both striking and unconventional, it's an obvious fit for the free-spirited Aquarius who loves to experiment. A bold sheer top styled with some leather pants is bound to make others envious of their edgy outfit. There is an art to even sheer tops in order to pull them off well. Even though this fashion trend can seem risky, it can also be styled to appear romantic or sophisticated.
For instance, a white lace sheer top paired with some light blue jeans and a matching bow in the hair can feel soft and feminine, while a black sheer top can make the perfect pairing to some bold patterned pants. Either way, you can trust Aquarians to hone in on their visionary label and put their creativity into this trend to make it truly a one-of-a-kind look.
Pisces: Bermuda shorts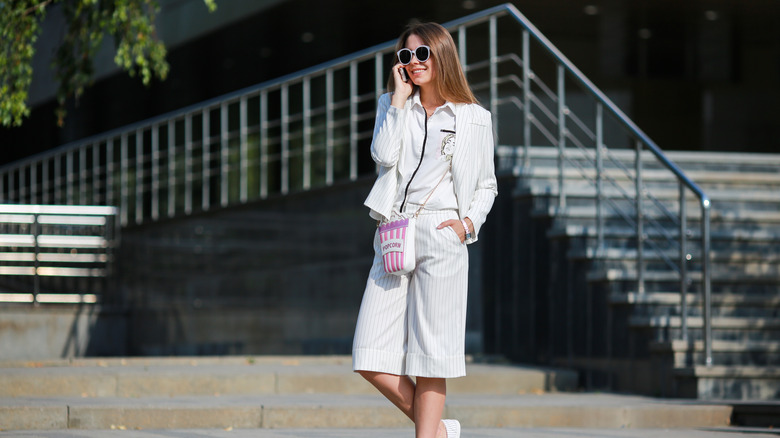 Obitotckaia Tatiana/Shutterstock
Now, when you think of Bermuda shorts, you may think back to your carefree pre-teen days. And if anyone can rock this kidcore-heavy trend, it's fun-loving Pisces. Their playful nature is infectious, and it would be a crime not to represent it in their summer outfits.
Of course, a few tweaks are necessary to give these shorts a more adult feel before adding them to your summer wardrobe. For the adventurous Pisces, cut-off denim Bermuda shorts are the perfect go-to casual look for the summer. However, this sign's dreamy nature and keen creativity also deserve to be on display. This is why a whimsical pattern like stripes, florals, or polka dots paired with a neutral button-up can elevate their everyday look.
Add some elegant block heels, and you're ready to go for a night out. Since Pisces tend to have their head in the clouds and are bohemian at heart, a flowy set of shorts is a great option. Their inner child will also thrive in colorful and dreamy pastels like lavender or sky blue shorts and make the perfect summer addition to this water sign's closet.