The 8 Best Liquid Eyeshadows For A Stunning & Long-Lasting Look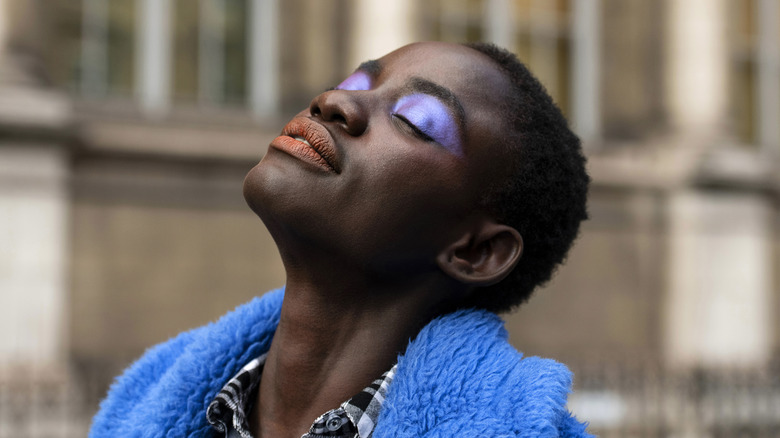 Kirstin Sinclair/Getty Images
We may receive a commission on purchases made from links.
Eyeshadow has come a long way since the hyper-pigmented looks of the 1980s or the icy-white shades of the Y2K era (though if you use either as beauty inspo, we'd totally get it). Color palettes have gotten more attuned to a variety of aesthetics and skin tones, and formulas have been upgraded to withstand long, jam-packed days. Case in point: liquid eyeshadow. A departure from the classic powder texture, liquid eyeshadow typically comes in a tube — not a standard palette or cushion — and promises longer-lasting wear than other formula types. And unlike its powdery predecessors, liquid shadows don't typically flake or leave pigment dust on your cheeks three hours after application.
When shopping for these eyelid boosters, it's important to look for products that maximize durability. The right liquid eyeshadow should survive rainy days, sweat sessions at the gym (or, let's be honest, during your commute), and everything in between. Additionally, because liquid tends to offer punchier shades and more intense shimmer, it's good to have an idea of what color and finish you're going for before hitting "add to cart."
To take the guesswork out of choosing liquid eyeshadow, we rounded up the best picks for a variety of needs, whether it's your first time trying a fluid formula or you're ready to upgrade to a splurge-worthy tube.
How we selected products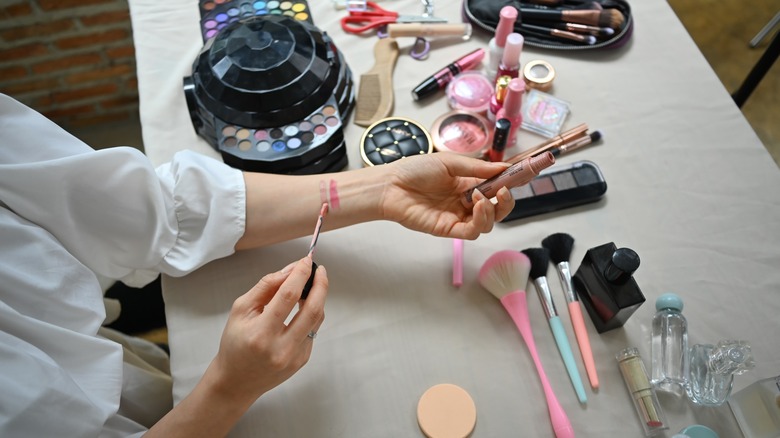 Prathankarnpap/Shutterstock
While the best liquid eyeshadow will largely depend on your beauty aesthetic, skin type, and budget, we did extensive research to select the most beloved, sought-after products. We combed through online reviews, gauged overall popularity (some items pop up in the press time and time again for a reason), and consulted BeautyTok for tried-and-true favorites.
Our list also reflects a range of liquid eyeshadows to suit a variety of needs. Spoiler: There's a liquid eyeshadow option for everyone, and once you find yours, it'll likely become your go-to for everyday wear. All of our choices have a few things in common, though. Expect each product to stay put for hours, stand strong against creases (especially our picks for mature skin and oily eyelids), and offer fuss-free application. You'll also notice most of the items in this list come in several shades, allowing you to choose the one that best suits your eyes and skin tone.
Best overall liquid eyeshadow: Stila Shimmer & Glow Liquid Eyeshadow
When you want to brighten your eyes without looking like a disco ball, Stila's Shimmer & Glow Liquid Eyeshadow is the perfect pick. The formula gives a soft, sparkly effect without the glitter and blinding shine. This makes it ideal for casual daytime looks or sophisticated styles where less is more. However, don't take that to mean the Shimmer & Glow shadow is faint on the lids. Though it's lightweight, it still makes a statement, especially in shades like Daring (a rich pink hue) and Dynamic (a glimmering green shadow).
"I will only wear Stila Eye Shadow," one happy reviewer wrote on the brand's site. "No irritation, and the eye shadow stays on my eye lids until I take it off!! I get compliments all the time, asking what the brand is & where can be purchased!!"
Purchase the Shimmer & Glow Liquid Eyeshadow at Stila for $25.
Best liquid eyeshadow for beginners: r.e.m. Midnight Shadows Lustrous Liquid Eyeshadow
When Hailey Bieber revealed in a Vogue beauty routine video that the liquid eyeshadow from Ariana Grande's brand, r.e.m. beauty, was a staple in her makeup bag, we were sold. The shadow has taken off with amateur and pro makeup lovers alike, including those new to liquid formulas. One Ulta reviewer wrote, "I liked how easy this is to blend. This is my first time trying a liquid shadow, and I found it very easy to use." The product comes with a flat doe-foot wand for precise application and is made for layering so you can control the amount of pigment you present in your look.
Purchase the r.e.m. beauty Midnight Shadows Lustrous Liquid Eyeshadow at Ulta for $16.
Best drugstore liquid eyeshadow: COVERGIRL Exhibitionist Liquid Glitter Eyeshadow
If you want to experiment with liquid eyeshadow without draining your bank account, you can find beautiful and budget-friendly options at your local drugstore. Our recommendation: CoverGirl's Exhibitionist Liquid Glitter Eyeshadow. Besides being affordable, this creamy liquid shadow doesn't skimp on shine. To get started, try the shade Moonlight to create a shimmery smokey eye or At First Blush to add a little warmth. Note that this drugstore find dries quickly, so you'll need to be quick when applying it to your eyelids. Still, it appears to work wonders, with one Amazon reviewer writing, "It was easy to put on and lasted all day! Got many compliments!"
Purchase the CoverGirl Exhibitionist Liquid Glitter Eyeshadow on Amazon for $3.31.
Best splurge liquid eyeshadow: Chanel Ombré Première Laque Longwear Liquid Eyeshadow
If you're willing to shell out a little more money to improve your eyeshadow game, Chanel's Ombre Première Laque Longwear Liquid Eyeshadow might be worth the splurge. It's a favorite of celebrity makeup artists such as Vera Steimberg and Porsche Cooper, and it's easy to see why: The formula promises long-lasting wear and rich luster in each swipe. Reviewers on Chanel's website also praise the product's stunning natural shades (there are four neutral tones to choose from), smooth application, and versatility. Keep in mind that you may have to apply more than one layer depending on your skin tone and desired effect.
Purchase the Ombré Première Laque Longwear Liquid Eyeshadow at Chanel for $36.
Best bold color range: about-face Matte Fluid Eye Paint
Technically, about-face's Matte Fluid Eye Paint is a multi-purpose product, doubling as both an eyeshadow and eyeliner. However, that doesn't mean it falls short in either department, and as a liquid eyeshadow, it's the best in class when it comes to striking shades. FYI, Matte Fluid Eye Paint comes in neutral, earthy tones, in case that's your thing, but with 31 shades to choose from, there's also a lot of room to play. Fancy the rich orange Taxi Driver or the vivid No Queen Blues like us, or perhaps you have another favorite? Chances are you haven't had this much fun with paint since elementary school.
Purchase the Matte Fluid Eye Paint on the about-face website for $16.
Best liquid eyeshadow for oily eyelids: Rare Beauty Stay Vulnerable Liquid Eyeshadow
Oily eyelids and eyeshadow can, in fact, mix as long as you have the right shadow formula. If you assumed liquid versions would slip and slide all over your skin, Rare Beauty's Stay Vulnerable Liquid Eyeshadow will come as a pleasant surprise. Even though it's creamy, it dries with a powdery finish, offering the best of both worlds. It also protects your lids against creasing, fading, or smudging — even if your skin is naturally slick. The five-star reviews say it all: "Amazing!! If you have oily eyelids, this will stay on all day and doesn't crease! I'm very picky when it comes to eyeshadows, and this is great for oiliness," one thrilled Sephora shopper wrote.
Purchase the Rare Beauty Stay Vulnerable Liquid Eyeshadow at Sephora for $20.
Best liquid eyeshadow for mature skin: Armani Beauty Eye Tint Long-Lasting Liquid Eyeshadow
If the skin around your eyes has fine lines, it might seem like liquid eyeshadow would be tough to control, but don't lose hope! Armani Beauty's Eye Tint Long-Lasting Liquid Eyeshadow is a perfect match for mature skin thanks to its highly pigmented and matte formula. Moreover, the formula adheres to the eyelids for a whopping 16 hours, so you don't have to do touch-ups. Most Sephora reviewers over the age of 54 agree the shadow lasts all day and doesn't sink into fine lines. "This is by far the best liquid eyeshadow I have ever tried," one reviewer wrote." "It's smooth, stays put, doesn't crease and it's easy to blend." Be aware, though, that the cult favorite is on the pricier side.
Purchase the Armani Beauty Eye Tint Long-Lasting Liquid Eyeshadow at Sephora for $36.
Best clean liquid eyeshadow: Kosas 10-Second Eye Gel Watercolor Eyeshadow
Beauty brand Kosas is a TikTok favorite not only because its products live up to the hype but also because they're safe for those who abide by clean beauty standards. The Kosas 10-Second Eye Gel Watercolor Eyeshadow is no exception. Like its name suggests, the formula takes mere seconds to apply and is meant to be casually tapped onto the eyelids — nothing complicated here! The result is soft and subtle coverage. And best of all, each tube of the clean, all-vegan liquid contains skincare ingredients to help perk up your lids while they shine.
Purchase the 10-Second Eye Gel Watercolor Eyeshadow at Kosas for $15.