Worst Outfits In Met Gala History (They Can't All Be Winners)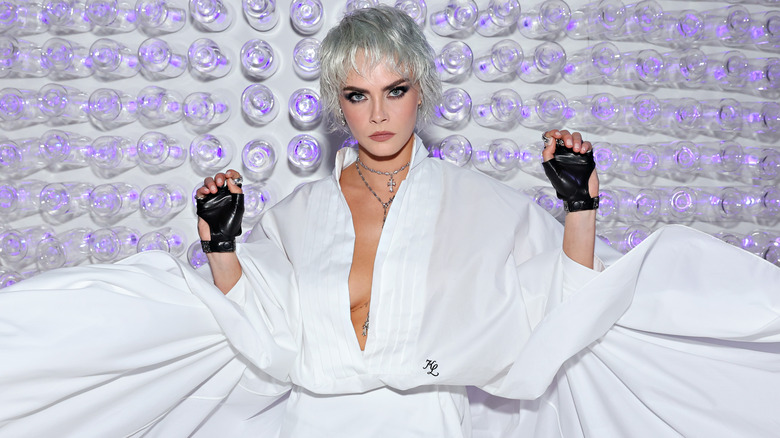 Cindy Ord/mg23/Getty Images
Each year's Met Gala brings together the crème de la crème of the fashion, entertainment, and art worlds. Hosted by the Metropolitan Museum of Art's Costume Institute in New York City, this star-studded affair serves as a fundraising benefit and a platform for attendees to showcase their fashion status. However, not every celebrity hits the mark with their outfit choices, and some end up on the wrong side of the fashion spectrum.
Throughout the years, the Met Gala has seen its fair share of unforgettable looks that perfectly embody the event's various themes. Still, amidst the glitz and glamour, there have also been plenty of outfits that failed to capture the essence of the night, leaving fashion enthusiasts and critics in a state of disbelief. Now, sit down, take a sip of water, and allow us to take you on a journey through some of the worst outfits in Met Gala history, delving into the questionable choices made by celebrities over the years.
While the Met Gala continues to be a spectacle of breathtaking fashion statements, these outfits serve as a reminder that even the most iconic individuals can have off days on the red carpet. And, yes, you should keep that glass of water nearby — you might need it after seeing these looks.
Kim Kardashian's rosette fiasco: Met Gala 2013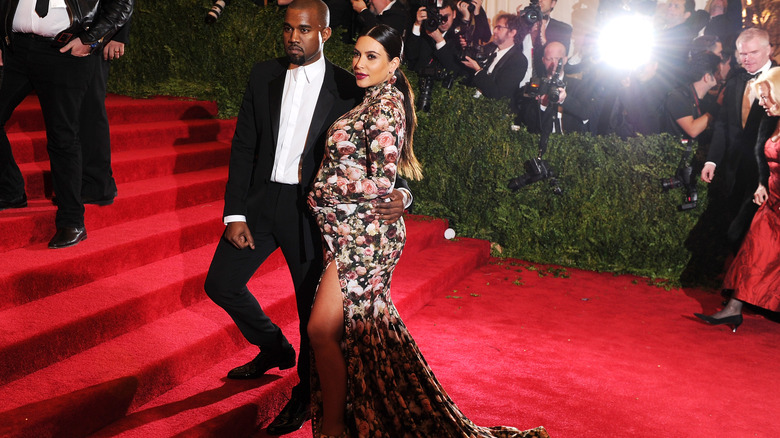 Dimitrios Kambouris/Getty Images
Kim Kardashian's fashion choices have never been ones to go unnoticed, and her debut at the 2013 Met Gala was no exception. The star — who was heavily pregnant with her first child, North — wore a floral high-neck, long-sleeved dress with a thigh-high split by Riccardo Tisci for Givenchy. Little did she know that her ensemble would ignite a storm on social media, generating countless memes.
Scarlett Johansson's bland gown: Met Gala 2008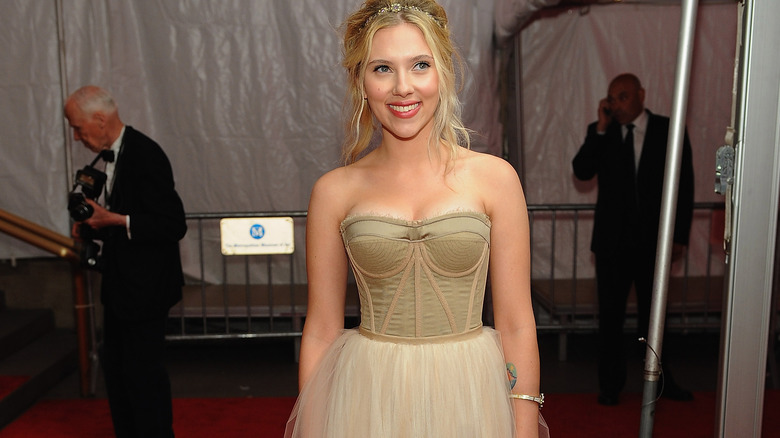 Dimitrios Kambouris/Getty Images
While Scarlett Johansson's ensemble at the 2008 Met Gala wasn't bad per se, it still missed the mark. Wearing a gown designed by Dolce & Gabbana, the actor looked stunning but failed to capture the essence of the night's theme, "Superheroes: Fashion and Fantasy." The look definitely lacked the wow factor and excitement that one would expect from a Met Gala outfit. Johansson played it safe, bordering on the side of bland and boring, which is even more noticeable in the sea of extravagant and imaginative looks we always see.
Selena Gomez's tanning disaster: Met Gala 2018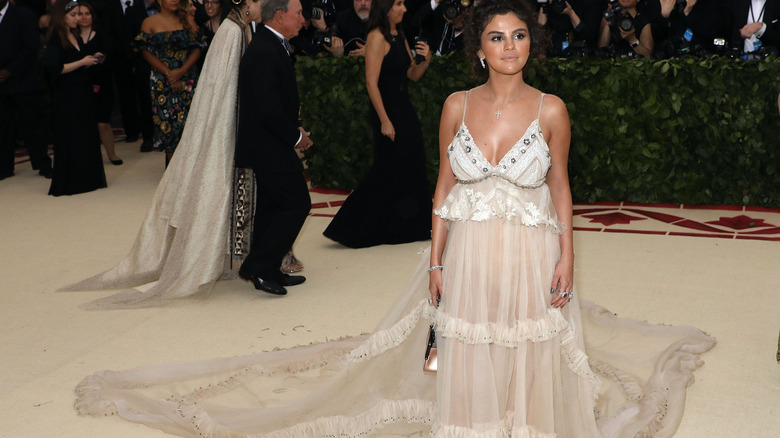 Taylor Hill/Getty Images
Selena Gomez's beauty mishap at the 2018 Met Gala proves that even celebrities can encounter beauty blunders on the red carpet. In an interview with Glamour UK, she revealed that the tanning lotion she applied before the event backfired as the night went on. While her light pink Coach dress was lovely, the tan "kept getting darker and darker," leaving her looking "completely orange," the star revealed. The fact that she wore nude lipstick accentuated the tan even more, making things worse for the former Disney star.
Jessica Alba's predictable ensemble: Met Gala 2009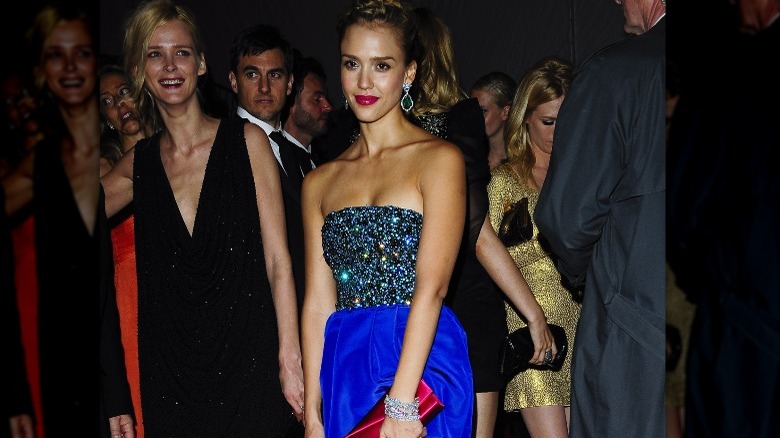 Ray Tamarra/Getty Images
Jessica Alba wore a bedazzled blue Jason Wu dress for the 2009 Met Gala, and while her ensemble perfectly captured the fashion choices of the early aughts, it left little room for surprise. The Met Gala is an event where celebrities are expected to think outside of the box and push fashion boundaries — and Alba's look, while undeniably stylish, didn't quite capture the experimental spirit of the night.
Blake Lively's floral faux pas: Met Gala 2016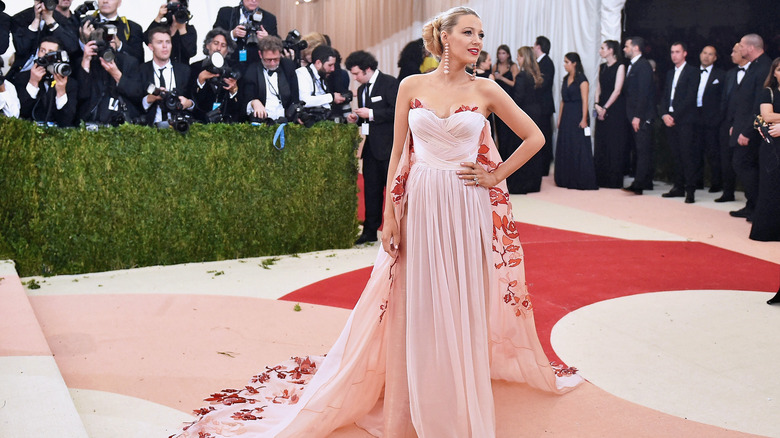 Mike Coppola/Getty Images
Listen, Blake Lively is always fashionable, and let's be honest — even if she wore a trash bag, she would own it and look stunning. However, the 2016 Met Gala theme called for a futuristic fashion frenzy. While other attendees embraced the robotic vibes with metallic dresses, Lively decided to march to the beat of her own fashion drum in a floral number by Burberry. She looked radiant, but she didn't capture the tech-driven theme at all. Still, she continues to inspire our wavy haircuts.
Shailene Woodley's knightly misstep: Met Gala 2018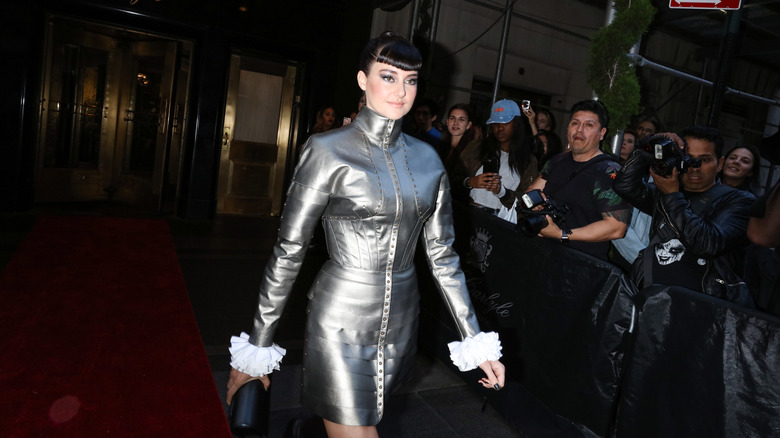 Rebecca Smeyne/Getty Images
Shailene Woodley has never been one to shy away from fashion risks, but at the 2018 Met Gala, she embraced her inner Joan of Arc with an ensemble that left us confused. The actor arrived at the event channeling a fighter-like persona in a custom Ralph Lauren dress that resembled armor. The look, which pays tribute to Joan of Arc, seemed more suited for a medieval reenactment than a high-profile fashion event. 
Kendall Jenner's heavenly miss: Met Gala 2018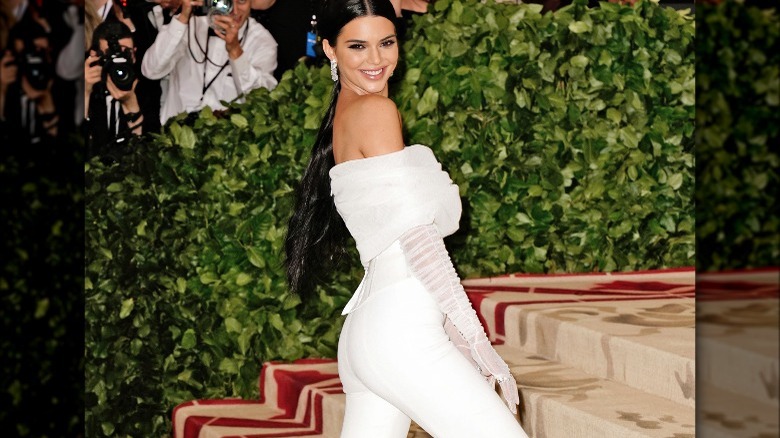 Jackson Lee/Getty Images
Kendall Jenner is known for her striking red-carpet appearances, but the star took a misstep at the 2018 Met Gala. While her outfit from Virgil Abloh's label Off-White showcased her elegance and ability to look great in a simple fit, it failed to align with the theme of the night, "Heavenly Bodies: Fashion and the Catholic Imagination." Compared to other stars who embraced the theme with creative and awe-inspiring ensembles, the model's look fell flat, leaving it underwhelming in the grand scheme of the event.
Lupita Nyong'o's flapper flop: Met Gala 2014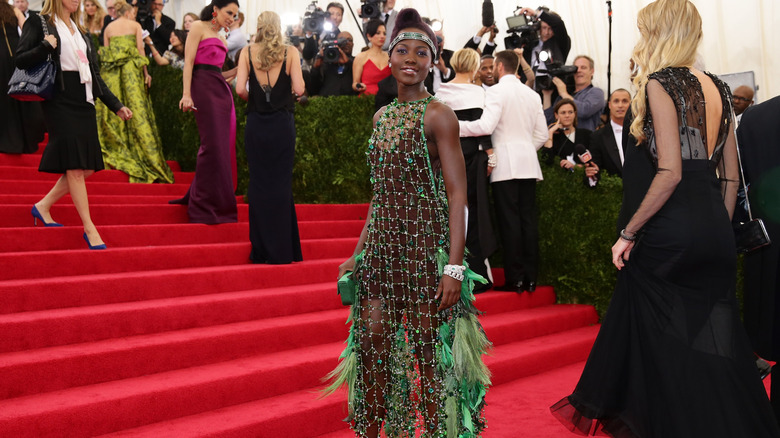 Neilson Barnard/Getty Images
Hollywood star Lupita Nyong'o is known for her impeccable sense of style, but the actor encountered a fashion miss at the 2014 Met Gala. The flapper-inspired Prada dress she wore failed to impress, namely because it seemed to have been an odd fit. However, credit must be given to Nyong'o for daring to take a bold fashion risk, as embracing uniqueness and pushing boundaries should always be applauded.
Madonna's mismatched extravagance: Met Gala 2009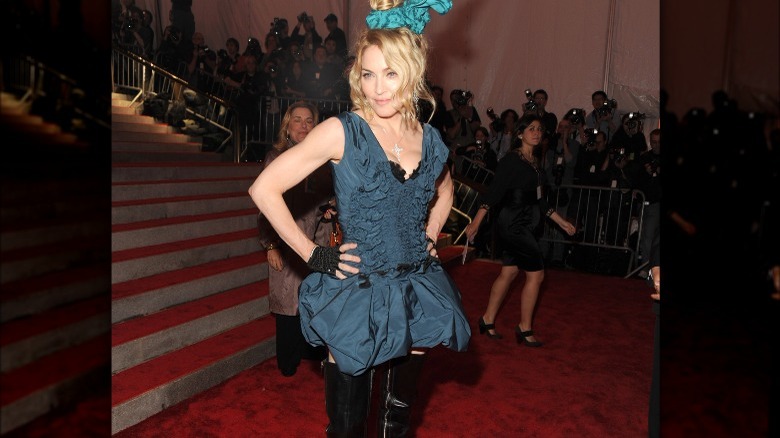 Rabbani And Solimene Photography/Getty Images
The Queen of Pop hoped to make a bold statement at the 2009 Met Gala with her Louis Vuitton look with a sleeveless teal mini dress, lots of ruching, and a poofy skirt. However, despite her intention to stand out, the overall look failed to make the hoped-for impact. The combination of the mini dress, the latex boots, and the large blue scrunchie looked very mismatched and lacked cohesion. While Madonna's fearless approach to fashion is usually applauded, this particular outfit made many question her choice.
Serena Williams' chaotic fashion: Met Gala 2023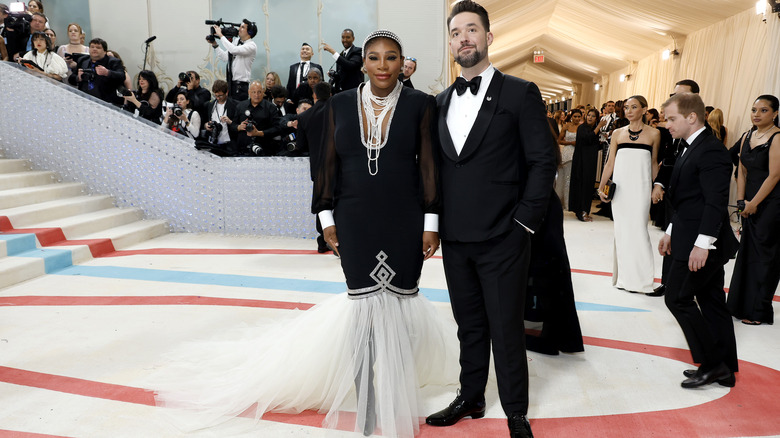 Mike Coppola/Getty Images
Tennis icon Serena Williams made an appearance at the Met Gala 2023 alongside her husband, Alexis Ohanian. As the couple walked the red carpet, all eyes were on Williams' ensemble, which unfortunately missed the mark. Opting for a Gucci creation, Williams aimed to accentuate her pregnancy announcement with her ensemble, but the combination of various elements on her dress created a rather chaotic look.
Nicki Minaj's odd combination: Met Gala 2022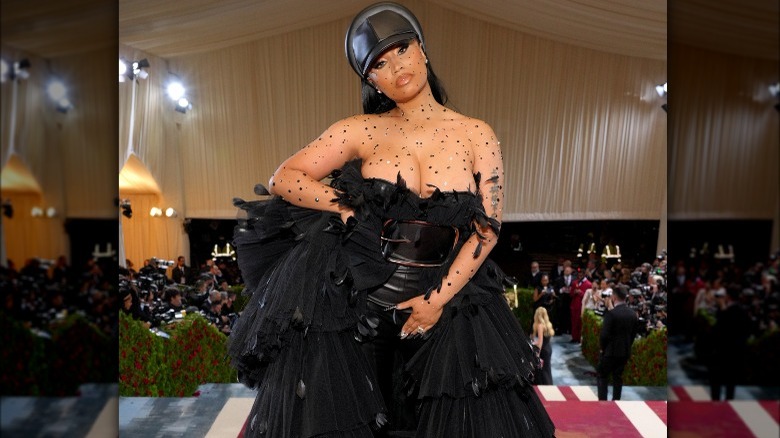 Kevin Mazur/mg22
Nicki Minaj's Met Gala 2022 look was undoubtedly an attempt to deliver something unexpected and new, as the star is known to have fun with fashion. However, the combination of a feathered Burberry gown, body jewels, and a baseball cap felt forced. Minaj's attempt to push boundaries and surprise us could have been executed more seamlessly and effectively. But hey, we applaud the star for always thinking outside the box!
Sarah Jessica Parker's distracting headpiece: Met Gala 2022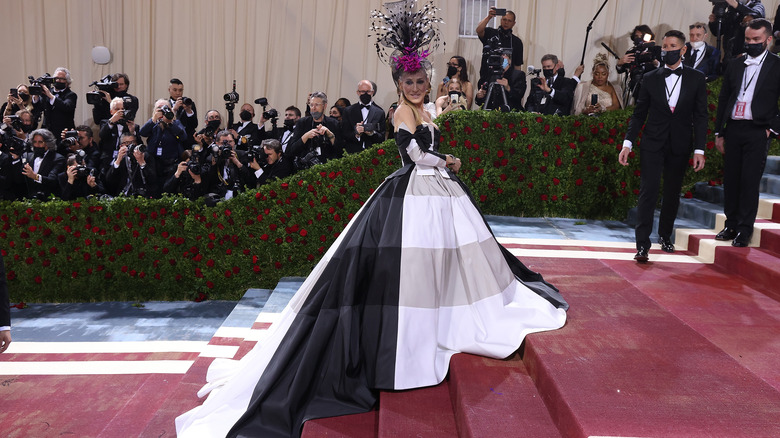 Taylor Hill/Getty Images
Sarah Jessica Parker, widely recognized as a style icon, left fans disappointed with her 2022 Met Gala look. The renowned "Sex and the City" actor, known for her iconic fashion choices, collaborated with designer Christopher John Rogers for the event. While the gown itself exuded an edgy and cool vibe, the attention-grabbing element of her look turned out to be a sculptural headpiece that overshadowed the overall impact. Unfortunately, the headpiece distracted from the otherwise noteworthy gown making her overall look fall short.
Kimora Lee Simmons' colorful moment: Met Gala 2008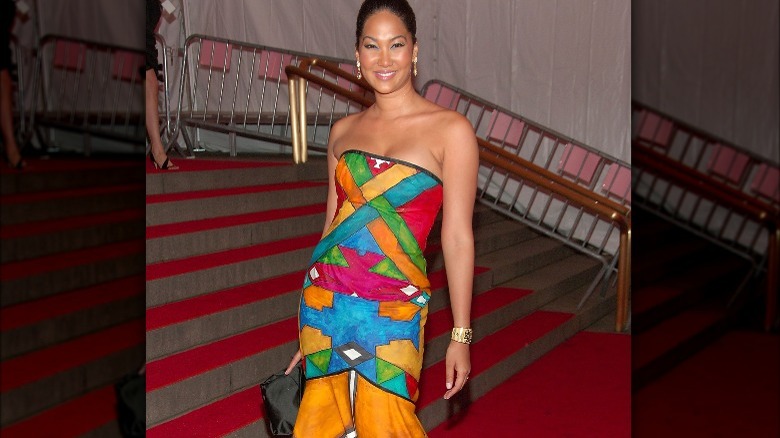 Michael Loccisano/Getty Images
Kimora Lee Simmons' 2008 Met Gala was definitely memorable, but unfortunately, for all the wrong reasons. Her Kevan Hall gown fell short of capturing the essence of the theme — and while it had the unique feature of being "hand-painted in Africa," according to The Cut, the look was just too simple and a tad bit too colorful for what was expected that evening.
Florence Pugh's buzz cut accessory: Met Gala 2023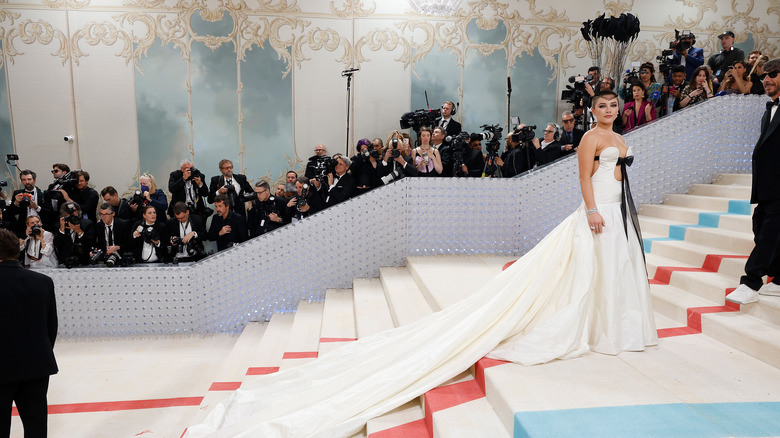 Taylor Hill/Getty Images
Florence Pugh made her debut on the red carpet with a brave new buzz cut — one of the few daring hair transformations at the 2023 Met Gala. However, while the actor's haircut impressed, the accompanying dramatic headpiece left mixed impressions. The Valentino look failed to capture the essence of the night's theme, which was a dedication to designer Karl Lagerfeld. While some appreciated the avant-garde approach, others felt that the headpiece didn't align with Lagerfeld's iconic style. Nonetheless, Pugh's boldness and experimentation should be acknowledged, even if it missed the mark.
Katy Perry's light-up dress: Met Gala 2010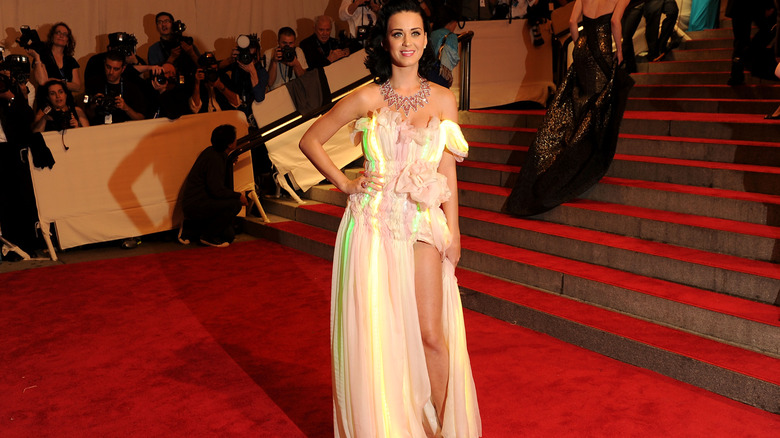 Stephen Lovekin/Getty Images
Katy Perry made a memorable entrance at the 2010 Met Gala wearing a dress designed by CuteCircuit, a company that mixes technology and fashion. While the singer's dress looked ethereal and angelic, it left many questioning how it aligned with the night's theme, "American Woman: Fashioning a National Identity." Undoubtedly, a look like this would have been better suited for a more futuristic Met Gala theme. Apart from that, the chunky necklace clashed with the overall ethereal aesthetic of the gown, making the outfit even more out of place.
Elizabeth Banks' underwhelming look: Met Gala 2015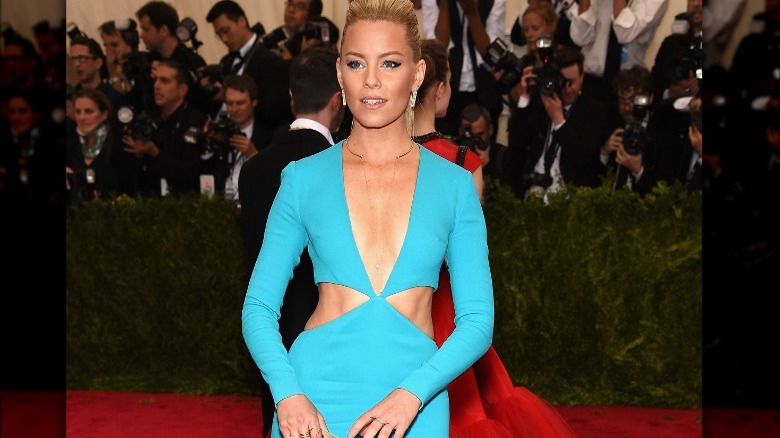 Dimitrios Kambouris/Getty Images
Elizabeth Banks arrived at the 2015 Met Gala wearing a Michael Kors cutout gown. While the blue color suited her perfectly and the cutouts added a trendy touch, everyone anticipated something more extraordinary from the actor, given that she played the eclectic character Effie Trinket in "The Hunger Games" series. Not only did the ensemble fail to align with the gala's theme, but it also lacked the element of drama that the Met Gala is known for.
Freida Pinto's formal mix: Met Gala 2011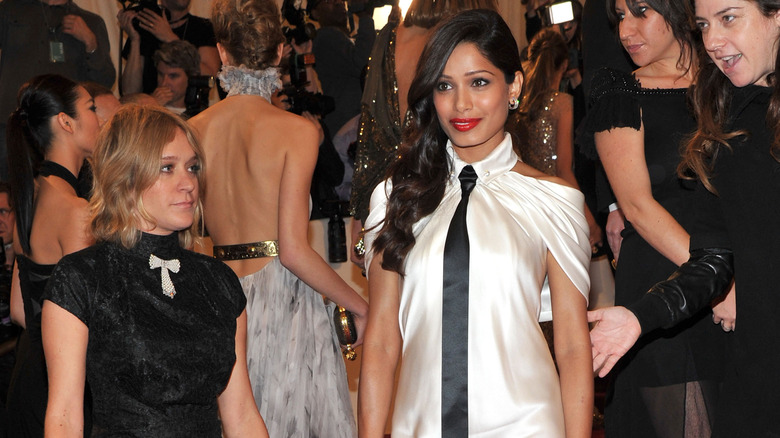 Stephen Lovekin/Getty Images
While we applaud actor Freida Pinto for rocking a look that mixes traditionally feminine and masculine elements — the Chanel gown's fit seemed slightly off. However, we can't deny that the vision for the look was in line with the essence of Alexander McQueen's iconic and daring aesthetic, which was the theme for the 2011 Met Gala.
Amy Schumer's basic look: Met Gala 2016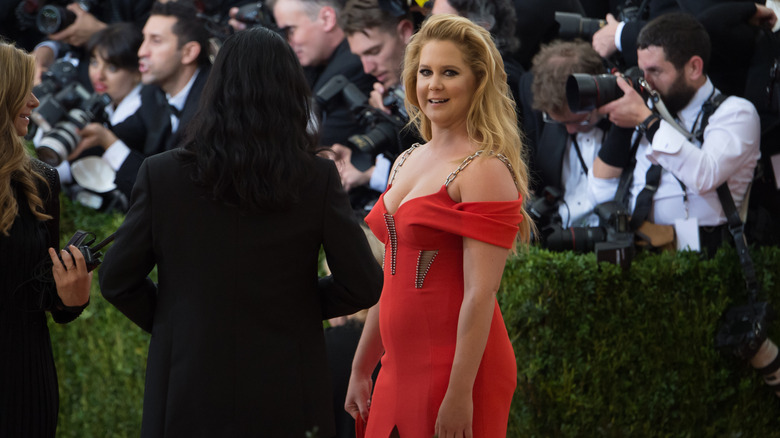 Mark Sagliocco/Getty Images
Amy Schumer's choice of attire for the 2016 Met Gala left many scratching their heads. The comedian opted for an Alexander Wang gown in a bright coral color which she paired with super heavy eye makeup. Now don't get us wrong — the look in itself isn't horrible, but we just can't draw any connection to the night's technology-driven theme. 
Beyoncé's dress clashed with her heavy makeup: Met Gala 2016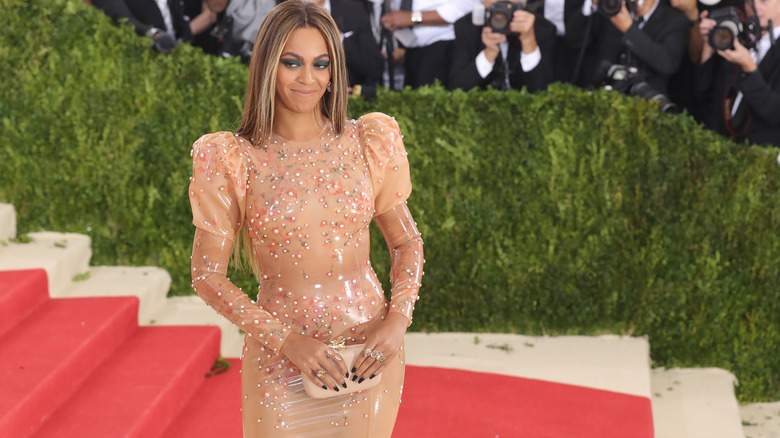 Neilson Barnard/Getty Images
Beyoncé made a bold statement at the 2016 Met Gala in a Givenchy latex dress, giving us a futurist yet ethereal approach to the night's theme. The material choice embodied the fusion of fashion and technology, while the delicate pearls and flowers gave us grandma chic. However, a clash emerged in the overall color palette. The soft, nude hue of the dress didn't quite harmonize with Beyoncé's dramatic green eye makeup, creating a look that just seemed wrong. Still, her "sunwashed blond" hair stunned.
Kristen Stewart's uncomfortable fashion: Met Gala 2010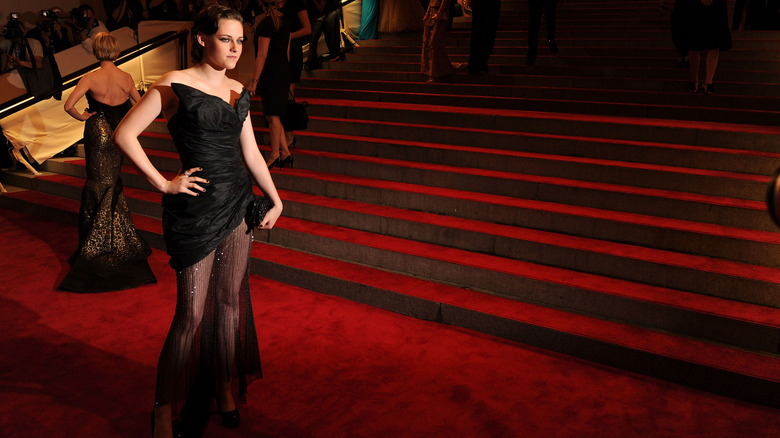 Stephen Lovekin/Getty Images
Kristen Stewart's appearance at the 2010 Met Gala as the representative of Chanel left many fashion enthusiasts divided. While the dress itself exuded a certain haute couture allure, a lot of us felt that Stewart didn't look comfortable in such a boring and predictable ensemble. Stewart has certainly found a more authentic fashion style in recent years, which is why these days, it's hard to imagine the actor rocking something that makes her look uncomfortable.
Emma Stone's upcycled look: Met Gala 2022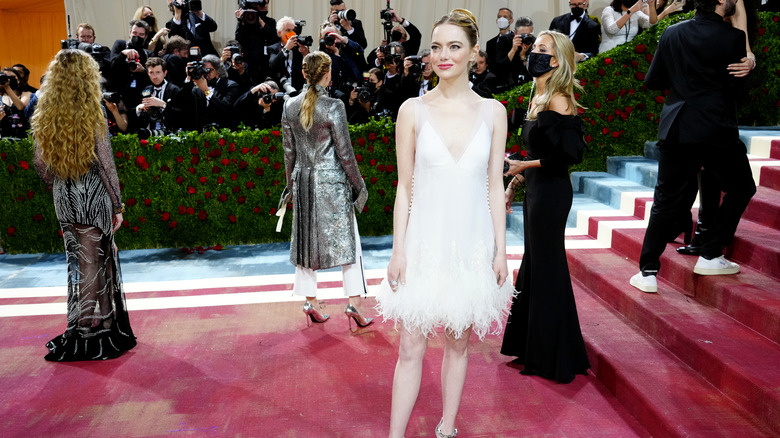 Jeff Kravitz/Getty Images
Emma Stone made a surprising choice for the 2022 Met Gala by re-wearing one of her wedding dresses. The flapper-style Louis Vuitton dress certainly suited the star, but it was a bit too safe and boring for fashion's biggest night. The Met Gala is known for its brave and extravagant fashion statements, and attendees are expected to take major fashion risks — which Stone didn't do with this choice.
Zendaya's memorable cosplay: Met Gala 2019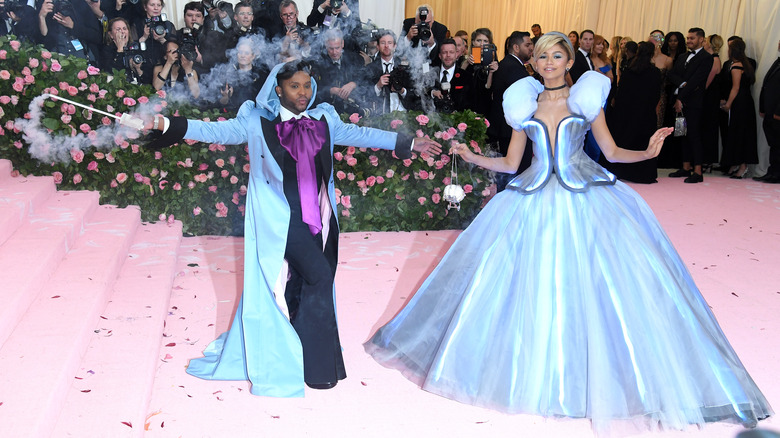 Karwai Tang/Getty Images
Zendaya's appearance at the 2019 Met Gala was nothing short of a fairytale come to life. With her stylist, Law Roach, by her side (who played the role of the Fairy Godmother), Zendaya graced the red carpet in a perfect Cinderella gown custom-made by Tommy Hilfiger. While the look was undeniably stunning, some would argue it leaned more toward a costume than a high-fashion creation for the prestigious fashion event.
Karlie Kloss' random puffy sleeves: Met Gala 2019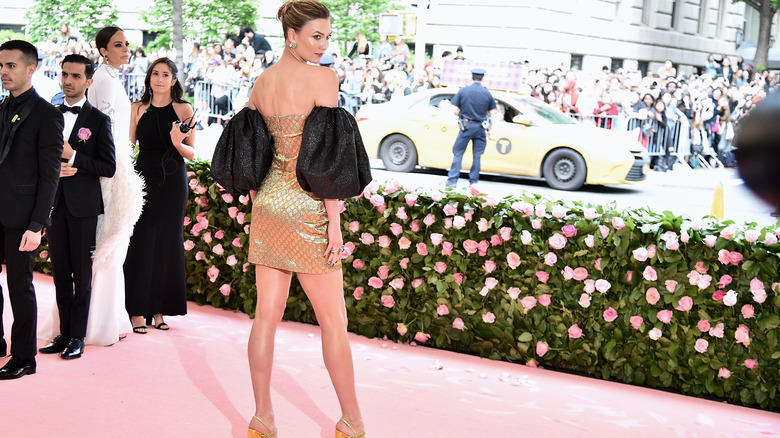 Theo Wargo/Getty Images
Karlie Kloss's appearance at the 2019 Met Gala left us underwhelmed amidst a plethora of extravagant looks for the event's theme, "Camp: Notes on Fashion." The model opted for a gold strapless mini dress by Harlem designer Dapper Dan, which had big sparkly black puff sleeves that definitely gave us a major '80s vibe. On social media, the star's look was quickly compared to a Twix bar — and well, the internet trolls weren't wrong. 
Jared Leto's cat costume: Met Gala 2023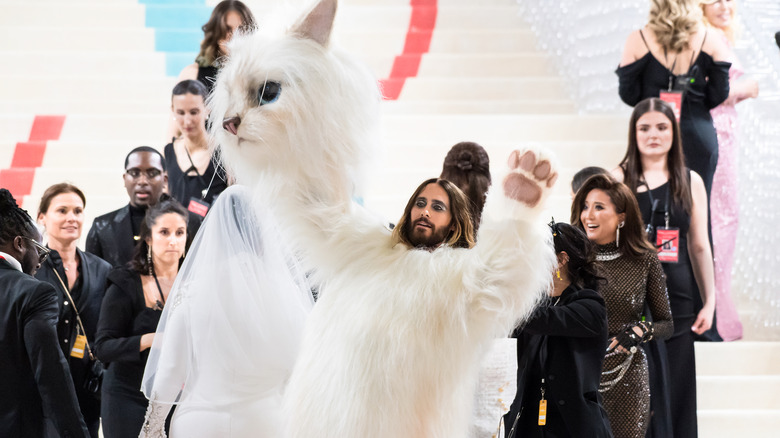 Gilbert Carrasquillo/Getty Images
If there's one star we can count on to give us a major red carpet moment, it's definitely Jared Leto. The actor is no stranger to super bold choices, and at the 2023 Met Gala, Leto dressed up as Choupette, the late Karl Lagerfeld's beloved cat. Even though the look — which was actually designed by the production studio SCPS — was impressive, some may argue that it leaned more towards being a silly costume rather than a fashion statement. 
Gwyneth Paltrow's hot pink mess: Met Gala 2013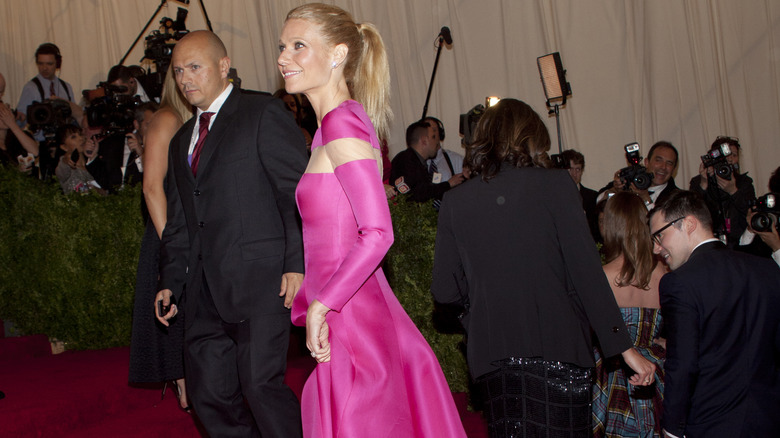 Lars Niki/Getty Images
Gwyneth Paltrow's Valentino look at the 2013 Met Gala left many underwhelmed, as it completely failed to capture the essence of the event's theme. Rather than embracing the rebellious and edgy spirit of punk, Gwyneth's ensemble appeared more like a regular red carpet gown, lacking the boldness and innovation expected at the fashion event. The hot pink color was perhaps the only element that remotely hinted at a bold punk aesthetic, but even that is far-fetched.
Lily Collins' tacky embroidery: Met Gala 2023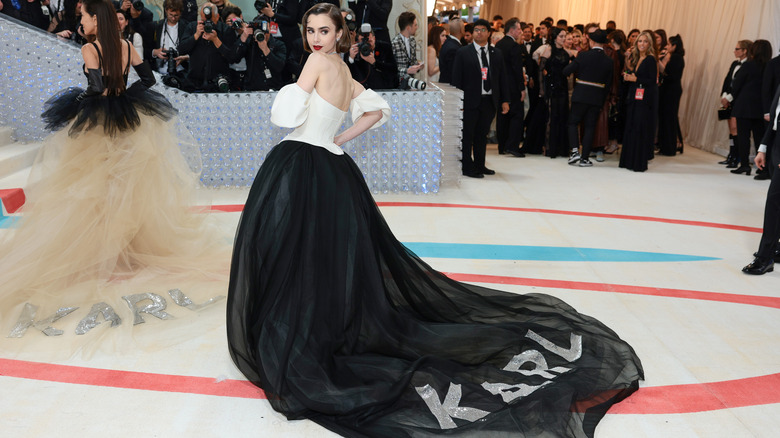 Dimitrios Kambouris/Getty Images
Lily Collins appeared at the 2023 Met Gala in a custom black and ivory Vera Wang gown. However, the silver "KARL" embroidery at the hemline, which paid homage to the late designer to whom the 2023 Met Gala was dedicated, raised some eyebrows. While the gown looked stunning, the inclusion of Kark Lagerfeld's name in such a prominent and overt manner felt slightly tacky and contradictory to the refined and sophisticated style that Lagerfeld was known for.
Solange Knowles' futuristic choice: Met Gala 2015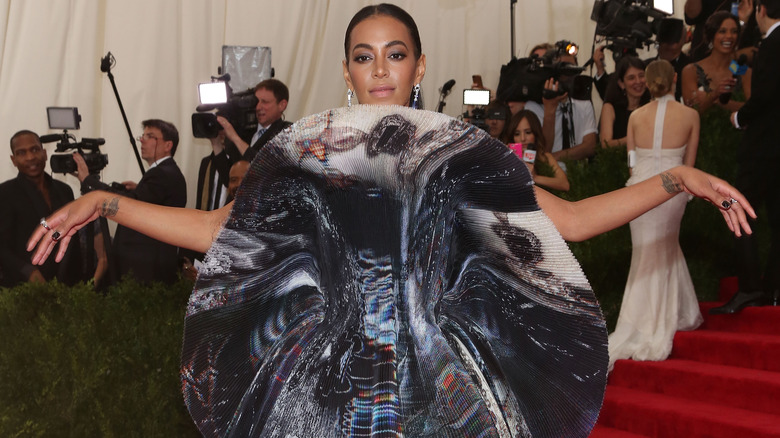 Taylor Hill/Getty Images
Beyoncé's sister Solange Knowles definitely made a bold fashion statement at the 2015 Met Gala by wearing a unique and structural Giles dress. However, the dress, which gave her an interesting silhouette, didn't align with the event's theme. Nevertheless, it's worth applauding Knowles for her willingness to deviate from the norm, as the Met Gala is the perfect platform to take risks and push boundaries.
Cara Delevingne's mismatched homage: Met Gala 2023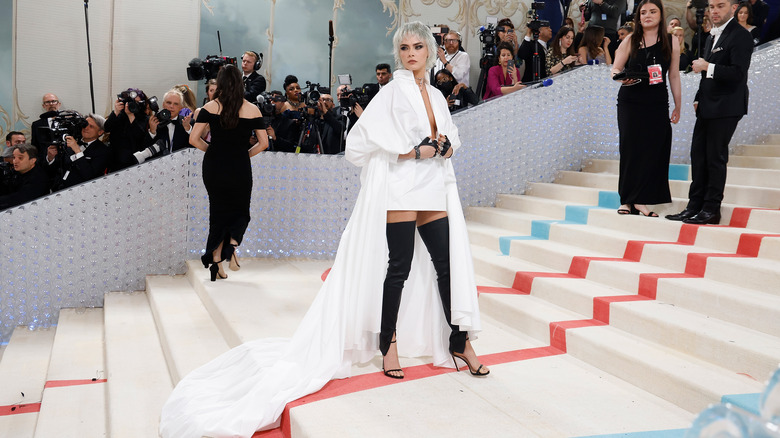 Taylor Hill/Getty Images
At the 2023 Met Gala, many had high expectations for Cara Delevingne since she had a "special friendship" with Karl Lagerfeld, according to L'Officiel. While the model's outfit — designed by the famous designer himself prior to his passing — technically was on theme, something about it was off. The addition of thigh-high leg warmers and strappy heels was controversial, as it failed to harmonize with the rest of the look, leaving a mismatched impression.
Ariana DeBose's yellow attire: Met Gala 2023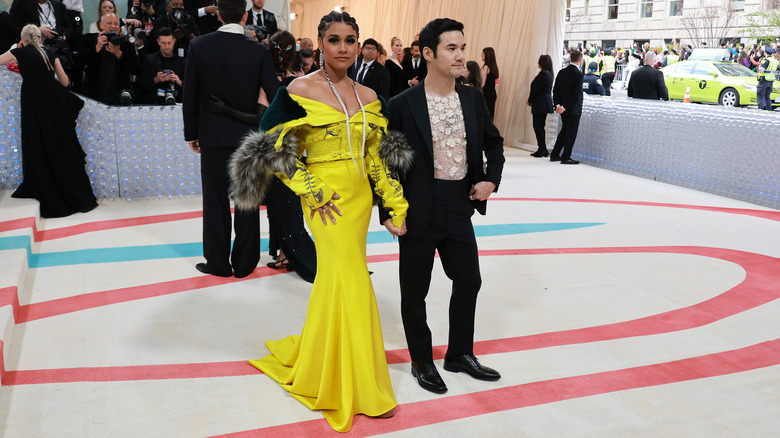 Theo Wargo/Getty Images
Ariana DeBose wore a neon yellow dress with a furry accent, and it certainly failed to align with the 2023 Met Gala theme. The outfit, which Joseph Altuzarra designed, didn't give us anything Karl Lagerfeld-inspired — but even without considering the theme, the look wasn't Met Gala-worthy. The bright yellow and off-theme attire left us feeling disheartened rather than inspired by the actor's fashion.
Sarah Jessica Parker's unfinished look: Met Gala 2006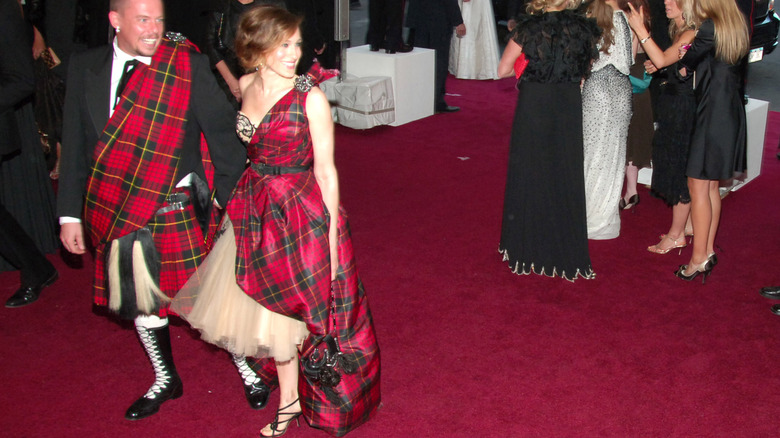 Michael Loccisano/Getty Images
Pop culture style icon Sarah Jessica Parker attended the 2006 Met Gala alongside the late designer Alexander McQueen, who was responsible for her look. It's worth mentioning that she is the only star to make our list twice, as both of her looks were truly mention-worthy. While the actor's outfit successfully captured the essence of the British fashion theme, the plaid fabric draped on one side of her dress appeared unfinished, drawing mixed reactions.