The Most Iconic Y2K Hairstyles (And Our Tips To Get Them Yourself)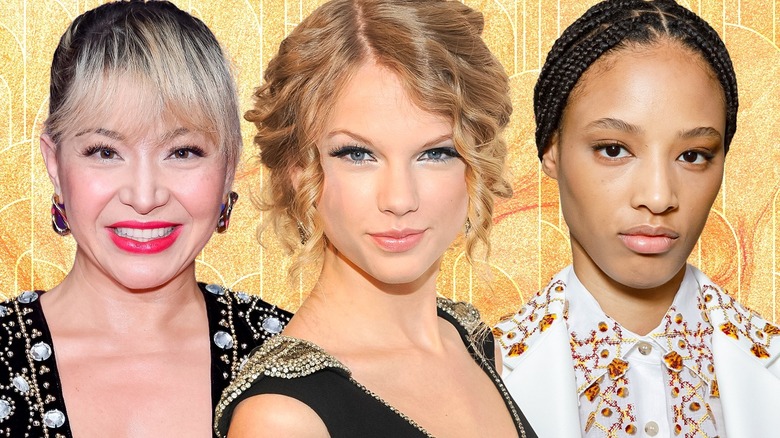 Static Media/Shutterstock/Getty
The Y2K fashion and beauty resurgence isn't going anywhere anytime soon, which means it might be time to dust off your old crimping iron and snag some new glitter butterfly clips from Target. Billed in part as a trend led by Gen-Z, the Y2K hair look is as exuberant, youthful, and fun as it was in the '90s and early 2000s. For some, these styles are simply an inevitable nostalgic trend cycling its way back to the forefront of the collective consciousness. For others, it's a much-needed form of creative expression and escape. "Considering the world we live in, I believe that people want a form of escapism, and a lot of people taking part in the trend either lived through the early 2000s or wish they did," YouTuber Joyce Sseguya-Lwanga noted in an interview with Byrdie.
Thankfully for those who experienced these hair trends once and aren't as excited to hear they've made a comeback, modern Y2K hairstyles aren't just about eccentric textures and chaotic accessories anymore. "Y2K hairstyles have come back with a 'same, same but different' twist this time around," CEO and founder of Mermade Hair Tara Simich told The Zoe Report. "It still gives you the nostalgic vibes, but with a modern execution." Modern Y2K hairstyles have an element of sophistication and elegance that the first go-around often lacked — all without sacrificing the fun and playful aesthetic that makes them so desirable. Whether you love them or hate them, these Y2K hairstyles are iconic, to say the least.
Twists with butterfly clips
There are few hair accessories on this earth that are more deeply revered than the nostalgic butterfly clip. Glittery, multicolored butterfly hair clips are an iconic Y2K hair accessory perfect for free spirits. Celebrities like Mandy Moore, Brandy, Tyra Banks, and Jennifer Aniston wore them on and off the red carpet for both functionality and a touch of sparkle. Today, stars like Doja Cat and Hailey Bieber have adopted the retro look, marrying it with their own unique styles for a fresh take on the plastic-winged classic.
Butterfly-shaped clips bring a sense of joy and are as versatile today as they were 20 years ago. They can accompany a wide range of hairstyles, from decorating a base of sleek pigtails to bedazzling a messy updo. A variation of hair twists held in place with butterfly clips along the crown of the head is also a popular hairstyle choice. To create this look, start by pulling small one-to-two-inch sections of hair from the hairline above your temple and twisting them back towards the crown of the head. Secure in place with a butterfly clip. Add as many twists across the scalp as you'd like, aiming for between three and seven. The twists don't have to be neat, but "they should look uniform and in running order," celebrity stylist Kieron Justin told Real Simple. 
Crimped hair
The '80s may have started the crimped hair trend, but the '90s and early 2000s made it the coveted, must-have statement style of every millennial tween's dreams. These tiny, sawtooth-shaped waves were seen on it-girls of the era like Britney Spears and Christina Aguilera and provided funky texture amidst their colored hair extensions and chunky blond curls.
The best way to achieve this crinkled wave is by using a crimping iron, a heated styling tool similar to a flat iron but featuring ceramic plates with ridges that manipulate hair into tiny waves. Apply heat protectant to dry, straight hair and begin sectioning off the areas you'd like to crimp. Hold the iron at a 90-degree angle from your hair and begin working it through each section of hair. To get a crisp crimp, hold the iron on each section for two to five seconds. If you don't have a crimping iron, you can imitate the look by styling your hair into small braids and applying a flat iron to them, working it down the braid, and then letting it cool before loosening.
Chunky highlights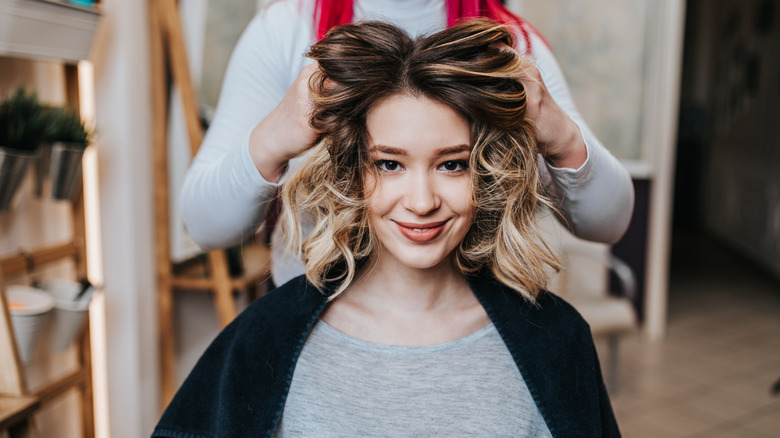 hedgehog94/Shutterstock
Y2K girlies were big into chunky highlights. Who can forget Kelly Clarkson's iconic high-contrast blond highlights during the first-ever "American Idol" competition? Or the colorful streaks that the members of Destiny's Child rocked? It was bold, edgy, and colorful, albeit a bit reminiscent of tiger stripes.
The look lives on today, albeit in a softer, slightly more subtle iteration. "Ribboning is a modern take on chunky highlights," celebrity hairstylist Sunnie Brook explained to InStyle. "Over the past year, a lot of people have been taking a step back and taking less risk with their hair — but ribboning is a way to still have a low-maintenance routine but with a new, 'aha' moment." This technique is closely related to balayage and involves painting a mixture of highlights and lowlights throughout the hair for a thick but elegantly dispersed color placement. This version of chunky highlights is dramatic and dimensional without the harshness of the earlier decade.
If you're thinking of asking your hairstylist for highlights to elevate your hair, be sure to request "ribbon highlights." If you prefer to emulate the original Y2K hairstyle with truly chunky sections of color, make sure you discuss placement with your stylist. "You want to have enough negative space and contrast so that the chunky highlights really pop," celebrity colorist George Papanikolas advised Makeup.com.
Face framing hair tendrils
Also known as "antenna bangs," this iconic Y2K hairstyle features two skinny tendrils of hair that loosely frame either side of the face. It's a simple and spunky style beloved by those who grew up wearing it and one that helped define the Y2K look. In addition to being easy to create on a wide range of hair types, it provided some much-needed movement and "messiness" in an era that emphasized sleek, slicked-down hairstyles. It pairs especially well with other classic Y2K styles like high pigtails or spiky buns and updos.
Begin by parting your hair down the middle using the end of a rat tail comb, creating a clean, sharp line from which the antenna bangs can hang. This particular style of face-framing bangs is traditionally sleek and pin-straight, which means you'll need to have a flat iron and a smoothing hair oil or anti-frizz cream on hand to smooth each tendril down. To modernize and soften the look, consider giving the tendrils some waves with a curling iron or pulling out a few longer pieces for extra texture.
Tiny braids
Tiny braids were all the rage in the late '90s and early 2000s, seen on the likes of everyone from Beyoncé and Baby Spice to Gwen Stefani. It was also a look that could be worn in a number of ways. Some preferred to wear one small braid on either side of the head in a plaited homage to the antenna bangs, while others chose to leave their hair down and scatter multiple braids around the head. Depending on how you want to wear baby braids, the look succeeds in being both a practical way to keep your hair out of your face and effortlessly cute at the same time.
If you want to rock a tiny braid on either side of your face, start with clean, dry, detangled hair and a crisp middle part. Create even sections on either side of the part using a comb or your fingers before you begin braiding, the width of which will be dependent on how small you want your braids to look. It is a good idea to have some anti-frizz cream on hand, particularly if you want the braids to be sleek and shiny. "Make sure to direct hair back toward your ears as you are braiding," celebrity hairstylist Justine Marjan advised Bustle, as doing so ensures the braids sit nicely. "This will allow the braid to flow with the hair instead of feeling stiff or separated."
Bubble braids
What is one thing Doja Cat, Priyanka Chopra Jonas, and Cassie from HBO's "Euphoria" all have in common? They all know how to rock a bubble braid. According to hairstylist Miko Branch, bubble braids are a dynamic but incredibly easy hairstyle to achieve, especially for those who don't like the look or time-consuming nature of braids. "Bubble braids are essentially a modern and playful update to standard ponytails, so it's way easier to achieve than a traditional braid," Branch told Real Simple. "This look typically consists of a high ponytail, with strategically placed elastics tied throughout, which encourages hair to puff out and appear like a bubble."
To create a bubble braid, simply place your hair in a ponytail and secure it with an elastic at the scalp. Place additional elastics at equal lengths down your ponytail, pulling each section with your fingers to create the bubble effect. You can wear a single bubble braid at the crown of the head or get creative with placement, number of bubbles per braid, and overall quantity for a quirkier look. You can also play around with the size of each bubble. If you want a more sophisticated vibe, opt for natural texture and hair ties that match your current hair color. "Keep it simple," celebrity hairstylist Jenny Cho recommended to British Vogue. "Don't overdo it — that's how you make the look chic and wearable."
Claw clip buns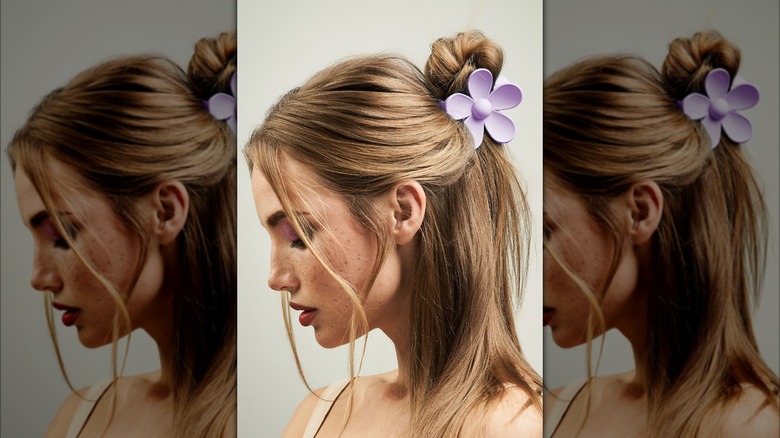 Redumbrella Europe/Shutterstock
Claw clip buns are a stylish and retro take on everyone's go-to messy bun, a look that is somehow appropriate for every occasion, including running errands, going to the gym, and having a fun night out with your girlfriends. Claw clip buns are just as versatile but with an added elegance that a standard messy bun often lacks. Not to mention, they are way less damaging to your hair.
If you're looking for an easy, everyday updo, the most effective way is by gathering your hair at the back of your head as if you were going to create a ponytail. Twist your hair until it forms a smooth vertical bun and use your other hand to open the claw clip and secure it over the twist. Once it is in place, you can pull out pieces for a more relaxed look or adjust the height of the bun at the top of the claw clip. If you have long or thick hair, a larger claw clip may be needed to properly secure your entire head of hair into a bun or twist.
Bantu knots
Bantu knots may be experiencing a resurgence in popularity alongside other Y2K hairstyles, but they have a rich history that dates back to approximately 1898. Also known as Zulu knots, in honor of the Zulu people of South Africa who are believed to have originated this look, Bantu knots are a traditional hairstyle in Black and African cultures. They consist of several small, tightly wrapped buns placed at various spots over the head. This style is beloved not only for its cultural significance and protective nature but also for how fun and versatile it can be. Bantu knots can be worn with natural or relaxed hair, box braids, locs, and many other styles, in any configuration or placement you can imagine.
Bantu knots can be done on damp or stretched dry hair. Use a rat tail comb to part the hair and create sections across the scalp. Plan out the number of knots you would like in each section. " "Then, take the twist and wrap it around at the scalp, while holding it in place until it forms a knot and the end disappears at the base," Dark and Lovely Style Squad Member Stephanie McLemore explained to Ebony. For even twists that really stand out, make sure to twist each section of hair tightly. The resulting knot can be secured in place with a bobby pin or small hair elastic.
Beaded braids
Maximalist braids and twists were a signature look for many Black female artists during Y2K, and Fulani braids ending in beads were particularly popular. Alicia Keys wore beaded braids on the cover of her debut album in 2001, and Beyoncé stunned everyone with her gorgeous beaded micro-cornrows on MTV's Total Request Live.
More recently, Venus Williams was seen bringing back the look during the premiere of "King Richard." She wore a version of beaded braids in homage to her heritage and the cultural significance the style still holds in the Black community, pairing a jumbo twisted braid at the crown of her head with smaller braids adorned with large black, clear, and silver beads falling around her face. She wrote an Instagram post about the style choice, saying, "Wearing a beaded style for the premiere was a representation of my roots ... My hair represented not only my origins as a child in tennis but also my African roots."
To add beads to your braids, add a long thread to the eye of a straight needle. Place both ends through one bead and tie a knot at the bottom to secure it in place. Proceed to place the rest of your beads on the string, leaving an inch or two of string at the top. Open a loop at the top of the bead string and place a braid through it. Then slide your preferred number of beads onto the braid and remove the needle and thread from the bottom before securing the beads with a hair elastic.
Spiky buns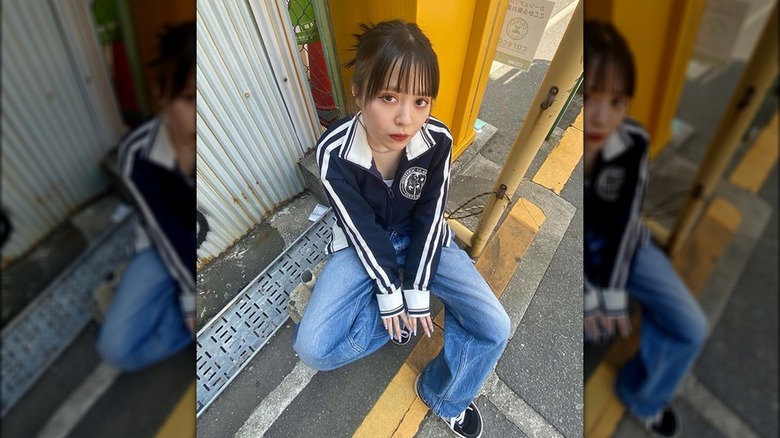 Instagram
Spiky buns are back, thanks to style icons like the Hadid sisters and Gen-Z's passion for edgy, maximalist Y2K fashion. The sleek high bun with ends that stick out in a sharp, spiky finish fanned out around the head was first made popular by celebrities like Victoria Beckham, Brandy, and Raven-Symoné. And it is still what Y2K dreams are made of.
London-based hairstylist Salvatore Ierna told Stylist, "This look screams the '00s." But it takes some effort to bring this style to life. You'll need a quality mousse or styling gel to sculpt the bun and tame any flyaways, as well as bobby pins, a hair elastic, and hairspray to secure everything in place. "Make sure your hair is straightened before you begin any spiky updo," celebrity hairstylist Clayton Hawkins explained to POPSUGAR. "The ends need to be bone straight in order to get the spiking effect."
Work your preferred styling agent into dry hair and then place it into a high ponytail. Twist the ends up and around the elastic, keeping the hair smooth and tight as you go. Leave an inch or two of ends free and secure the rest of your hair with a bobby pin. The good news is this look is meant to be tweaked. You can create multiple buns, experiment with your part, or bedazzle with butterfly clips and glittery barrettes.
Zigzag part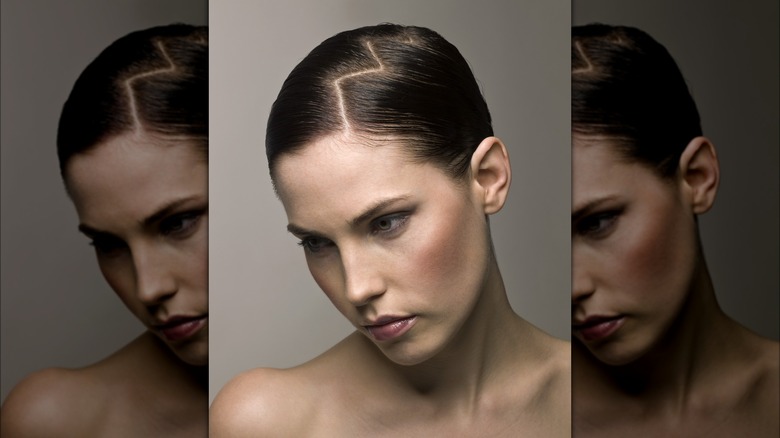 Jupiterimages/Getty Images
The war of hair parting continues to rage on between millennials and Gen Zers, but the rebirth of the zigzag part may finally bring about some peace. A statement look ripped straight from the early 2000s, the zigzag part made a name for itself as an edgy alternative to the playful and sleek hairstyle options of the time. "It followed the disheveled grunge hair of the '90s as a bit of a cut antidote," celebrity hairstylist Kevin Murphy told Bustle. "It started out casual and became more graphic and pronounced over time." Now, celebrities like Camila Mendes, Ariana Grande, and Anitta are reclaiming and reimagining the style, taking it from bold to understated and back again.
Unlike other Y2K hairstyles, the technique required for a zigzag part can be difficult to master. The easiest way to create it is to hold a tail comb parallel to the scalp and use the end to draw out the zigzag shapes, making sure to keep the tail on your scalp for sharp, clean lines. When your part is complete, use the handle of the comb to lift your hair up and apart, as seen in @outlined_identity's TikTok tutorial. The best part (pardon the pun) about the zigzag is that it can be worn as a side part, a middle part, or used to create visual interest on the back of the head with braids or pigtails. As you practice, experiment with shape, size, and placement to get the most out of this unique look.
Sleek high pony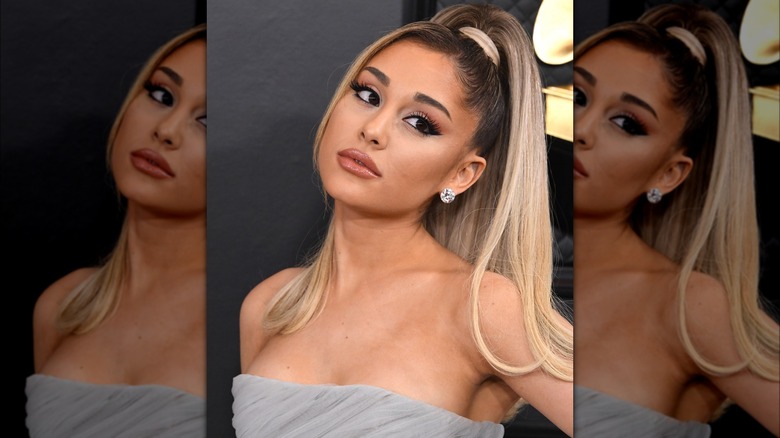 Steve Granitz/Getty Images
Also known as the Barbie Ponytail, this high ponytail with curled ends is a great way to combine two popular fashion trends: Y2K and Barbiecore. It is a soft and glamorous updo revived by Lizzo, Zendaya, and the queen of high ponytails herself, Ariana Grande. Although the style traditionally features a deep side part to create sleek bangs that sweep across the forehead, modern versions often include face-framing tendrils or bangs for a softer, more romantic look that can be worn every day.
Luckily, everything you need to create this throwback hairstyle is probably already in your possession. "First section off any front framing tendrils you want left out of your ponytail, then gather the rest of your hair and form it into a high pony, using two or three clear elastics, and a brush to smooth your hair back," Salvatore Ierna recommended in Spell Magazine. If you're aiming for a smooth and sleek look, consider applying mousse or styling gel to the front and ends. This will tame any flyaways or baby hairs. Depending on how you want the ends to look, you can then use a curling iron or a hair straightener to flip out the ends and capture the retro vibe.
Bleached bangs
If there is one thing Y2K fashion embraced wholeheartedly, it is chunky hair color. While some brought their hair color dreams to life with a rainbow of blond, brown, and red highlights, others opted for bleached bangs. Made famous by stars such as Geri Halliwell and Daphne Guinness, the striking look consists of two pronounced and robust bleached strands of hair worn on either side of the face.
Bleached bangs have made a comeback alongside other Y2K trends, although with a softer, more versatile twist. Rebranded as Rogue Blond by UK-based hairstylists Harriet Muldoon and Amy Fish, the modern version of bleached bangs makes a bold and powerful statement while honoring the look's history. "I have a nostalgic feeling towards the '90s, teenage dreams of being bold and making a statement is where we started but we have adapted this technique to chunky highlights on the hairline for a softer approach," Muldoon told Glamour. Like bleached bangs, the high contrast highlights allow people with darker hair to experiment with blond streaks or two-toned looks without dying all of their hair. Thanks to E-girls and daring celebrities like Billie Eilish and Dua Lipa, the modern iteration of bleached bangs also includes the use of bright colors like mermaid green or red-orange.
Because bleach is involved, this isn't a look you should attempt at home. Instead, make an appointment with an experienced colorist to ensure you get the look and color you want without accidental hair damage.
Fluffy blowouts
Flat, lifeless hair in 2023? As if! Fluffy, voluminous blowouts like Cindy Crawford or Alicia Silverstone in "Clueless" are all the rage again, and the fashion world is a better place for it. With its seemingly effortless volume and gorgeous movement, '90s fluffy hair checks a lot of nostalgic style boxes for people with all kinds of hair lengths and types. "I think there is a certain sense of nostalgia ... people are ready to feel glam again – that extra ooh la la when you walk out the door or go meet up with friends," celebrity stylist Sunnie Brook told InStyle.
The key to a fluffy at-home blowout is proper preparation. The look works best on clean hair that has been washed with volumizing products, treated with a heat protectant, and dried using a round brush. It is also best to work in sections, the underlayer and the top layer. Use the round brush to direct hair that is roughly 70% dry in an upward motion, which is necessary to create the look's signature volume. Then, secure each section of dry hair with Velcro rollers or hold the hair in a round brush at the scalp until the hair cools. Once completely cool, use your fingers to gently comb out the curls, taking care to add extra volume as needed at the roots. Finally, add a touch of hairspray or styling cream for extra hold.
Flipped out ends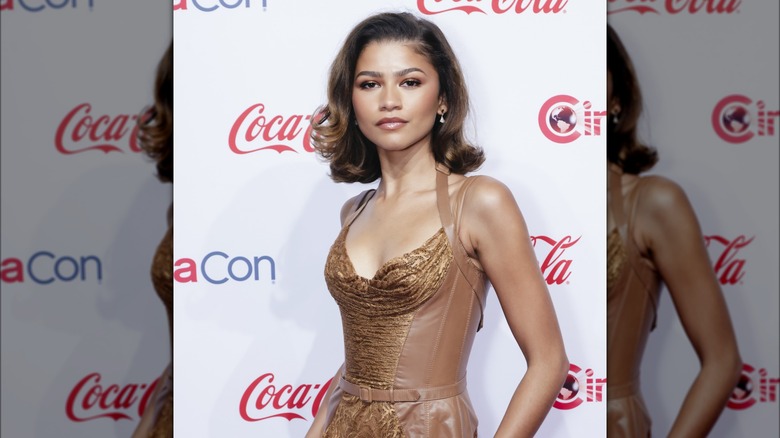 Greg Doherty/Getty Images
Linda Evangelista and Gabrielle Union made short, bobbed hair with flipped-out ends look like the epitome of cool girl fashion in the late '90s and early 2000s. Even then, the look was retro, celebrating similar mod styles worn in the '60s.
Beginners should have no problem achieving this sweet and sassy hairstyle. All you need is some heat protectant and a flat iron if you want a clean, structured look, or a curling iron if you have long layers and want to make them pop. Working in roughly two-inch wide sections, clamp the flat iron over the hair and move it down, tilting it up and away from the face for the flip effect when you reach a few inches above the ends. For a more exaggerated and uniform flip, consider using a round brush and a hairdryer or a curling iron.
For those who worry that this look might be too simple to truly capture the Y2K aesthetic, consider adding in some quirky, era-appropriate accessories like sparkly barrettes, feathers, or colored clip-in hair. "Braids, spikes, knots, and an overabundance of hair accessories glittered the scene in the early 2000s," celebrity hairstylist Clayton Hawkins reminded The Zoe Report. "Now that it's making a resurgence, remember: There are no rules when it comes to Y2K hair. Make it your own and make it weird."