Sweater Weather Is Nearly Upon Us - Here Are Our Favorite Styles For Fall 2023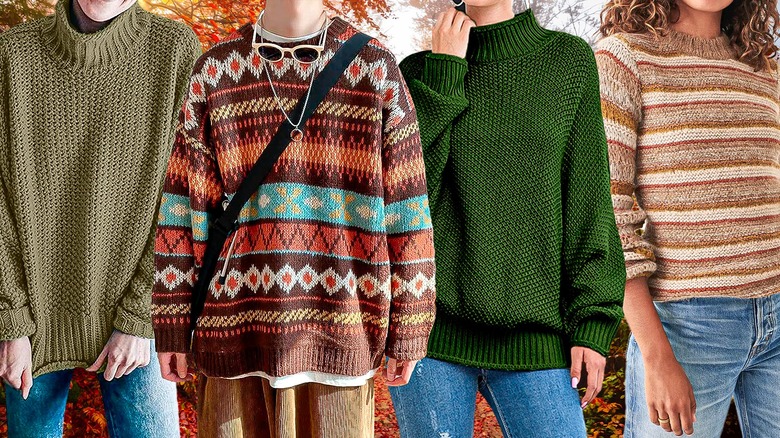 Static Media/Shutterstock
If you're already daydreaming about college football games, pumpkin spice lattes, apple picking at your local orchard, or wandering around the corn maze at your farmer's market, you're probably also in the mood to start planning your wardrobe for sweater weather. It's almost here, and this year's crop of fall sweaters offers a delightful array of stunning options — plus many options that aren't overly attention-grabbing.
Wondering which sweater styles and colors will be popular this fall? Many of this fall's best sweaters are classics you probably already own; if you have any basic crew-neck pullovers in your closet, this season will be the perfect time to get them out and pair them with your trendiest jeans. 
Beyond that, this fall's sweater trends are inspired by both nostalgia and pop culture. The Barbiecore trend has swung into high gear, and you're likely to find places to wear any pink sweaters you happen to own. If hot pink isn't your thing, you might prefer to rock sweaters in beige, brown, tan, gray, black, and off-white, which are also trendy for fall 2023. There are also a variety of colorful sweater options to consider. Imagine yourself out and about wearing any of these fall 2023 favorites.
The Barbiecore pink turtleneck sweater from Versace's archives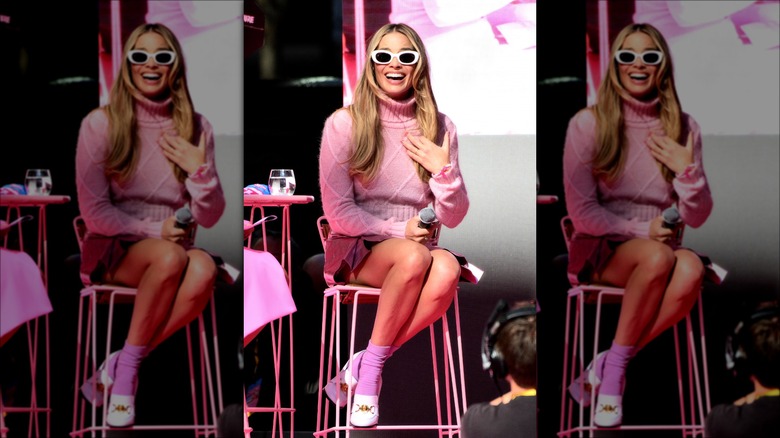 James Gourley/Getty Images
The "Barbie" movie is shaping up to be one of 2023's most remarkable trend influences. Pictured above, you can see one of Margot Robbie's Barbiecore outfits leading up to the "Barbie" movie, which generated public interest in the knitwear department. It's a pink cable-knit turtleneck sweater with an all-over textured, latticed diamond pattern.
Robbie wore it to a press tour engagement in June 2023. This sweater is a vintage Versace design, and we don't know if buying an original like this is possible. However, we predict that many fast fashion retailers will soon offer similar versions of this designer sweater style.
More Barbiecore: A cropped pink sweater with faux fur details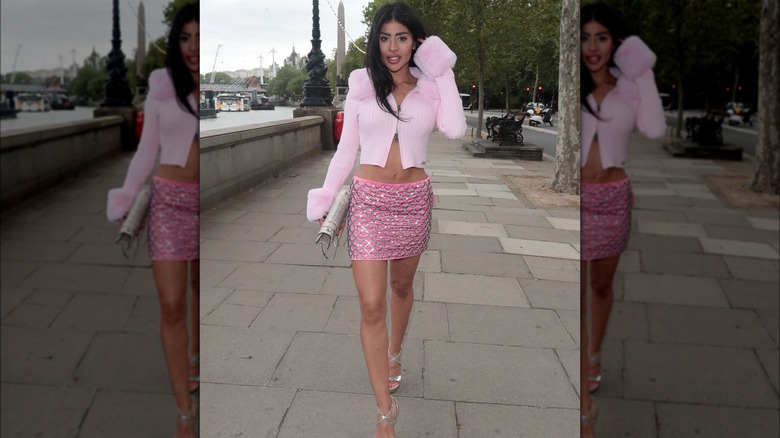 Justin E Palmer/Getty Images
Here we have a sweater that combines three of 2023's hottest fashion trends: faux fur, a cropped silhouette, and the color pink. If you're hoping to mimic the long-legged, statuesque look of a vintage Barbie doll, as pictured, you can pair your pink sweater with a sparkling miniskirt and silver high-heeled platform sandals. If you'd rather take your footwear cues from the recent "Barbie" movie, another option would be to choose Barbie's pink Birkenstock sandals in the "Old Rose" color.
An edgy, solid pink sweater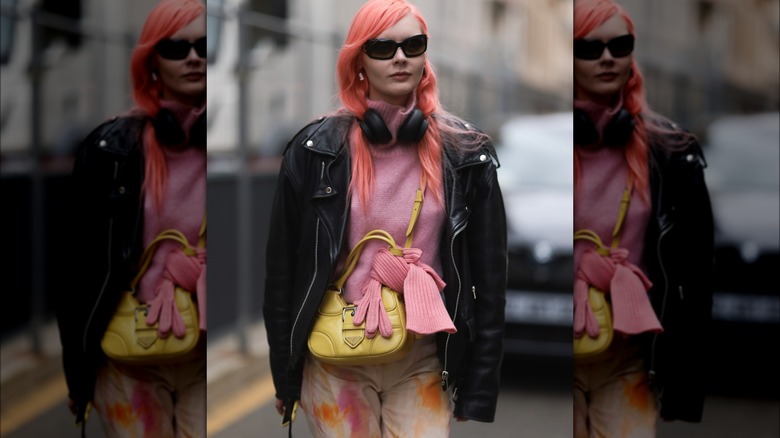 Jeremy Moeller/Getty Images
You can wear a pink sweater without resembling a froofy pink cupcake. If you'd like to take your look on an edgy trajectory, wear the sweater with a black leather biker jacket and a pair of vintage shades. Printed pants make a fun, colorful complement to the solid-colored pullover.
You can get in on one of fall 2023's cutting-edge bag trends by styling your candy-colored sweater with a vivid, crescent-shaped leather purse. To accessorize, you have abundant footwear options ranging from ballet flats to combat boots.
A cozy, oversized wool turtleneck sweater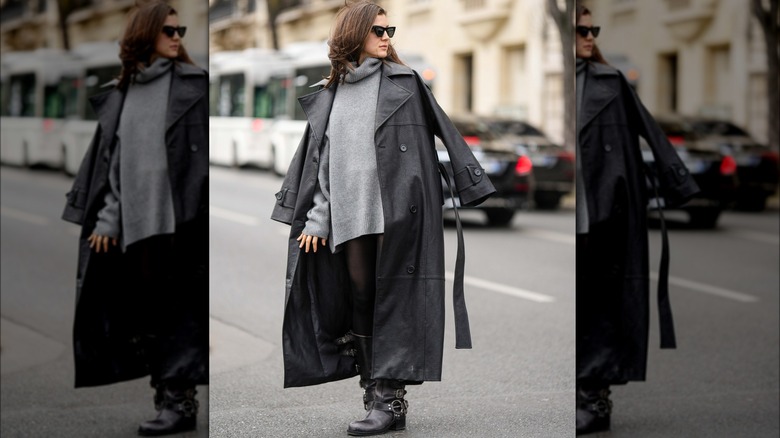 Edward Berthelot/Getty Images
An oversized turtleneck sweater doesn't have to be bulky. If you choose a turtleneck sweater design with a fine-gauge knit, you can comfortably layer it under a sophisticated leather trend coat. 
Biker boots add a bit of attitude to the otherwise laid-back look. An understated color palette of gray and black works beautifully for this ensemble, and it ensures these pieces will be wearable long after fall 2023 has come and gone.
The cropped turtleneck sweater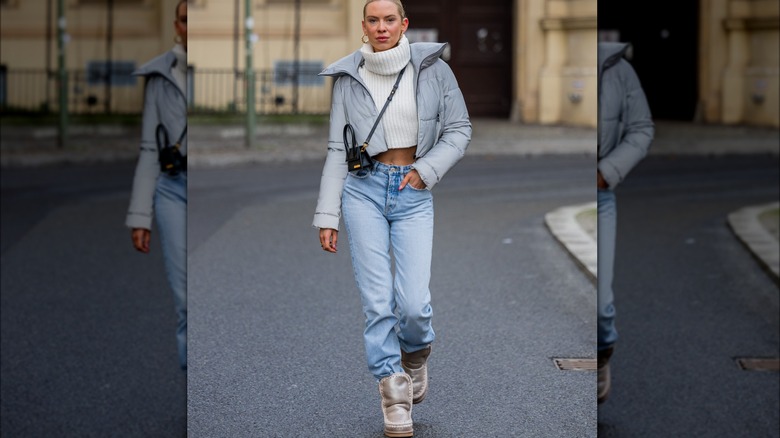 Christian Vierig/Getty Images
Multiple turtleneck sweater silhouettes are fashionable for fall and winter this year. If a long, loose-fitting sweater isn't what you want, you could take your sweater shape in the opposite direction; a close-fitting, cropped turtleneck is also a stylish option for fall 2023.
A wardrobe piece like this will likely be a good investment if you're interested in changing your look frequently. You can style it with light-wash jeans, a cropped jacket, and comfy boots, as pictured, but you can also pair it with skirts, cargo pants, or dress slacks for different looks.
The asymmetrical button-up turtleneck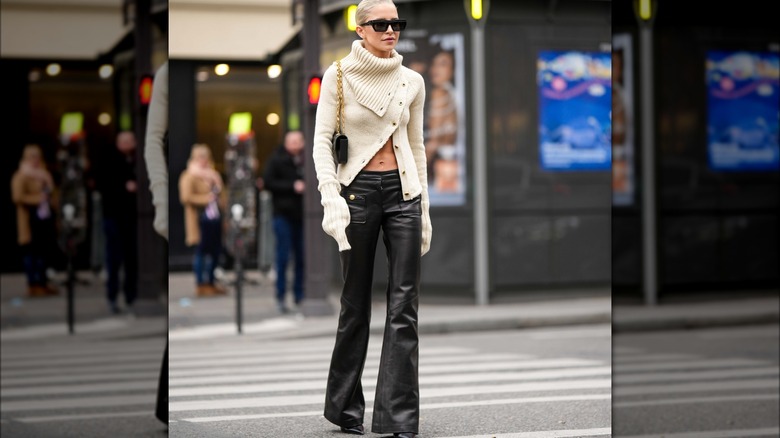 Edward Berthelot/Getty Images
Here's yet another fashionable turtleneck sweater option for fall 2023. This one's substantially different from the others we've already looked at, thanks to the long, asymmetrical collar and the button details in front. To get the trendiest look of the moment, you'll want to leave the bottom few buttons unbuttoned, as pictured.
However, it's also fine to button those buttons, especially if it's chilly outside. To get the look pictured above, pair your button-up turtleneck with black flared-leg trousers. A sweater like this would also look fantastic teamed with jeans or a skirt.
The tie-dyed pullover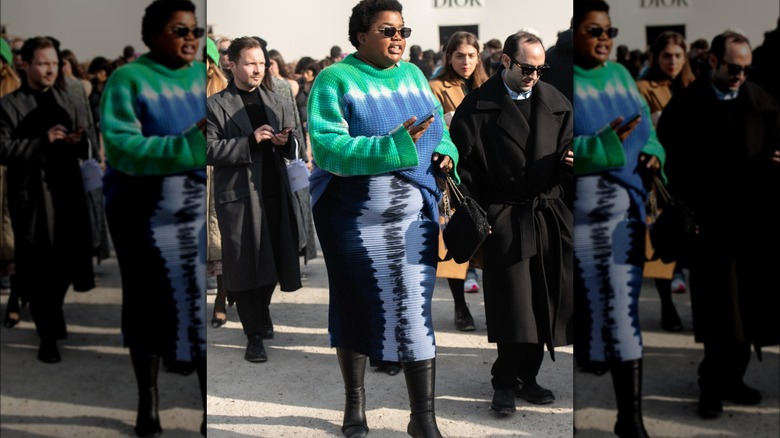 Kirstin Sinclair/Getty Images
Perhaps you're not into beiges, browns, and grays. If your style is more bohemian, maybe a colorful tie-dyed sweater would be the ideal look for you in fall 2023. Hand-dyed looks have been trendy thus far in 2023, and this aesthetic is still going strong as summer wraps up and transitions to fall. When you think of tie-dye, it's probably summery T-shirts that come to mind, but many other garments, including fall-friendly sweaters, can also be dyed in this way. 
The ribbed pullover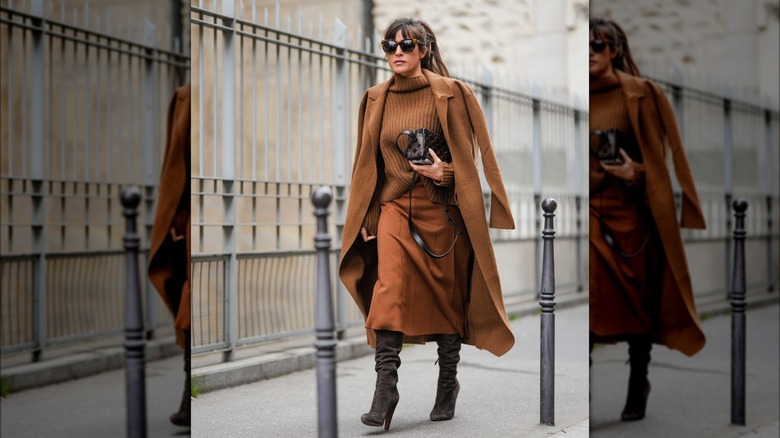 Edward Berthelot/Getty Images
Monochromatic looks make it a no-brainer to get dressed. Simply pair up a sweater, skirt, coat, and accessories in the same color family, and you're ready to get on with your day. Pictured above is inspiration for one possible way to implement this idea; choose separates in rich reddish-brown tones. Both the rib-knitted sweater fabric and the suede boot fabric are ideal materials to wear for fall 2023.
Stripes + cutouts + fringe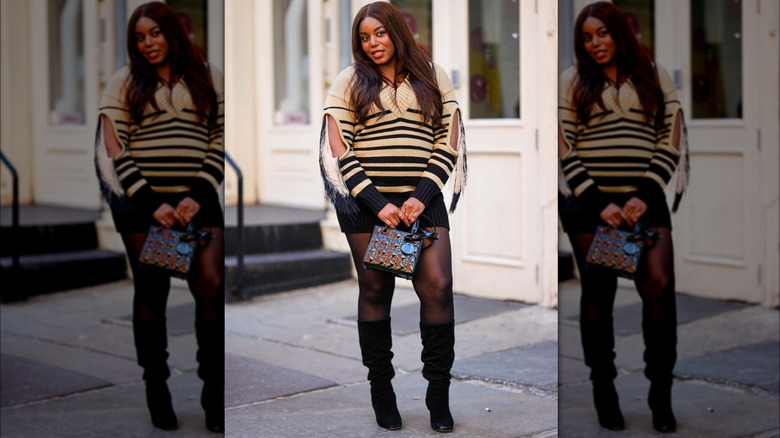 Edward Berthelot/Getty Images
Cutouts are trendy in 2023, but we urge you to pay attention to their placement if you opt to wear a sweater with cutout details this fall. Cutout shoulders were popular last winter, but they're now an outdated style we recommend avoiding. Instead, look for cutouts placed further down the arms, as pictured above.
Another option would be to wear a cutout dress and layer a sweater without cutouts overtop of that. Tassels and fringe are both trendy embellishments for fall 2023. If you choose a sweater that incorporates multiple interesting details like these, minimalist black accessories will keep your look from going overboard.
A classic sweater vest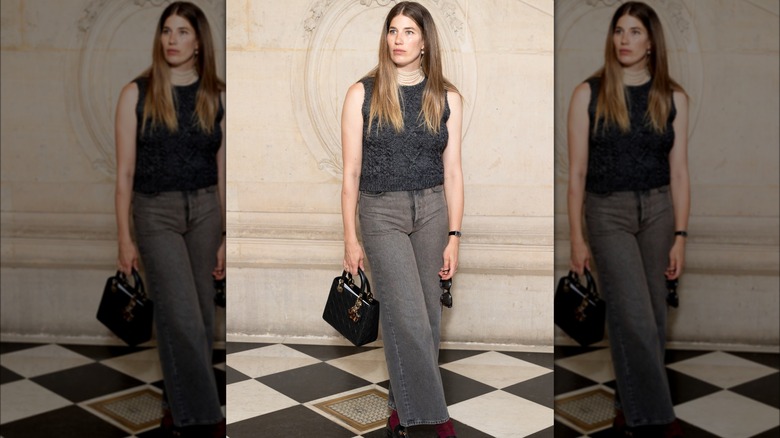 Marc Piasecki/Getty Images
There are limitless ways you can style a vest to fit your aesthetic. A sleeveless sweater vest looks fabulous when dressed down with wide-legged jeans, a structured handbag, and a multi-strand pearl necklace, as pictured above. After 5 o'clock, you could swap out the jeans for a pretty skirt if you're heading out to have dinner or go dancing with friends.
Vintage Charlie Brown style meets fall 2023's sweater fashion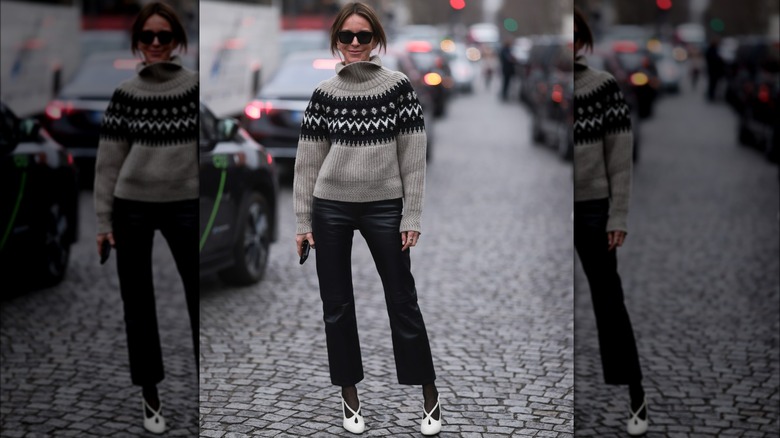 Jeremy Moeller/Getty Images
Charlie Brown of "Peanuts" comic fame is one of the world's unlikeliest fashion icons. Despite that, fancier versions of the Charlie Brown sweater, like the one pictured above, are on-trend for fall 2023. A couple of broader related trends are the nostalgia trend and the Fair Isle sweater trend, and this look fits in well with both of them.
Because Fair Isle sweaters are considered classics, a gray, black, and white design is likely to be wearable for years beyond fall 2023. This is a timeless color combination, and it's easy to style; pair it with black trousers for everyday wear.
Preppy cable-knit sweater vest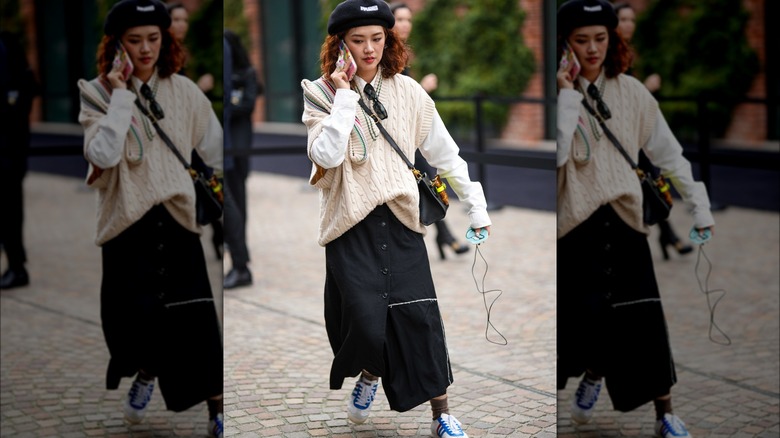 Edward Berthelot/Getty Images
Pictured above is another current sweater vest option that's long, loose, and lavishly textured with rows of cables. You can probably think of about one zillion ways to style this classic vest, but we really love the option shown here.
The vest looks fantastic layered over a long-sleeved white shirt and a simple button-front skirt. This season, many fashion influencers are topping their looks off with wool berets, which are a perfect complement for relaxed, snuggly sweaters like this one. 
The quintessential beige cable-knit sweater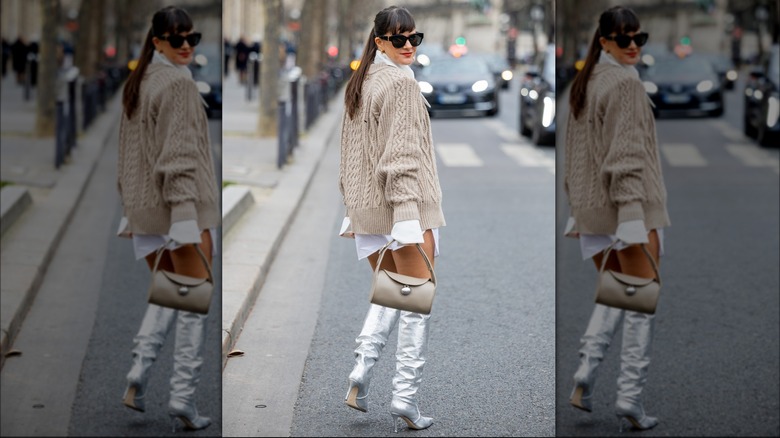 Christian Vierig/Getty Images
Let's discuss two of fall 2023's most influential fashion trends: "quiet luxury" and "armor-inspired metallics." In the photo above, JOYS magazine founder Gili Biegun demonstrates how to mix these trends to create a timely fashion statement for fall 2023.
Quiet luxury is all about choosing refined, understated basics, like the polished white button-up shirt, beige cable-knit sweater, and handbag pictured above. The main problem with the quiet luxury trend is that overdosing on it can get boring. A jolt of silver metallic, like Biegun's silver high-heeled boots, can provide just enough sparkle to keep quiet luxury from looking too stuffy.
The chic après ski sweater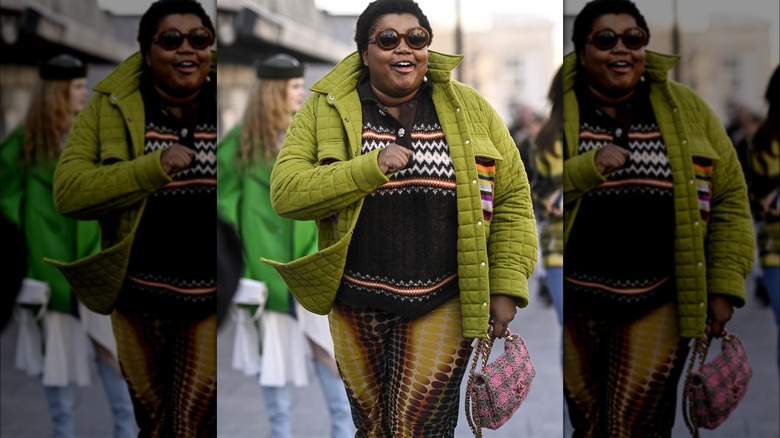 Daniel Zuchnik/Getty Images
You don't have to be a skier to appreciate the value of a warm, cozy après ski sweater. On chillier fall days, you can layer an athletic sweater style like this under a quilted jacket to stay warm without sweltering. Printed geometric pants give the design a unique, stylish look.
The same sweater will also take you into winter 2024 and beyond. In wintertime, if you enjoy snow sports, you can pair a sweater like this one with your ski bib or snowboarding pants when you hit the slopes. If you don't ski, pair it with jeans, and it makes a fantastic everyday wardrobe staple.
Elegant ribbed cardigan sweater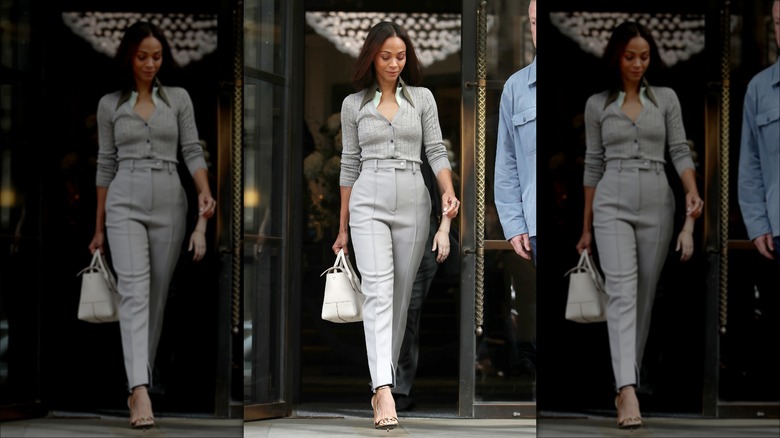 Neil Mockford/Getty Images
Here's another lovely sweater option for those of you who find the quiet luxury aesthetic appealing. To style the staple, pair your elegant ribbed cardigan sweater with high-waisted, tailored trousers and a statement handbag. For footwear, there are some locations (think San Diego, California and Miami, Florida) where strappy sandals are the perfect finishing touch to this look.
In other locations like Boston, Massachusetts, or Seattle, Washington, your feet will get way too cold if you wear sandals like these in mid to late fall. In that case, we suggest styling this look with gray suede ankle boots instead.
The designer logo sweater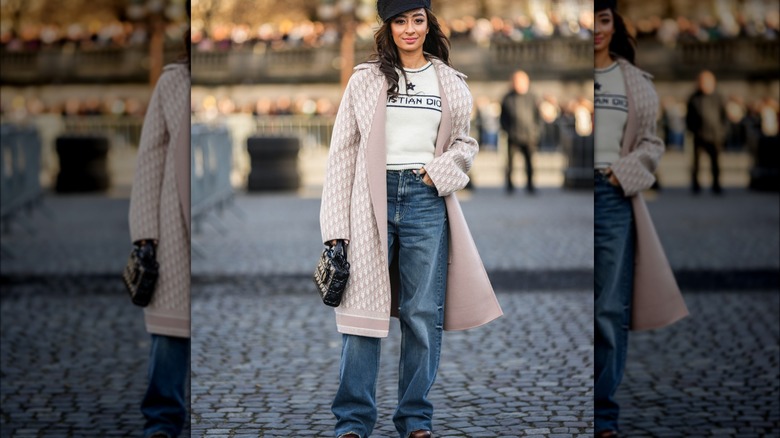 Edward Berthelot/Getty Images
We talked about the quiet luxury trend. An opposing (but just as valid) fashion trend is the logomania trend. This trend is all about fashion that prominently incorporates designer monograms or logos. Team up a monogrammed or logoed designer sweater with jeans, a long coat, high-heeled platform shoes, and a designer handbag, and you've nailed this look for fall 2023.
Winter white mock turtleneck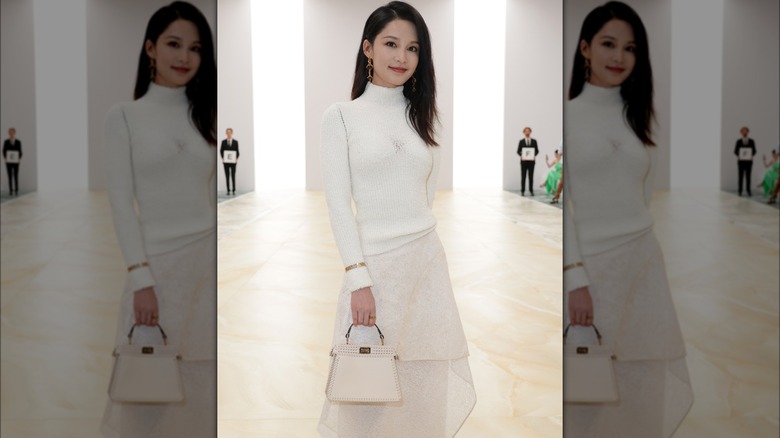 Pascal Le Segretain/Getty Images
So far, in 2023, white has been one of the top trendy colors. All-white ensembles will likely remain fashionable as we head into fall 2023 and winter 2024. However, as summer morphs into fall, we'll be replacing our pure-white trousers and skirts with a more seasonal, dustier winter white color.
Color combinations of white and cream will also remain stylish for the fall 2023 season. Pictured above is inspiration for getting the chic white-on-white look that's so popular right now. Pair a form-fitting off-white mock turtleneck sweater with an ethereal layered skirt. Accessorize with a wide bangle bracelet and a structured purse.
Low-key gray pullover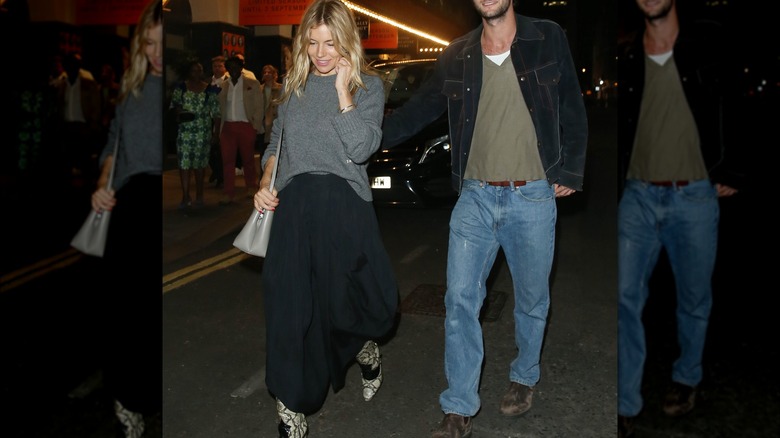 Mega/Getty Images
Actor Sienna Miller models one of our top favorite fall 2023 sweater fashions. In the photo above, Miller is wearing a nondescript gray pullover that's the perfect combination of comfortable, understated, and classic. You could wear this sweater style almost anywhere, with just about anything.
This garment is about as versatile as it gets; imagine all the possible ways you could style it with the pieces that are already available in your closet right now. We're loving the way Miller styled her pullover with a simple black skirt and snakeskin boots, but there are limitless ways you could rock this sweater design.
The granny square crochet cardigan, revisited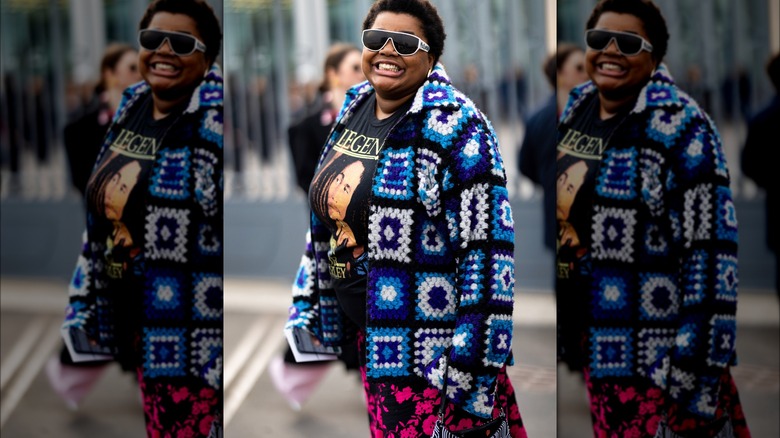 Valentina Frugiuele/Getty Images
The granny square cardigan sweater is one of our favorite styles this fall. If you love the look of crochet granny square cardigan sweaters like the one pictured above, you might be wondering how to get your hands on one. You'll find high-end designer versions available, but they aren't usually offered for sale at mass-market clothing stores. That's because there aren't any machines that can crochet sweaters; they're all made by hand.
If a designer crochet cardigan isn't in your budget, there's a lower-cost alternative to consider. You can crochet your own sweater. Many sweater patterns are available for sale and for free online. You can crochet your sweater in the style, colors, and yarns you want to wear in fall 2023.
Color-block cardigan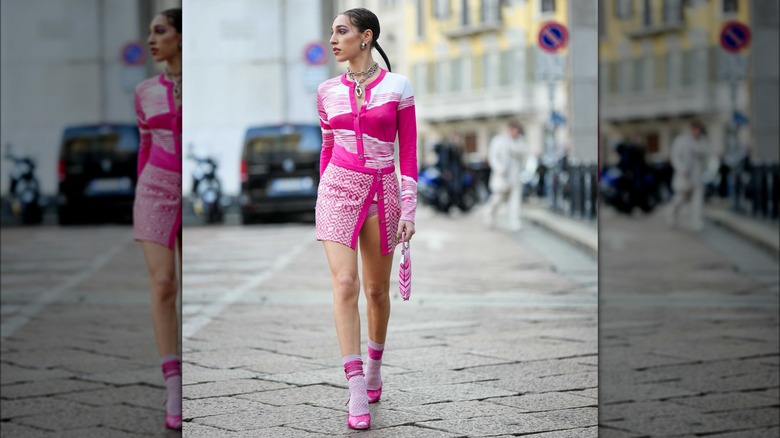 Edward Berthelot/Getty Images
Our roundup of fall 2023's most appealing sweaters wouldn't be complete without including a bold, eye-catching color-blocked cardigan. If you're into body-conscious clothing that shows off every curve, opt for a slim-fitting silhouette and pair it with a high-contrast geometric patterned miniskirt.
If you're not crazy about the idea of showing off your legs, a sweater like this pairs equally well with a longer pencil skirt, jeans, or trousers. In any case, fun socks and flirty open-toed shoes accessorize this look in a cohesive way.